By Rob Patrick
Photos by Kevin Nagle
PINE BLUFF — The Bryant Hornets played a couple of physical teams during their non-conference[more] schedule but physical play goes to another level — particularly in the higher classifications — when conference play starts. It's hard for an inexperienced player to really understand what that means until they've experienced it.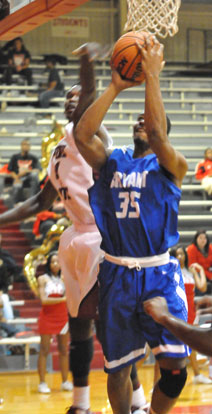 So, though the Hornets, with just a couple of players back who saw much varsity time off the bench a season ago, have gained valuable experience during their non-conference run, it's almost like they're starting all over in a way as the 7A/6A-South Conference slate gets going.
On Tuesday at Pine Bluff High School's sauna at McFadden Gym, the Hornets got their second lesson on that physicality from another of the league's most experienced and rugged teams. On the heels of a loss to the Benton Panthers, the Hornets visited the Pine Bluff Zebras and absorbed a 64-51 body blow.
Trailing by as much as 16 early in the fourth quarter, the Hornets used a press and the relentlessly attacking Zebras' willingness to take quick shots and blow dunks to rally within 52-45 with just over three minutes to go. They had a couple of chances to get closer but came up empty.
Pine Bluff coach Carl Smith called a timeout and the Zebras started working on the clock — at one point turning down a three-on-none break — and finished with a 12-6 surge that included 8 points from the free-throw line to close out the win, their second in as many league contests.
The Hornets had plenty of opportunities, with 22 offensive rebounds but they were just 19 of 63 from the field and 9 of 18 at the free-throw line.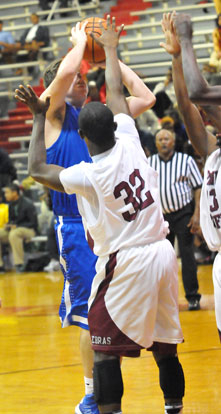 "Around the basket, we were just not converting," acknowledged Hornets head coach Mike Abrahamson. "Some guys are going in really hard then they don't put touch on the shot or off the glass. We've got some guys looking for the foul when they're actually kind of fading away instead of head faking or going toward the basket. That's just something that we've got to work on, getting comfortable being around bigger players, being around the rim, around the basket, taking contact, being able to have some composure and put it up there and having a good attempt at it."
Abrahamson pointed to his team's rebounding too. The Hornets actually had fewer defensive boards than offensive.
"If we rebound on the defensive end, we're in this game and we may win it," he declared. "Even with the comeback, it may not be such a big comeback. We might've pulled it off. It continues to come down to defensive rebounds, mainly. We did a little better tonight on offensive rebounds but just not good enough on the defensive glass."
The Zebras didn't actually have as many offensive rebounds as the Hornets but they did more with the ones they got.
Darren Kee led the way with 16 points. Tyrone Payne added 14 points to go with 11 boards. John Tate added 10 points and five caroms.
Sophomore K.J. Hill paced Bryant with 14 points. Junior Tyler Simmons finished with 11 points. Junior C.J. Rainey and senior Zach Cambron had 8 points each. Brian Reed yanked down 11 rebounds, Rainey seven and Cambron six.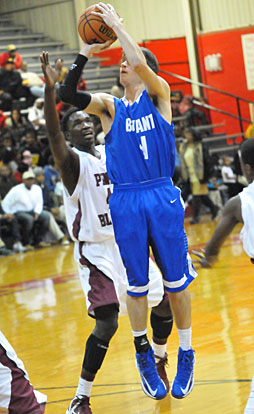 Bryant led briefly in the second quarter.
After Pine Bluff scored the game's first 7 points, Bryant rallied. Simmons hit a 3 with 2:04 left in the opening period to cut the margin to 11-10. Ricky Clement answered at the other end from long range but Rainey fed Cambron for a layup and the quarter ended with the Zebras up 14-12.
Payne hit the offensive glass for a basket to start the second quarter but Hill sparked a run, feeding Greyson Giles for a layup then adding a steal and a bucket to tie it at 16. Simmons swiped a pass and wound up at the free throw line where he snapped the tie, putting the Hornets up 17-16 with 6:10 left in the half.
Pine Bluff, however, responded with a 15-2 run to end the half with Rainey supplying the lone Bryant field goal.
Simmons scored off a spinning drive that produced a short jumper then Rainey grabbed an offensive rebound and scored to get Bryant back within 31-23 early in the third quarter. But back-to-back three-point plays by LaDarius Skelton and Kee pushed the lead back to double digits.
The two teams scrambled for two full minutes before Cambron took a charge to negate a Pine Bluff basket and, at the other end, Skylar McKissock hit a 3 from the left wing to cut it to 37-26.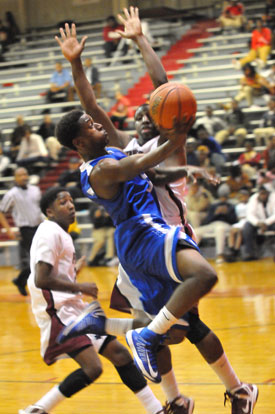 Payne and Cambron traded baskets and, after a free throw by Skelton, Reed scored off the offensive glass to make it a 10-point game. But Pine Bluff closed out the quarter again with a surge, sparked by Tate inside, and it was 48-32 going into the fourth quarter.
It was 52-37 going into the final five minutes. Bryant forced a pair of Pine Bluff turnovers but couldn't take advantage until Cambron hit a jumper in the lane at the 4:36 mark.
Pine Bluff went cold but kept pumping up shots and Bryant took advantage with Hill driving for a layup the coming through with a three-point play. When Reed hit a free throw at the 3:14 mark, the lead was down to 52-45. Giles made a steal but couldn't convert. Hill made a steal and had a 3-ball rim out.
That's when the Z's started working the ball. Skelton and Tate each hit a pair of free throws around an empty trip to the line for the Hornets. Hill got a free throw to go with 2:16 left but Payne got free for a layup and, after Rainey couldn't get a 3 to go, Tate scored off an offensive rebound to make it 60-47.
Giles hit a free throw and Hill came up with another steal but the Hornets missed three shots. Another theft by Hill got them a fourth look that refused to go.
Clement hit a free throw with :58.8 showing and the Hornets missed two more opportunities to cut into the lead. Two misses at the line by Skelton resulted in a 3-pointer by Hill with :35.7 left but free throws by Clement and Payne extended the lead at the end.
The Hornets' fourth-quarter scramble produced 26 shots from the field and 11 free throw attempts. Much to their frustration, they converted just five of the field goals while hitting seven of the free throws.
They'll try to get their first conference win this Friday when they visit Little Rock J.A. Fair, a team which has reportedly been buoyed by the addition of three or four players that were ineligible during the first semester.

PINE BLUFF 64, BRYANT 51


Score by quarters

HORNETS (11-5, 0-2) 51
Player fg-fga ft-fta reb fls pts
o-d-t
Rainey 4-15 0-1 3-4 7 2 8
Davis 0-0 1-2 1-0 1 0 1
Simmons 4-11 1-2 3-2 5 3 11
Giles 1-6 1-3 4-1 5 3 3
Reed 1-5 1-4 5-6 11 2 3
Cambron 4-9 0-0 4-2 6 2 8
Hill 4-16 5-5 1-2 3 4 14
Rayburn 0-0 0-0 0-0 0 0 0
McKissock1-1 0-1 0-1 1 4 3
Team 1-2 3
Totals 19-63 9-18 22-20 42 20 51
ZEBRAS (7-5, 2-0) 64
Player fg-fga ft-fta reb fls pts
o-d-t
Thomas 1-1 0-0 1-2 3 1 2
Clement 2-8 2-4 0-3 3 3 7
Kee 6-12 3-3 1-1 2 1 14
Jones 1-3 0-0 0-0 0 3 2
Tate 2-3 6-6 3-2 5 4 10
Payne 6-14 2-2 2-9 11 1 14
Skelton 1-4 4-10 1-4 5 2 6
Jackson 1-1 2-2 1-3 4 1 4
Green 1-3 0-0 0-0 0 1 3
Beasley 0-2 0-0 2-0 2 0 0
Team 2-1 3
Totals 21-51 19-27 13-25 38 18 64
Three-point field goals: Bryant 4-17 (Simmons 2-6, Hill 1-3, McKissock 1-1, Rainey 0-4, Giles 0-1, Reed 0-1, Cambron 0-1), Pine Bluff 3-7 (Clement 1-3, Kee 1-2, Green 1-1, Payne 0-1). Turnovers: Bryant 18, Pine Bluff 16.