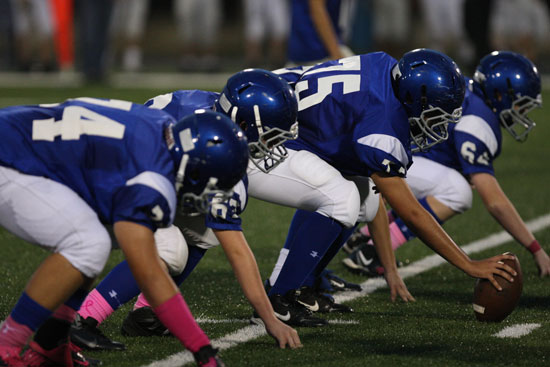 Photos by Rick Nation
By Rob Patrick
There's no getting around it, the Bryant Blue Hornets eighth grade team of Bethel Middle School was[more] stung when they led the rival Bryant White Hornets most of the game only to have White rally late to snatch the win, 14-7.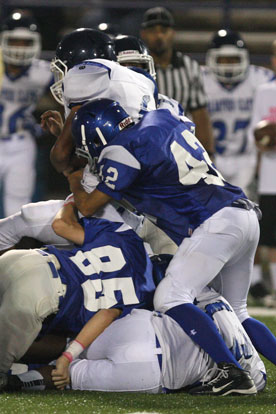 So, on Thursday night in their season finale at home against the Conway Blue Junior Wampus Cats, they got a chance to salve that wound a little bit and they came through with a 21-12 victory to finish the season 5-3-1.
Not bad for a team with only around 30 players suited up each week.
"The last couple of weeks, we had a pretty tough schedule," said Bryant Blue head coach Dale Jones. "We played some big, athletic, physical teams. Even tonight, Conway was running that power, just knocking us off the ball.
"But we found a way to do it," he added. "We recovered an onside kick, made some critical throws and third-down conversions in the second half. I just couldn't be prouder of them. They're a hard-working little group.
"It was a good way to end it up," the coach said. "I wish we could've gotten a couple more first downs last week. It'd be nice to be 6-2-1 but I'm really proud of our group. They came together, played really hard, pretty much all season."
As they did often this season, the Hornets used the running of Phillip Isom-Green behind an active offensive line to pile up yardage on the ground, augmented by the passing of quarterback Desmond Duckworth, often on the run to control the ball. And this week, they cashed in those marches.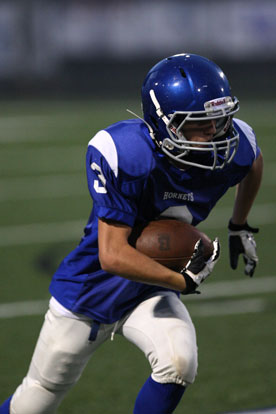 In fact, Bryant Blue scored on each of its first three possessions in the game to build a 21-6 halftime advantage.
Isom-Green finished with 132 yards on 25 carries with touchdown runs of 4 and 34 yards. Duckworth hit 6 of 12 passes for 79 yards including a TD strike to Caylin Allen late in the first half.
Conway Blue managed 157 yards rushing but failed on two pass attempts, both knocked down by the Hornets' Derrick Blake.
The game got off to a great start for Bryant Blue when Chase Kincaid's onside kick ricocheted off a Conway lineman. Not only did Allen recover the ball, he grabbed it in stride and returned it to the Cats' 33.
In six plays, and aided by a penalty, the Hornets reached the end zone. Five of the plays were to Isom-Green including a 13-yard rumble that set up his 4-yard blast.
Kincaid drilled the extra point and the early onslaught was underway.
Conway's first play lost yardage as linebacker Dillon Medlock sliced through to drop running back Antonio Harper short of the line of scrimmage. A pair of penalties pushed the Cats back and they wound up punting back to the Hornets with just under three minutes left in the opening quarter.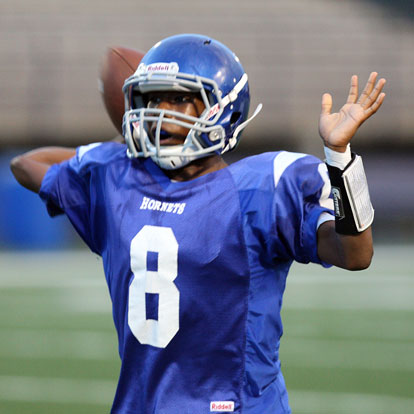 From their own 27, the Hornets drove for a second score but it needed a key third-down play after the first two snaps of the series resulted in losses. On a third-and-15 from the 22, Duckworth threw a tunnel screen to Allen that, with the help of that active offensive line hustling out front, Allen streaked 29 yards to the Conway 49.
From there, Isom-Green sliced 15 yards to set up his second TD.
Again, Kincaid was good on the PAT and it was 14-0.
Conway Blue's first play after recovering another onside kick was just its fourth play of the quarter. It was also the last play of the quarter. The 4-yard run started Conway Blue's 52-yard scoring drive that featured the running of Harper and quarterback Darius Tate. The Cats needed a fourth-down conversion to get the points, however. Tate kept and narrowly cross the goal-line (if at all).
The Hornets foiled the 2-point conversion attempt.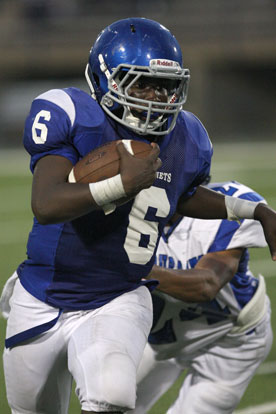 With just over two minutes left in the half, the Hornets got a nice return from Jeffery Hastings on the kickoff. A play into the drive, Duckworth tossed a screen pass to Isom-Green that not only picked up 25 yards but had a personal foul penalty tacked on.
From the 17, Isom-Green powered to the 7 then Duckworth scrambled around until he could find Allen in the left side of the end zone for the touchdown. With 1:23 left in the half, Kincaid kicked it to 21-6.
In the second half, Conway Blue put big Beau Hadley in the backfield and he made some plays. The biggest of those plays was a 55-yard touchdown run on his team's second offensive snap of the half. Bryant had been forced to punt for the first time and a shank-shot left Conway in good field position.
With their lead cut to 21-12, the Hornets put together a time-consuming drive that reached the Conway Blue 21 before, on a third down, Duckworth threw a lateral to Allen, who tried to get a pass downfield. But it was picked off by Hadley who nearly broke the return for the distance before Collin Welch brought him down at the Bryant 41.
That proved huge when the Bryant defense kept the Cats from picking up a first down much less a touchdown. Welch, in fact, stopped Hadley again, this time on a third-down run from the Hornets' 36. On fourth down, Hadley got the call again but was stacked up by a group of Hornets led by Medlock.
Conway Blue would get just one more opportunity on defense and it too was stuffed. A fumbled lateral helped on first down then Josh Bonner smacked down Harper for a loss. Blake broke up a third-down pass and, after a penalty, the Cats were forced to punt on a fourth-and-24.
They, no doubt, hoped to get the ball back for another shot but the Hornets' offense wouldn't allow that. The key play came with Bryant Blue facing a third-and-8 early in the drive. Conway called a timeout with 2:14 left, hoping to stuff one more run and force a punt that would create one last gasp.
But, on a gutsy call, the Hornets faked the run and Duckworth rolled out and completed a pass to Allen for 11 yards and a first down. Isom-Green followed up with a 12-yard jaunt and the Hornets were able to run out the rest of the time.
BRYANT BLUE 21, CONWAY BLUE 12
Score by quarters
Conway Blue 0 6 6 0 — 12
BRYANT BLUE 14 7 0 0 — 21
SCORING SUMMARY
First quarter
BRYANT BLUE — Isom-Green 4 run (Kincaid kick), 4:57
BRYANT BLUE — Isom-Green 34 run (Kincaid kick), 0:47
Second quarter
CONWAY BLUE — Tate 8 run (run failed), 2:15
BRYANT BLUE — Allen 7 pass from Duckworth (Kincaid kick), 1:23
Third quarter
CONWAY BLUE — Hadley 55 run (run failed), 5:17
Team stats
Conway Blue BRYANT BLUE
First downs 5 13
Rushes-yds 25-157 28-141
Passing 0-2-0 6-13-1
Passing yds 0 79
Punts-avg. 2-23.5 2-16.5
Fumbles-lost 1-0 0-0
Penalties-yds 6-48 3-24
INDIVIDUAL STATS
Rushing: BRYANT, Isom-Green 25-132, Duckworth 3-9; CONWAY BLUE, Hadley 8-82, Tate 7-45, Harper 10-30.
Passing (C-A-I-Y): BRYANT, Duckworth 6-12-0-79, Allen 0-1-1-0; CONWAY BLUE, Tate 0-2-0-0.
Receiving: BRYANT, Allen 3-47, Harrison 2-7, Isom-Green 1-25.