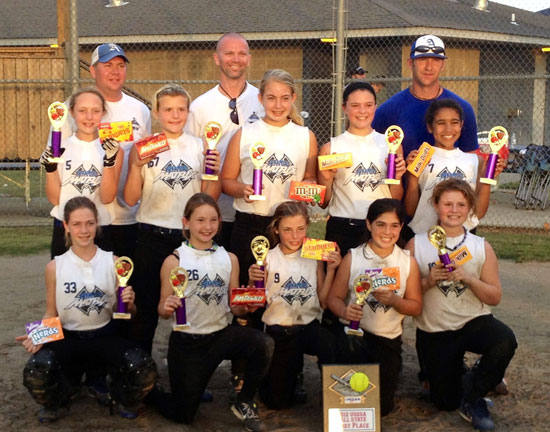 Arkansas Matrix moved from the 10 & under to the 12 & under age division and went undefeated[more] in a field of 20 teams and finished in first Place in the 2012 USSSA Fall softball state tournament in the Open Division of the 12 & under Live arm in Russellville in October.
Members of the team include, front from left, Meagan Chism of Bryant, Gianni Hulett of Bryant, Claudia Benning of Prattsville, Jorika Alvarez of Dardanelle, Madison Stokes of Bryant; second row, Allie Dugan of Bryant, Kassi Martin of Little Rock, Kayli Pennington of Pottsville, Sophia Hampton of Pottsville, Olivia Scott of Bryant; back row, coaches Tim Dugan, Richard Weaver and Jake Hulett.
The Matrix finished the season with a record of 71 wins, 19 loses in the Class "A" Division. The team entered 11 tournaments and had eight first-place finishes, a third-place finish at Pitch for the Cure in Fayetteville out of 38 teams, a fifth-place finish in Shreveport, La., out of 35 teams, and a ninth-place finish at World Series in Panama City, Fla., out of 42 teams.
Among the team's first-place finishes was an undefeated run through the 2012 USSSA Big Boom Pumpkin Smash in Bryant, below, in October.
The team is sponsored by: Duffield Gravel, Blackstone Construction, Soulter Construction Co. Inc., Morrilton Abstract Co., Inc., Tanner Veterinary Hospital, Maus Implement Co., Kirby Specialties Corp, Bibler Lumber, PSI Investment Group, Baker Refrigeration, Kirkland's Family Medical and Hastings Recycling.