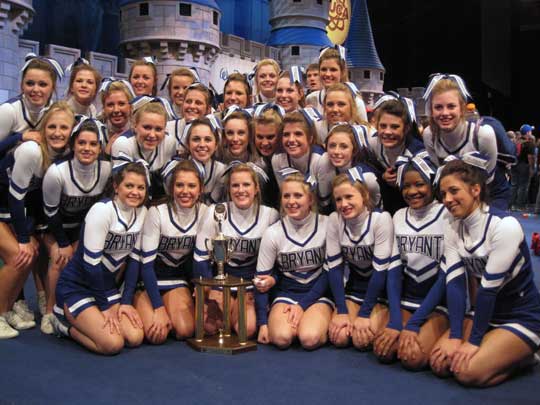 The Bryant High School varsity cheerleaders finished an impressive fourth place in the nation in the Super Large Varsity Division at the University Cheer Association Nationals in Orlando, Fla.
The squad was the Class 7A State runner-up in competition in December.[more]
"This National competition is very rich in tradition with a 30-year history of UCA Nationals," said Kim Seelinger. "It has over 400 teams competing in various divisions.
"The girls had a very difficult time getting to Orlando," she added. "Their flight was cancelled due to the weather in Dallas but, with the help of their coach Pam Shoptaw, sponsor Karen Scarlett and (athletic director) Coach (Tom) Farmer, as well as family and other school administrators, they were able to get a chartered bus to get them there. There was no complaining about the long bus trip. The girls were just determined to make it to Nationals after all of their hard work."
The girls improved on their eighth-place finish a year ago.
Team members include Madeline Baggett, Alex Blummel, Rachel Brantley, MaKenzie Co, Karley Cruse, Lacee Davis, Jordan Dunn, Bailey Feyaldenhoven, Hollie Harryman, Hayley Henjum, Morgan Humbard, Emily Jobe, Shalynn Mills, Katherine Moore, Lindsey Nelson, Taylor Nelson, Katie Norman, Katelyn North, Stephanie Pridgen, Kelsey Reed, Maggie Schrader, Bailee Seelinger, Morgan Seelinger, Hannah Sellers, Deidre Sprawling, Shannon Spurr, Jennie Waits and Amberly Watkins.