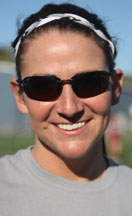 After leading the Bryant Lady Hornets soccer team to the program's first conference championship with a 10-0 mark in the 7A/6A-South, Julie Long has been named the Coach of the Year in the South Conference, it was announced today.
The Lady Hornets earned a first-round bye at the Class 7A State Tournament to be played in Cabot while posting a program-record 18 wins so far on the heels of three straight 17-win seasons. They'll open State on Friday at 4 p.m.
Long is in her fourth year at Bryant. She's led the Lady Hornets to the State Tournament each year including a run to the semifinals in 2010. Bryant has a record to date of 69-26-1 under Long's guidance.