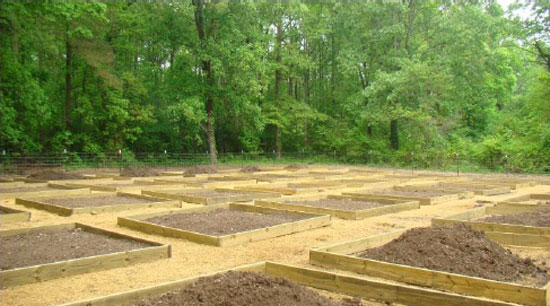 The City of Bryant is offering raised-bed garden plots at Bishop Park to members of the[more] community.
The plots, located inside the northern-most point of the Bryant Parks Nature Trail, will be available by permit at The Center for $25 each. The beds are 10'x10' and contain nutrient-rich soil as tested by the University of Arkansas Division of Agricultural Cooperative Extension Service.
Accessibility to the community garden plots will become available on Monday, May 20, thanks to an in-kind materials donation from Rideout Lumber for a bridge linking the Bishop Park Aquatics parking lot directly to the garden.
As a special promotion by the parks, the $25 permit will be valid now through December of 2014, giving each member two growing seasons if they so choose. In addition, plot owners will also become eligible for a free lot at the Midtown Farmers Market beginning this Saturday, May 11, at 8 a.m. For more information on setting up a spot at the Market, e-mail Christine Ault at midtownnewz@gmail.com

"We believe that this addition to the park will serve as a pilot program for other community garden projects in the near future," said Brandon Griffin, Recreation Superintendent for the City. "Any kind of programming or facilities that encourage healthy activity in our community is going to be the best use of our park's resources."
For more information regarding the Bryant Parks Community Gardens, contact The Center at (501)-943-0999 opt. 7, or email bgrifffin@cityofbryant.com.