By Rob Patrick
Photos by Kevin Nagel
CONWAY — Just two days after an taut, emotional win over the crosstown rival Bryant White[more] Hornets, the Bryant Blue Hornets eighth grade team of Bethel Middle School battled with the Conway White Junior Wampus Cats at Buzz Bolding Arena. In a game that was tied five times, ultimately at 31-31 with 2:29 left to play, the Hornets ran out of gas a bit and went the final 1:23 without scoring.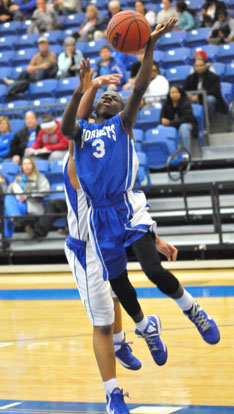 By converting just 4 of 8 free throws after that, Conway White gave the Hornets a chance but those four free throws proved to be just enough to turn a 34-33 lead into a 38-33 win.
Now 11-4, Bryant Blue hosts Lighthouse Charter School at Bethel on Monday, Jan. 28, before closing out the season against North Little Rock on Thursday, Jan. 31, at the Bryant Middle School gym.
Calvin Allen led the Hornets with 15 points. Caylin Allen and Desmond Duckworth added 6 each. Phillip Isom-Green had 4 and Hunter Handly 2.
It was Handly's offensive-rebound basket with 2:48 left to play that had the Hornets ahead 31-30. A free throw, a Bryant miss and a three-point play allowed Conway White to push out to a 34-31 advantage before Calvin Allen's two free throws at the 1:23 mark cut it back to 1 and, as it turned out, completed Bryant Blue's scoring.
Duckworth and Calvin Allen each hit 3's in the first quarter as the Hornets surged to an 11-7 lead. Allen beat the buzzer with a driving jumper to complete the first then made a steal and layup to start the scoring in the second period.
After a Conway White free throw, Allen took an inbounds pass from Caylin Allen and hit a layup to make it 15-8.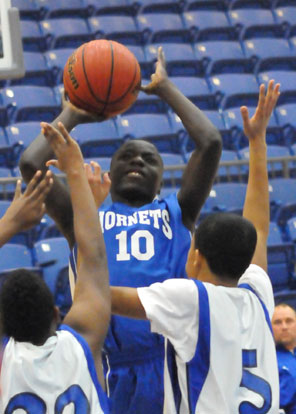 But the Cats finished the half with a rush and trailed just 17-15 at the half. They tied it with the first bucket of the third quarter. Isom-Green hit a short jumper to snap that tie and, after it was tied at 19, Caylin Allen drained a long triple.
Conway White answered with a 3 and it stayed 22-22 for almost two minutes before Caylin Allen found the range for another trey.
Back-and-forth it went. Conway White scored and Duckworth countered to keep Bryant Blue ahead. Another basket by the Cats made it 27-26, Hornets, going into the fourth period.
Bryant Blue missed two chances to add to that margin before the Cats took the lead with a basket inside. Calvin Allen's two free throws put the Hornets back on top but, again, the Cats scored to regain the edge. That led to Hanly's stickback, which produced the Hornets' final lead.