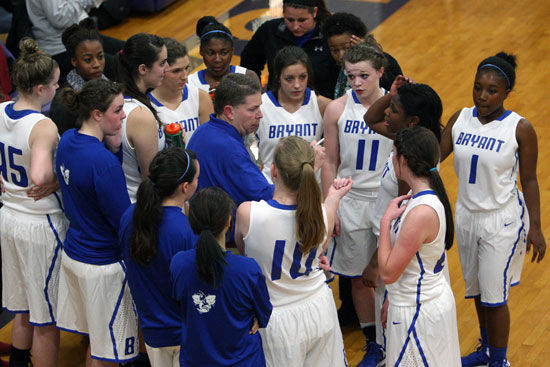 Photos by Rick Nation
By Rob Patrick
MAUMELLE — With 1:25 left in the first half, sophomore Jayla Anderson hit a pair of free throws[more] to give the Bryant Lady Hornets a 21-14 lead on the first day of the OrthoArkansas/Baptist Health Tournament at Central Arkansas Christian Academy's Mustang Mountain. The Lady Hornets led most of the first half, by as much as 10.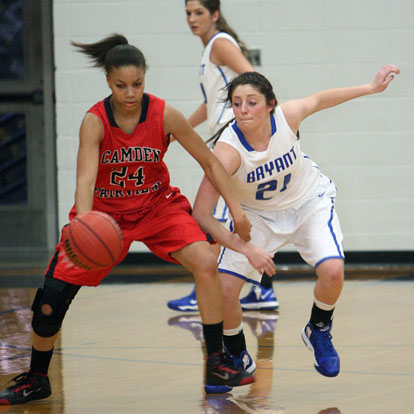 Bryant had a couple of chances to add to the seven-point margin but shots wouldn't fall. With :26 left, Camden Fairview's Jermika Marks posted up for a bucket but the Lady Hornets still held an advantage at the half, 21-16.
But in the third quarter, the Fairview's Lady Cardinals deployed in a 2-1-2 half-court trap that Bryant struggled to solve. In the third quarter, the Lady Hornets added just two free throws to their scoring total while suffering nine turnovers — almost doubling their first-half total. Fairview surged to a double-digit lead then held off a fourth-quarter comeback attempt on the way to a 45-35 win.
"I thought they got us out of our rhythm," said Bryant coach Brad Matthews. "It got us out of our comfort zone. I thought we started settling for shots instead of being patient, getting a good shot."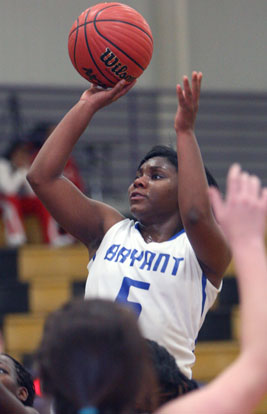 It was the second loss of the young season for the Lady Hornets, who have defeated Vilonia and Mount St. Mary Academy. Their other one was a closer game against Class 7A powerhouse North Little Rock on Nov. 8. Tonight, they return to action at CAC against Maumelle.
"That's the first time we've seen the pressure this year," Matthews mentioned, regarding the Fairview defense. "North Little Rock's was all 'man'. You attack that different. The zone press affected us some. A lot of it was decision making. We'll watch tape and we can correct that. We've got to make sure that we learn from it. We don't want to repeat this in December or January."
Bryant had the first-half lead despite going 7 of 22 (32 percent) from the field. In the third quarter, the Lady Hornets were 0 for 8 from the field. They wound up shooting 26 percent (11 of 42) from the floor for the game.
"We didn't shoot it particularly well all night but you've got to fight through that," Matthews acknowledged. "Every team struggles shooting from time to time."
Fairview, led by Marks who wound up with 16 points and 16 rebounds, and point guard Andreva Davis' 13 points, built a lead of as much as 13 in the second half. It was 38-25 going into the final five minutes. Bryant's Dezerea Duckworth hit a 3 to spark a rally.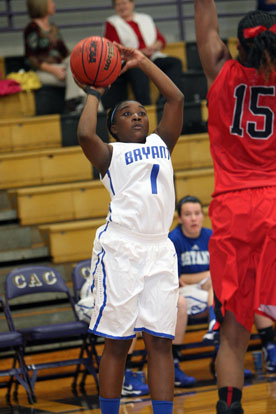 Jumping into their own press, the Lady Hornets forced a turnover and it led to a driving layup by Courtney Davidson that whittled the lead to 38-30. Davis added a free throw but Duckworth countered with two. The lead was just 7 with 2:48 to go.
After a Fairview timeout, Bryant forced a turnover only to turn it back to the Lady Cards moments later. Frustratingly, that happened again. After the second Camden turnover, Duckworth was fouled with 1:45 to go but neither of her free throws would fall.
When Marks responded with a drive for a basket, breaking a four-minute span in which the Lady Cardinals went without a field goal, Fairview righted itself and Bryant never got as close the rest of the way.
Duckworth finished with 14 points to lead Bryant. Logan Davis, who was named Bryant player of the game, added 11, all in the first half, and Davidson finished with 7. Along with Anderson's two free throws, Whitney Meyer added one to go with her team-high seven rebounds.
Davidson popped a 3 from the corner to erase a brief Fairview lead in the early going. When Davis followed up with a layup off a turnover, it was 7-3. Duckworth added two free throws before the first quarter was over.
Marks scored inside to start the second period, trimming the lead to 9-6 but a free throw by Duckworth off an offensive rebound started 7-0 run for the Lady Hornets. Davis went coast to coast for a layup after rebounding a Fairview miss. She then combined with Peyton Weaver to force a turnover. She cashed that in with a jumper in the lane. Yet another turnover by the Lady Cardinals led to a stickback by Duckworth that gave Bryant a 16-6 lead with 4:54 left in the half.
Three's by Marks and Chantry Ross cut the margin to 4 only to have Logan Davis counter with a triple that had it back to 19-12. But that 3 was the last Bryant field goal of the half with 2:18 left. The Lady Hornets' next field goal came in the first 15 seconds of the fourth quarter. In the interim, Fairview went on a 21-2 blitz to gain the upper hand.

LADY CARDINALS 45, LADY HORNETS 35
Score by quarters
Fairview 4 10 19 10 — 45
BRYANT 9 12 2 12 — 35
LADY CARDINALS (1-2) 45
Player fg-fga ft-fta reb fls pts
o-d-t
A.Davis 4-12 5-11 2-5 7 2 13
Bates 0-6 2-2 0-1 1 2 2
Marks 6-17 3-4 6-10 16 2 16
Henderson 1-1 0-0 0-3 3 1 2
Willis 3-5 0-0 0-3 3 3 6
Ross 2-6 0-0 0-0 0 1 6
Avery 0-1 0-0 0-0 0 0 0
Porchia 0-0 0-0 0-0 0 1 0
Team 5-2 7
Totals 16-48 10-17 13-24 37 12 45
LADY HORNETS (2-2) 35
Player fg-fga ft-fta reb fls pts
o-d-t
Duckworth 3-13 7-12 2-4 6 0 14
L.Davis 5-16 0-0 2-3 5 4 11
Weaver 0-2 0-0 1-1 2 0 0
Davidson 3-6 0-0 0-5 5 3 7
Meyer 0-0 1-2 1-6 7 2 1
Scarlett 0-2 0-0 0-0 0 0 0
Murphy 0-0 0-0 0-0 0 0 0
Nichols 0-1 0-0 0-0 0 0 0
Anderson 0-1 2-2 2-2 4 2 2
Baxter 0-1 0-0 0-0 0 2 0
Team 1-1 2
Totals 11-42 10-16 9-22 31 13 35
Three-point field goals: Bryant 3-13 (L.Davis 1-5, Duckworth 1-5, Davidson 1-1, Weaver 0-1, Baxter 0-1), Camden Fairview 3-11 (Ross 2-4, Marks 1-1, A.Davis 0-4, Bates 0-1, Avery 0-1). Turnovers: Bryant 24, Camden Fairview 20.