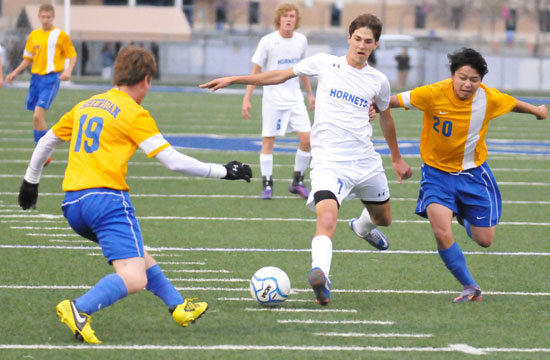 Photos by Kevin Nagle
Bryce Denker scored a whopping five goals to lead the Bryant Hornets soccer team to a 7-1[more] romp over the Sheridan Yellowjackets at Bryant Stadium Friday night.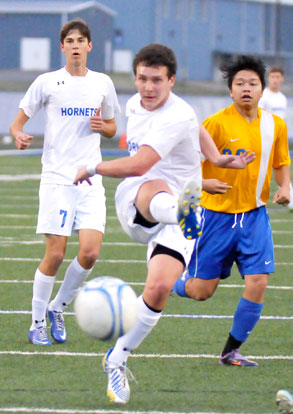 Denker scored three times in the first half and assisted on another goal then added two more goals before the midway point of the second half as the Hornets improved to 10-1-1 overall and 5-0 in the South Conference.
Bryant has outscored its five league opponents 32-3.
Sheridan dropped to 5-3 overall and 1-3 in league play after starting the campaign 5-1.
"I thought we did a good job of controlling the game," stated Hornets coach Jason Hay. "Some tempers flared and our kids kept their heads cool.
"I was proud of the way we played," he added. "At times, we looked a little lethargic but, overall, I thought it was a good effort."
Josh Lowery got the first goal off a feed from Denker just two minutes into the game. It stayed 1-0 until the 16:21 mark when Cory Ballew assisted on Denker's first goal.
Sheridan got on the board at the 10:52 mark but it didn't take long for the Hornets to counter. Dylan Wolf got the assist on Denker's second goal then less than two minutes later, Denker was awarded and penalty kick and drilled it to make it 4-1 at the half.
A free kick just 1:12 into the second half gave Denker a chance for his fourth goal and he found the back of the net. At the 24:19 mark, his fifth came off an assist from freshman Krishna Gurung.
To make it a mercy-rule game, Corey Laisure scored with Lowery picking up the assist.
"Slade (Lewis) is still hurt," Hay said, referring to his starting goalkeeper. "(Blake) Reed was his first chance to really get in and play and he did a good job."