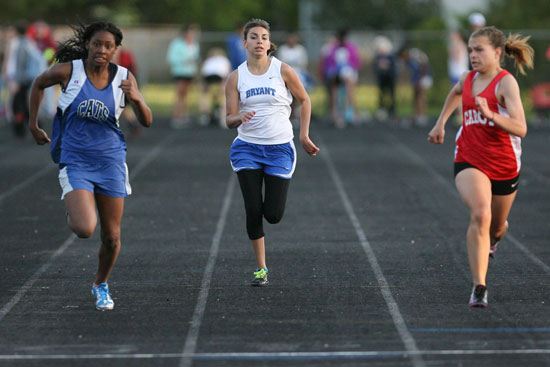 Photos by Rick Nation
Led by 22 points from Haley Hood and 12 points from Sharayah Wallace, the Bryant Lady Hornets[more] freshman track team finished third at Central Arkansas Junior High Conference championship meet at Bryant Stadium on Friday.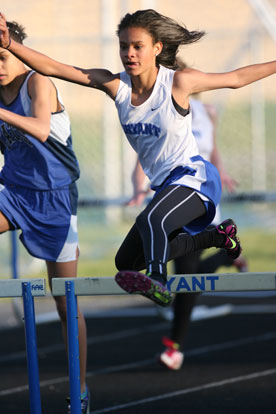 Lake Hamilton won the team title with 196.5 points. Conway Blue was second with 157. Bryant totaled 73.5 points with Cabot North fourth (64) followed by Conway White (59.33), Cabot South (35.33), North Little Rock (33.33) and Benton (3).
Hood accounted for Bryant's lone first-place finish, winning the high jump by clearing 4'8". She was also second in the 400 with a time of 1:03.10 and eighth in the 200, clocking in at 29.08.
Along with Jordan Duval, Reagan Smith and Ann Marie Keith, Hood contributed to a third-place time of 55.09 in the 4×100 relay. In the 4×400, Hunter Delaney joined Hood, Smith and Keith on a 4:38.77, which was also good for third.
Wallace contributed a second-place performance in the discus with a throw of 72'0". She was fifth in the shot put with a toss of 28'2".
The Lady Hornets also garnered second place points from Hannah Shelby and Keith. Shelby's came in the 1600 when she finished in 5:52.04 right behind Conway White eighth grader Lauren Campbell, who edged her out at 5:49.97.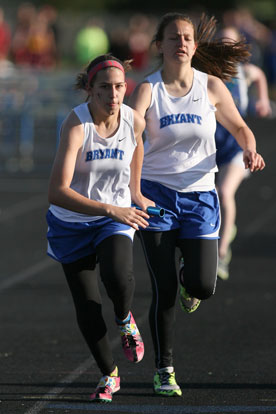 Only freshmen competed for Bryant in the meet.
Shelby also contributed a leg of the fifth-place effort in the 4×800 with Delaney, Emma Barnes and Melissa Barrientos.
Keith was second in the 300 hurdles, finishing in 51.03 and Delaney was fifth in the 800 (2:45.97).
Smith contributed points in three individual field events. She was sixth in both the pole vault, clearing 6'9", and the triple jump, covering 29'0.75". In the long jump, she leapt 14'0" to place eighth.