Photo by Rick Nation
A year ago, a young, banged up Lake Hamilton Wolves team came into Bryant to renew an old rivalry that had produced some hotly-contested thrillers back in the day. But the renewal session was hardly that as the Hornets took advantage for a 49-14 win.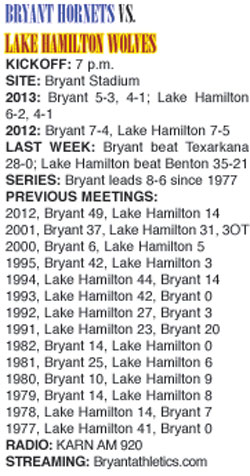 The teams meet again tonight at Lake Hamilton and it may turn into a game that's more indicative of those of yester-year. The juniors from the 2012 Wolves team are now seniors and they're enjoying a better season, leading the 6A/7A-South Conference with a 4-1 mark. They're 6-2 overall.
Bryant comes in even with Lake Hamilton and El Dorado in the league standings. The Hornets have shutout their last three opponents and haven't given up a point in 14 quarters. But Bryant has been playing second-division teams, Fair, Sheridan and Texarkana while Lake Hamilton has been contenders Pine Bluff, El Dorado and Benton, winning two of the three including a 33-25 victory over the Zebras who had defeated the Hornets, 9-3, before their three-game roll.
"Their skill players really worry you," said Bryant defensive coordinator Steve Griffith. "The quarterback (Nathan Sawrie) throws the ball well and he's a threat to run if you flush him out of the pocket in the passing game or they'll just run him on a sweep. He's very capable.
"The fullback (Chris Eastburn) is an outstanding football player who starts on defense and plays most of the snaps on offense," he continued. "He's kind of an old school hit-you-in-the-mouth-type guy. (Trevor Mittlestadt) is an outstanding receiver. (Hunter Lipton and Josh Nazario) come in at tailback and both of them can run the ball. They have a lot of skill players that have looked really good on film. They're going to pose a big challenge.
"They do a lot of multiple sets so you have to be disciplined defensively, making sure that you get lined up properly and that you follow your key progressions that put you in a position to make a play," the coach concluded.
The Hornets defense, which held Texarkana to 135 yards of offense last week, has been sparked by the return from injury of defensive end Colton Burton and linebacker Tanner Rich. The move of senior Jarron Wade from running back to defensive line has been a big lift as well along with the continued improvement of sophomores like Cameron Murray, Devon Waits and Kameron Guillory. Safeties Jake Johnson and Davis Nossaman lead the team in tackles.
"The Catholic game, I think, was key," Griffith said of the turnaround, referring to the Hornets' 37-19 loss at home in week three. "I think we had some kids whose pride was hurt and they've taken it to heart to come to practice with greater focus, to play with more intensity and I think we've had some seniors step up and try to be leaders and it's made a difference. Hopefully, we'll be able to continue that over the next few weeks."
The loss of junior defensive tackle Noah Flores (knee) was a blow to the team. Flores was injured early in the win over Texarkana.
Regarding the Wolves' defense, Bryant offensive coordinator Lance Parker said, "They look very physical, which you would expect Lake Hamilton to be. It's going to be a tall order for us.
"They're a 4-3 team and their best player is their mike linebacker," he continued referring to Eastburn. "He's their fullback too so he never leaves the field and for good reason. He's a really good player. They have some speed in the secondary that also plays receiver. Their outside linebackers are real physical.
"Those front seven are playing run," he noted. "They kind of shell back and try to stop the pass with the other four guys. They've got a good scheme. Their best players go both ways so that could be an advantage for us."
Parker has been pleased with the Hornets' progress on offense despite injuries that have cost them two starting offensive linemen and leading rusher Brendan Young. The trio of juniors Kylon Boyle and Brushawn Hunter along with sophomore Savonte Turner has produced consistently, setting up the passing of junior Brandan Warner.
The Hornets have also used senior wide receiver at quarterback in certain situations, running a Wildcat type of attack that proven to be an effective change of pace.
"We understand what we're doing better but we haven't put a complete game together, throwing and running," Parker said. "We've thrown well some games and run well other games.
"I was very pleased with the running last week," he allowed. "(Texarkana) had some issues lining up to us. We didn't have to really get out of our plan, which was nice. Our guys gained a little confidence with the run."