For more photos from this event by Kevin Nagle, go here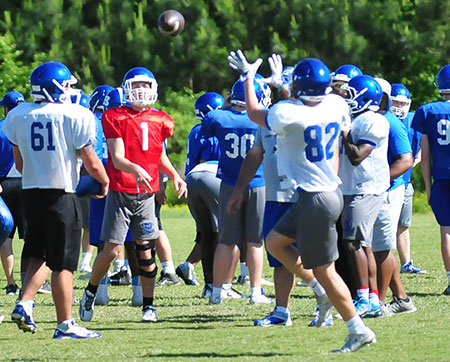 The Bryant Hornets football team began spring practice on Monday, getting in some work in pads right away. Head coach Buck James said the team would try to get in 10 days of workouts in pads over the next three weeks. Though a fourth week is available at the end of the month, it'll be a week of testing so he hopes to be done by then.
"We're going to try to do as much as we can with the amount of time we've got, with the weather and the amount of days we've got," he said. "With the weather going to be like it is on Wednesday, if we can get three days in this week, that'll be good, then come back and try to do at least three next week and then three or four the next week, whatever works out better for us. We'll play it by weather."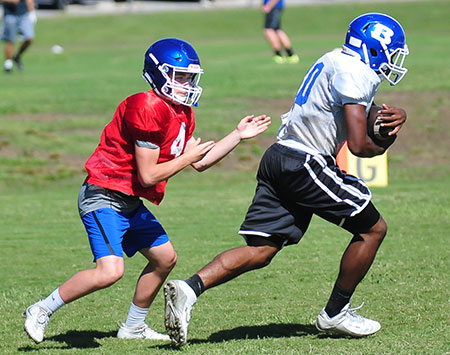 The team was expected to engage in contact today then take Wednesday off with the forecast of rain. Depending on the conditions, Thursday could be a pad day as well.
"I thought, yesterday, although our execution wasn't real good, we were able to run the offense with all our groups, to be able to formulate a little bit of a scheme out there," James said. "I thought it looked good considering what it could look like."
There have been some changes to the offensive staff for the Hornets. Kirk Bock, the quarterback coach last year, has taken over as offensive coordinator after Robert Hooks accepted the head coaching position at Osceola. Shane Clancy remains the offensive line coach.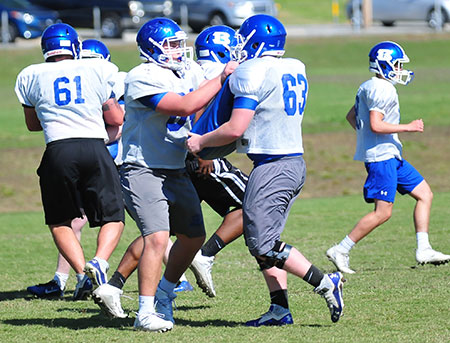 "We hired two new offensive guys, Adam Pendergrass from Van Buren," said James. "He's been a very successful play caller and coach and was a great quarterback. He played at SAU under Steve Roberts. He's a coach's son and very in tune with what's going on. Then we hired a young man from Wynne, Terrence Heaggens. He's going to do the receivers.
"We're sort of installing a new offense to a degree," he related. "Coach Bock has tweaked it a lot. We're trying to get that terminology. With a new coordinator, we have a little bit of a new system. So, we're just trying to make sure we've got it in and everybody knows what to do, to execute it and be able to rep it so we can evaluate who's where, going to play where and who can help us where, more or less."
Darrell Burnett remains the defensive coordinator and secondary coach. Travis Queck will be back to coach the linebackers and Brad Stroud returns to work with the defensive line.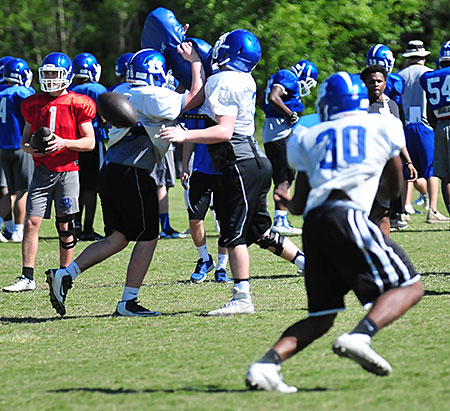 "We're way ahead of where we were this time last year," James said. "Coach Bock and Coach Burnett both have worked tirelessly trying to get these guys lined up to be ready for this."
Of the players, he said, "This'll be their 10,000th rep since we started, from January. They've done a good job."
Asked about the off-season work, the coach said, "We do a lot of strength and footwork development, stuff like that; then we have the kids come in either in the morning or afternoon and work on their specialty, their position. The off-season part is basically strength and conditioning, foot dexterity, agility, stuff like that.
"Spring football is just basically the game of football, learning their craft, the terminology, their techniques, the scheme," he added.
"Our goals are to be able to operate our offense and our passing game and our defense," James explained. "We might throw a little more than we did last year, depending on how well we can pass block and how well we can catch. We'd like to throw it a little bit more than we did last year. Hopefully, we can and we can stay healthy and put up some points.
"I think defensively, we have a chance to be better than we were last year," he continued. "There's some big shoes to fill with Hayden Knowles and Marvin (Moody), Collin Welch and Madre (Dixon) but I think we've got a chance to be just as good if not better. It's going to hard filling in those three guys up front.
"On the back end, we'll be a lot better and that gives us a chance. We can be better inside so that gives us a chance to be better up the middle with some of our linebackers returning there and the guys inside on defense coming back. We've just got to get the end play to pick up and have some guys step up at the outside linebackers."
The fact that the defense is in its second year with Burnett, James said, allows the coaches to expand on what they installed last year.
"They understand it a lot more so they can do a lot more," he said.