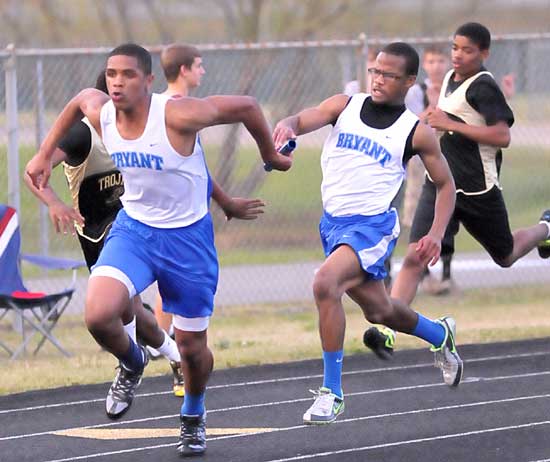 Photos by Kevin Nagle
The Bryant Junior Hornets rode a wave of school-record performances to earn a dominating[more] victory at the Bryant Junior Hornet Relays on Tuesday at Bryant Stadium.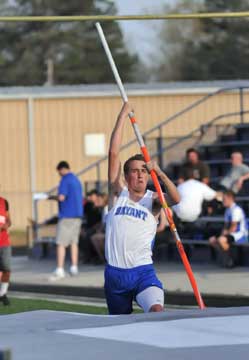 The Junior Hornets scored a total of 131 points to win the meet over runner-up North Little Rock (107.5). Lake Hamilton (74), White Hall (58.5), and Conway Blue (56) rounded out the top five. A total of 18 teams scored in the meet. Bethel Middle School finished 11th with a total of 8 points.
The school records started falling with the 400-meter relay team of Mar'Kevius Nelson, Brenden Young, Steven Murdock, and Clark Garland, which won with a new record of 45.81. Young then broke his own record in the 300-meter hurdles with his winning time of 42.76. Young also narrowly missed a record in the 110-meter hurdles, which he won in a time of 15.82.
In the next race of the evening, Mark Winn broke a 26-year old record in winning the 800-meter run in a time of 2:05.07. Not to be outdone, John Winn broke a 36-year old record in the 200-meter dash with a time of 22.89. John Winn also won the 400-meter dash with a time of 52.88.
Other first place finishers for the Hornets were the 3200-meter relay team of Connor Wilson, Jim Dellorto, Dru Wen, and Mark Winn. Their time was 9:21.36. Justin Combs earned a victory in the pole vault with a clearance of 11' 0". The 1600-meter relay team of Murdock, Nic Townsend, Young, and John Winn finished off the night with a winning time of 3:43.87.
"Obviously this was a tremendous meet with outstanding individual performances by many athletes," stated freshman coach John Orr. "This team has a lot of individual talent, but they are also tremendous competitors. They run with a lot of heart. They work extremely hard in practice pushing each other to get better."
Other scorers for the Jr. Hornets were Nelson in the long jump (3rd place – 19' 7"), the triple jump (3rd in 37' 11"), the high jump (6th at 5' 4"), and the 100-meter dash (4th in 11.91).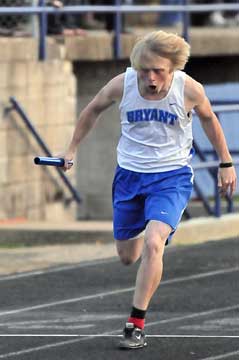 Also scoring was Wilson in the 1600-meter run (7th in 5:17.02) and the 800-meter run (3rd in 2:16.57), Wen in the 1600 meter run (6th in 5:12.99), Dalton Davis in the 300 meter hurdles (5th in 48.00) and the pole vault (7th in 8' 0"), Garland in the 200 meter dash (7th in 24.85), Steven Murdock in the 400 meter dash (4th in 56.19), and Noah Flores in the shot put (5th in 40' 7").
"Gutsy is a word that comes to mind when you watch these athletes compete," Orr add. "I am very pleased with the effort that these athletes put out. Some were asked to do things they had not done before, for example Davis placing in his first meet in the pole vault and Murdock running very hard in the 400-meter dash. Nick Townsend also stepped up big when asked to in the 1600-meter relay."
Bryant High School coach Steve Oury was also pleased with the results.
"That was a tremendous performance all around," he said. "The Winn brothers took down some of the oldest school records we had on the books. Brenden Young is a beast in the hurdles and Mar'Kevius Nelson did a great job in the jumps.
"Hopefully these guys will keep working hard and not be satisfied," the coach concluded. "Despite our performance, there is still room to improve, but I know these guys will do what it takes to get better. Coach Orr is doing a great job with them, along with Coach Brad Stroud, who coaches our jumpers, and Coach Keith Dale, who coaches our hurdlers and vaulters."
For Bryant Blue (Bethel), Pierce Finney scored in three events. He was seventh in the long jump with a leap of 18-1; eighth in the triple jump at 34-11.5; and eighth in the 200-meter dash with a time of 25.18. Charlie Terry accounted for fifth-place points for his 5:05.47 time in the 1600.
The Junior Hornets are scheduled to compete next at Hot Springs Lakeside on March 27.