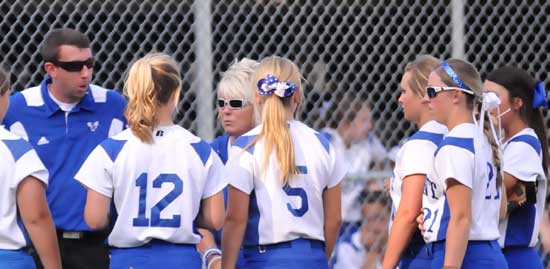 Photos by Kevin Nagle
In the Bryant Lady Hornets' 22 wins this season, exactly half have been shutouts and,[more] in 14, the team has reached double digits in runs.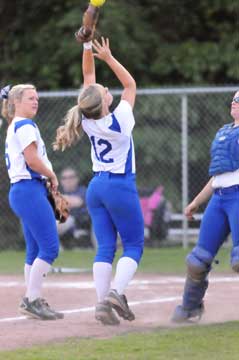 Those remarkable numbers include Tuesday's night's 11-0 romp over the Cabot Lady Panthers as the Lady Hornets moved to 6-0 in 7A/6A-Central Conference play going into this Friday's trip to North Little Rock, a rematch of last year's State tournament final.
Peyton Jenkins fired a one-hit shutout, facing just two over the minimum. She struck out nine. At the plate, she contributed a solo homer to initiate Bryant's offensive onslaught.
Kaley Coppock had two hits as eight of the nine Bryant starters had hits. Kayla Sory, Carly Yazza and Katy Stillman drove in two apiece.
Jenkins set down the first six batters she faced, four of them on strikes. An infield hit started the third inning but two strikeouts and a pop to second followed. She allowed a one-out walk in the fourth then retired the last five batters in succession including three more on strikes.
The Lady Hornets struck for six runs in the bottom of the first to gain the upper hand right away. Jenkins' shot to center got things started with one out. Jessie Taylor singled then Sory reached on an error. When Cassidy Wilson beat out an infield hit, the bases were loaded with Coppock coming up.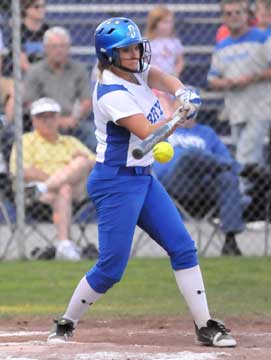 The sophomore grounded to third and Cabot managed to get a force at the plate on courtesy runner Mercedes Dillard. But Yazza cleared the bases with a double, taking third on the late throw to the plate. Stillman singled her in and scored as well when McKenzie Rice sent a drive to the fence in left for a double, making it 6-0.
The Lady Hornets would tack on in the third when Coppock singled. She got to second on a sacrifice by Yazza, third on a passed ball and scored on Stillman's groundout.
Bryant made it a run-rule game in the fourth. Jenna Bruick reached on an error and, after Jenkins walked, scored when Taylor's drive to left was misplayed. With Abby Staton running for Jenkins, Sory cracked a double to drive in two, making it 10-0. Coppock's one-out double set the final score.