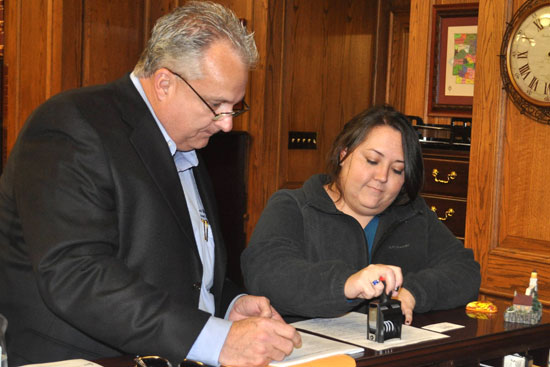 Saline County Circuit Clerk Dennis Milligan filed the paperwork with the Arkansas Secretary of[more] State on Monday afternoon to form an exploratory committee for a 2014 race for Arkansas Treasurer.
Former Gov. Mike Huckabee and former Arkansas Highway Commission Chairman R. Madison Murphy of El Dorado are the co-chairmen of Milligan's committee.
Other members of Milligan's exploratory committee include:
State Representative Prissy Hickerson of Texarkana, who also served as a chairman of the Highway Commission.
Former Congressman John Paul Hammerschmidt of Harrison, who also served as chairman of the Republican Party of Arkansas.
Former Arkansas First Lady Gay White of little Rock, who was married to former Gov. Frank White before his death in 2003.
Lana Bethune of Little Rock, wife of former Congressman Ed Bethune.
Charles Mazander of Benton, owner of Mazander Engineering and one of the most respected Republicans in Arkansas.
Princella D. Smith, currently studying homeland security in Israel, and a principal in American Pride Strategies.
During his first term as circuit clerk, Milligan established a new jury notification system that notifies jurors when they need to come to court by text message, e-mail or a call to their home or cell phone.
The Milligan Jury Notification system was so successful that the National Center for State courts in Williamsburg, VA, noticed and nominated him for the prestigious G. Thomas Munsterman Award for Jury Innovation. Milligan is the first Arkansan ever nominated for this national award.