Photos courtesy of Cynthia Austin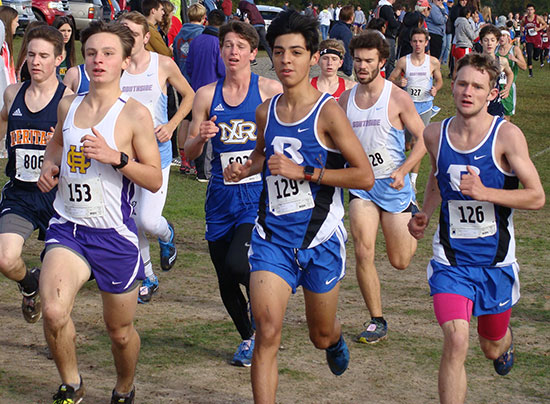 HOT SPRINGS — The Bryant Hornets concluded the 2018 cross country season with a seventh-place finish at the Class 6A State Cross Country Championships on Friday at Oaklawn Park. The Hornets scored 199 points to finish behind Bentonville, Fayetteville, Springdale Har-Ber, Rogers, Conway, and Cabot.
Chris Barrientos was the first Hornet across the line, placing 20th in a time of 17:22. The rest of the Hornets who competed were Bresner Austin (22nd in 17:23), Ammon Henderson (51st in 18:11), Chris Herrera (52nd in 18:13), Christian Brack (68th in 18:32), Blake Shields (80th in 18:54), Luis Martinez (94th in 19:20), Nick Fowler (96th in 19:21), and Hagan Austin (103rd in 19:41).
"We didn't have our best day," acknowledged Hornets coach Steve Oury. "While the course was sloppy, it was sloppy for everyone, so that is no excuse. We had some bad breaks during the race, but that's the way it goes sometimes.
"I know Chris Barrientos would have liked to have stayed up in the front pack, where he was for most of the race, but it wasn't meant to be," he added. "I've got to do a better job of getting them ready for the state meet.
"The boys gave great effort, and I'm proud of the season they've had," the coach concluded. "We have some young talent and I'm really excited about what the future has in store."