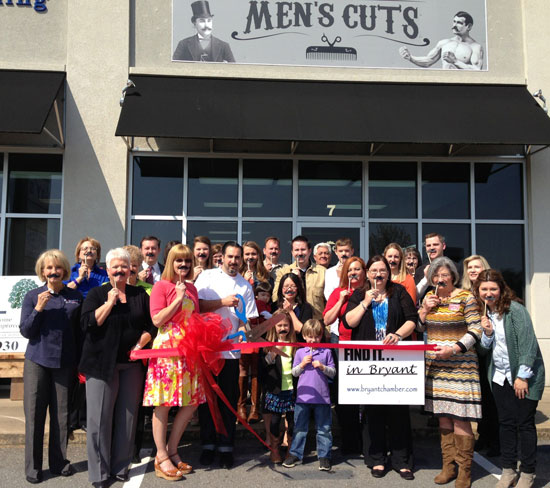 To denote the business type, Bryant Area Chamber of Commerce Ambassadors sport[more] their mustaches
for The Art of Men's Cuts, specializing in classic men's haircuts. Those on hand included, front from left, Susie Everett of
Everett Buick GMC, Karen Grice of Heartland Bank, Michelle Finney of Mr. Fix It, William Oraha owner
and barber for The Art of Men's Cuts, his wife Doris holding his son, Thomas, Bella Epperson, owner's
niece, Julian Epperson, owner's nephew, Kathy Pannell of Bank of the Ozarks, Cheryl Cook of Landers of
Saline County, Suzie Epperson. In the second row are Rae Ann Fields of the Bryant Chamber, Allison
Ramsey of Staffmark, Andy Garcia of Edward Jones, Samantha Finney, Hayley Crowell, Tom Bynum of
Flowers & Home, Rebecca Harris of Mystical Restoration, Megan Elms of Saline Memorial Hospital, Joan
Chambers and James Epperson. Third Row includes Tiffany Mahan of Summit Bank,
Lauren Felton of Summit Bank, Kirk Blair of Big Oak Home Improvement,
John Ward, Grayson Hulsey and Phyllis Tebbetts.