Editor's note: This is a regular feature profiling senior athletes at Bryant High School.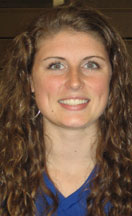 NAME: Alyssa Anderson
PARENTS: Jon and Kristi Anderson.
SIBLINGS: Allie, 14.
FAVORITE SUBJECT IN SCHOOL: Biology
WHAT DO YOU LIKE TO DO IN YOUR SPARE TIME? Volleyball, photography, cooking.
FAVORITE FOOD: Anything from Mi Ranch
FAVORITE MUSIC ARTIST OR GROUP: Jason Aldean
FAVORITE MOVIE: Lion King[more]
FAVORITE TV SHOW: NCIS
WHAT WAS YOUR FAVORITE TOY AS A KID? Beanie Babies.
WHAT ARE YOUR PLANS AFTER HIGH SCHOOL? Go to Arkansas State, then go to med school to become a Radiologist.
FAVORITE THING ABOUT VOLLEYBALL: Blocking.
POSITION: Middle and right-side hitter
WHAT DO YOU FEEL LIKE IS YOUR PRIMARY RESPONSIBILITY ON THE COURT? Be a leader and encourage everyone on the court.
WHAT DO YOU THINK OF THE SEASON SO FAR? It's going great. We are playing well together.
WHEN THE TEAM'S PLAYING WELL, WHAT'S IT DOING? Communicating and working hard.
WHAT'S BEEN THE HIGHLIGHT TO THE SEASON SO FAR? The Benton game.
WHAT'S IT GOING TO TAKE FOR THE TEAM TO BE SUCCESSFUL THE REST OF THE SEASON? We have to work together on the court, play as a team and just keep improving.
INDIVIDUALLY, WHAT ABOUT YOUR GAME ARE YOU MOST CONFIDENT ABOUT? Blocking and my ability to place the ball on the other side of the court.
WHAT DO YOU WORK HARDEST TO IMPROVE? Blocking and attacking.
AFTER YOU'RE THROUGH PLAYING VOLLEYBALL AT BHS, WHAT DO YOU THINK YOU'LL REMEMBER MOST FONDLY ABOUT IT? Playing with the same group of girls since the seventh grade.