The Bryant Lady Hornets will be hosting the Class 7A State Tournament beginning Thursday, May 10. For brackets, go here.
Editor's note: This is a regular feature profiling senior athletes at Bryant High School.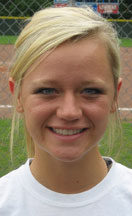 NAME: Peyton Jenkins
PARENTS: Lewis Jenkins and Glenna Turner; my stepmother is Tonya
SIBLINGS: I have a brother, Nick. He's 15; a step-sister Tara and a step-brother Ty.
FAVORITE SUBJECT IN SCHOOL: Math
WHAT DO YOU LIKE TO DO IN YOUR SPARE TIME? Sleep
FAVORITE FOOD: Cheesecake
FAVORITE MUSIC ARTIST OR GROUP: Third Eye Blind
FAVORITE MOVIE: Friends With Benefits[more]
FAVORITE TV SHOW: Teen Wolf
WHAT WAS YOUR FAVORITE TOY AS A KID? I played with Hot Wheels a lot and dolls, at the same time. My dolls rode in Hot Wheels.
WHAT ARE YOUR PLANS AFTER HIGH SCHOOL? College at CBC. I'm majoring in Biology to be an Orthodontist.
OTHER THAN YOUR PARENTS, WHO HAS HAD THE BIGGEST INFLUENCE ON YOUR LIFE? My grandparents in every way; they're always there for me. They always take up for me and listen to anything I have to say. They teach me about life, how you should live life and handle yourself.
FAVORITE THING ABOUT SOFTBALL: It gets my mind off things.
POSITION: I pitch
WHAT'S YOUR APPROACH AT THE PLATE? I just try to hit the center of the ball.
WHAT'S YOUR APPROACH PITCHING? Just go with the batter's weakness. You can tell where their weak points are by the way they carry themselves, how they come to the plate.
WHAT DO YOU THINK OF THE SEASON SO FAR? It's a good season, a strong season.
WHEN THE TEAM'S PLAYING WELL, WHY? We've built confidence. We've practiced being consistent.
WHAT'S BEEN THE HIGHLIGHT TO THE SEASON SO FAR? Van Buren. I think we grew closer together. That was the longest time for us to be together constantly.
WHAT'S IT GOING TO TAKE FOR THE TEAM TO BE SUCCESSFUL AT STATE? Continue to be consistent, practice consistency.
TALK ABOUT YOUR GAME. WHAT ARE YOU MOST CONFIDENT IN YOUR ABILITY TO DO? The whole thing; we practice everything.
WHAT DO YOU WORK HARDEST IN PRACTICE TO IMPROVE ON? Consistency.
AFTER YOU'RE THROUGH PLAYING SOFTBALL AT BHS, WHAT DO YOU THINK YOU'LL REMEMBER MOST FONDLY ABOUT IT? The relationships I've developed with everybody on this team. They're like my sisters.