By Rob Patrick
Bryant Black Sox manager Craig Harrison didn't mince words.
"If we don't win the State this year, I'll be disappointed," he stated as his team prepared to begin the 2009 Senior American Legion season tonight at Bryant High School Field against Hot Springs. "I think we've got the team to do it."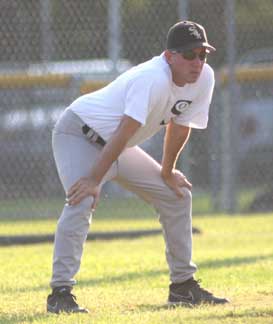 Harrison said, in his 15 years as manager of the Sox (compiling a 468-197 record), he's never come out and said that at the start of a season even though Bryant teams under his guidance with help from his brother Tic, have won three State titles and have finished as runner-up twice. In summer of 2007, the Sox not only won State, they won a Regional and became just the third Legion team from Arkansas to make the World Series.
"We don't have the talent maybe that some of the other teams have had," Harrison related, "but I just feel like the character of this team, if we all do what we're supposed to do, I like our chances.
"Yes, it's a lofty goal," he continued, "but we're going to set high goals. Finishing fifth (in the State) last year was considered — I mean, we're low-class citizens when you compare that to what Bryant is used to and that's what we're setting out to do. Our goal is to win the State."[more]
The team is pretty much the same as the roster for the Bryant Hornets team that won a conference title but was ousted in their first game at State with the notable additions of a pair of gifted pitchers. Lefty Trent Daniel, the ace of last year's team, returns after a splendid freshman season at the University of Arkansas-Fort Smith and an invitation to join the Arkansas Razorbacks next season in hand. Also returning is right-hander Tim Bearden, a revelation last summer as the Hornets closer after he'd sat out a year. Bearden didn't finish the season in 2008 as he honored his commitment to the National Guard for the rest of the year. But he's back for the summer and hopes to pick up where he left off.
Daniel was 7-2 last summer with a 2.22 earned run average. He struck out 110 in 56 2/3 innings. Bearden was 1-0 with four saves with a 1.87 ERA and 12 K's in 15 innings.
"I really like the way our pitching sets up," Harrison said. "Defensively, we're going to have some challenges but I think we're going to swing it okay. It'll be late in the year. We've got some guys that are going to be gone on senior trips and on little vacations here and there but, by July 17, we're going to have a good team."
July 17 is when the District IV Tournament will begin in Bryant to determine the league's two representatives to the State Tourney in North Little Rock.
"We're going to start the year with a four-man rotation," Harrison announced. "On Monday, Caleb Milam will start our first game. I think he's got tremendous ability even though he's young in age. He got some valuable experience on the mound in some key varsity league games this (high school) year. He's going to step into the role that Drew Ransdell had last year. Can he win 10 games like Drew did? I don't know but he has all the ability.
"Tuesday night against Lake Hamilton, we'll throw Kaleb Jobe," he continued, "a third-year pitcher who's thrown in a Regional game. He's been there.
"We'll go Wednesday at Lakeside with Ben Wells, another guy that threw all year for us last year. He had some rough spots a little bit in the spring but he's got all the talent. He knows how to pitch and he'll do well for us.
"Then Friday (against North Little Rock), we'll go with our No. 1 starter, Trent Daniel," Harrison said. "He had a great year at Fort Smith. He's our anchor.
"All of that means we have the luxury of having a bullpen for the back end of the game of Tim Bearden and Tyler Sawyer," he added. "Tyler's been a starter, been a closer. He can do both. Early in the year, we'll use him at the back end. If we need a start in a conference game or a tournament game, we can move him up.
"We'll use four guys in the middle. Austin Queck, who threw great for us last summer, real well for the Junior team and real good for the Senior team, started a big game for us at (The Tournament of Champions) in St. Louis. He's a guy that can throw multiple days, that's why he's not a starter. He can come in for middle relief one night and throw two innings then come back the next night. Justin Blankenship's the same way. He threw for us in the middle last year. He's a guy that can bounce back and give us a couple of innings in the middle if we need them. Brady Butler didn't throw in the spring (in high school) but he pitched some last summer. Right now, he'll probably throw some for the Junior team first but he'll be one of our middle guys. And Jacob Clark, another guy that threw last year for the Junior team. We'll get him some innings.
"You're looking at 10 guys right there," Harrison concluded. "I wouldn't be nervous right now putting any one of those 10 on the mound. You know, it starts with pitching and that's 10 guys we can go to and succeed."
Around the infield, Butler, Wells, Milam and Queck will work at first. At second, Austin Benning, Jonathan Wade and Jobe will play. Sawyer will start at short with support from Wade and Jobe. Hunter Mayall will start at third with Wade, Jobe and Sawyer available there too.
Jobe will be behind the plate, backed up by B.J. Ellis and Butler.
In the outfield, Brennan Bullock will be in left, Caleb Garrett in center and Justin Blankenship in right. Daniel will play will sub in at any of the three positions. Bullock can also help in center. Queck, Wade and Clark can out at the corner spots.
The Sox will be without a pair of players due to injury, outfielder Garrett Bock and infielder Hunter Alford.
"You're looking at three deep," Harrison commented. "Everybody will get a chance to produce this year."
The Sox will once again travel to the Twin Lakes Classic in Mountain Home June 10-12. They'll play a jamboree featuring teams from Arkansas, Oklahoma and Texas in Fayetteville Jun 6-7. And for the first time in quite a while, they will not be traveling to the Tournament of Champions in Alton, Ill. This year, the Sox will compete in a highly-regarded tournament in Columbia, Tenn., July 1-4.
"This will probably be the best tournament that we have ever played in, counting the Regionals and the World Series," Harrison stated. "It'll be fun. Our pool will include Twitty City (Murfreesboro, Tenn.), ranked no. 1 in Tennessee and No. 2 nationally in 2008. They aren't Legion — they play in the same league as the Midwest City, Okla. Nationals. They were 39-9 last year. Tuscaloosa, Ala., the 21-time Alabame State champions including 2008, 2007, 2005, 2004, 2003. They were fourth in the Southeast Regional last year. And Oldham City (Louisville), Ky.
"Other teams include Dothan, Ala., 12-time Alabama State champion. We played them in the Regional in 2005 which they won and went to the World Series," Harrison continued. "Fayetteville which has been the Arkansas State runner-up the last two years; Columbia, Tenn., the 2007 World Series champions; Athens, Ala., a team we saw in Mountain Home in 2007; Pontotoc, Miss., the national runner-up in 2004, and a team we saw in the Regionals in 2007; Paducah, Ky., 10-time Kentucky State champs that run-ruled us in the 2007 Regional."
Here is the Senior Black Sox schedule:
BRYANT BLACK SOX
Senior American Legion
2009 Schedule
May 18 — Hot Springs AA
May 19 — Lake Hamilton AA
May 20 — at Hot Springs Lakeside AA
May 22 — North Little Rock
May 25 — at Cabot
May 26 — at Searcy (9 inn.)
May 27 — Hot Springs Village AA (2)
May 29 — at Benton*
June 1 — at Pine Bluff*
June 2 — LR Express*
June 6 — #Nashville
June 6 — #Fayetteville
June 7 — #Texarkana, Texas
June 7 — #Bartlesville, Okla.
June 10 — +Harrison
June 11 — +Miller, Mo.
June 12 — +St. Louis Kirkwood
June 16 — Pine Bluff*
June 17 — Jacksonville
June 20 — LR Blue*
June 22 — Hot Springs Lakeside AA
June 23 — at Lake Hamilton AA
June 24 — LR Express*
June 27 — at Texarkana* (2)
June 29 — at Maumelle AA
July 2 — &Murfreesboro, Tenn.
July 3 — &Tuscaloosa, Ala.
July 4 — &Louisville, Ky.
July 7 — at Hot Springs AA
July 9 — at LR Blue*
July 10 — Benton*
July 12 — at Jacksonville
July 17-20 — District Tournament, Bryant
July 24-26 — State Tournament, North Little Rock
Aug. 6-11 — Regional Tournament, Enid, Okla.
Aug. 14-16 — World Series, Fargo, ND
#Fayetteville Jamboree
+Twin Lakes Classic, Mountain Home
&Independence Day Classic, Columbia, Tenn.