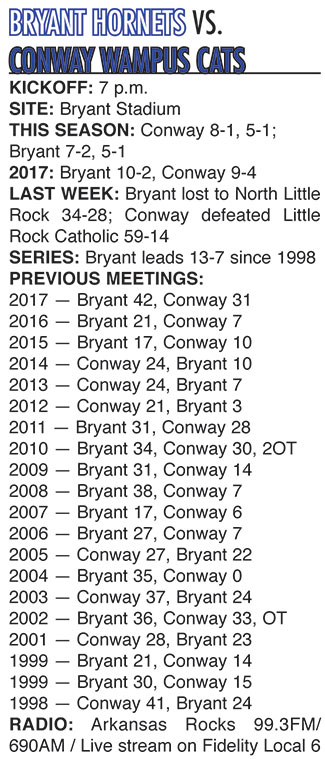 File photo by Rick Nation
As usual, when the Bryant Hornets meet the Conway Wampus Cats, there will be a lot on the line.
The two teams will be vying for a first-round bye in the playoffs plus a chance to avoid the No. 1-ranked North Little Rock Charging Wildcats until the State finals when they tangle tonight at Bryant Stadium.
It's Senior Night for the Hornets, who come into the game after a disappointing 34-28 loss at North Little Rock last week that dropped Bryant to 7-2 overall this season. Conway, 8-1, suffered its only loss to North Little Rock at home on Sept. 28, 35-14. The Wampus Cats drubbed Little Rock Catholic 59-14 last week. Both teams are 5-1 in the 7A-Central Conference, tied for second place.
The loser of tonight's game will be the third seed from the Central and will host Van Buren, the sixth seed from the West, next week in the first round of the playoffs and, if they can get that far, would face North Little Rock in the semifinals.
That's where Conway wound up last year as the third seed. In the exact same situation, the Hornets outscored the Cats 42-31 after a loss to North Little Rock to earn second and the bye in the playoffs.
As it turned out, both teams made it to the semifinals where Conway lost to North Little Rock, the eventual State champion, and Bryant lost at Bentonville.
The predecessors of this year's senior group accumulated 28 wins in three seasons, a figure that they could move within a win of matching with a victory tonight.
"That's something we'll look back on when the season's over with," said Hornets coach Buck James. "They've done a tremendous job. They're the first group that was here when I got here and have bought in to what we're doing. Repeatedly, over the last three years, they've been one of the top two or three ranked teams in the state. They've helped put Bryant at another level. I'm proud of that for them.
"That's something that, when they get older and start their families, they can tell their kids they were proud of being on that football team," he continued. "And, hopefully, it's a football team that still has great things left in them, has a chance to play and win a State championship. That's our ultimate goal here at Bryant. These guys have done a super job of taking coaching, carrying it to the game field and playing extremely hard."
That's what the Hornets will need tonight against a Conway team that's 8-1 for a reason. It's something that Bryant teams have done so well, bouncing back after losses to play well. In fact, no Hornets team has lost back-to-back games since 2012 when the Hornets lost their regular-season finale to El Dorado 42-35, then lost in the first round of the playoffs to Cabot, 28-21.
No Bryant team has lost back-to-back regular-season games since the 2003 squad lost to Conway (37-24) and North Little Rock (16-14) on consecutive weekends.
This year, after the disheartening 36-35 loss to Fayetteville in week three, the Hornets bounced back with an impressive performance against Fort Smith Northside (though the game only lasted a half due to storms).
"The main thing is getting them back in the film room, getting them back on the practice field and doing the things they do every day," James said. "I thought our kids did extremely well with that. What it boils down to is getting that past us, learning from our mistakes, learning from what we did well, carrying that with us and try to fix things we did wrong.
"Our kids have a workman's type of attitude," he continued. "They came back with a good frame of mind. They worked extremely hard on Monday without there being any school, came up here and not a guy missed practice that plays for us. We had guys that really attacked Monday. We've had a good Tuesday and Wednesday.
"Our guys seem to understand the mission, the goal," the coach reflected. "We still have a chance to play for the championship. We still have a chance to be number one. And the only thing we can do is take care of ourselves then play for each other and do the things it takes to be successful.
The Wampus Cats are led, offensively, by 6-5 quarterback Jovani Johnson, another in a line of run-pass threats the Hornets have dealt with this season. Johnson has rushed for 654 yards and 17 touchdowns and hit 74 of 141 passes for 1,261 yards and 10 scores. Running back Cary McClain has rushed for 997 yards on 145 carries.
The Cats look to run first. Their pass game features deeper routes. Like North Little Rock who burned the Hornets with tight end Drew Martin, they like to use their tight ends.
The Conway defense is sound. Senior safety Malik Benton, like Bryant's defensive tackle Kajuan Robinson, is on the State Farm defensive player of the year watch list. The line is anchored by 275-pound noseman Tim Mosby. Linebackers Reed Hughes, Parker Prock, DeWayne Smith and Payton Hicks are all solid as well.
With only two returning starters on defense, end Kaine Aaron and safety Roman Aaron, the Wampus Cats appear to have gotten stronger and better as the season has gone along after giving up 41 point to El Dorado in their season-opener.
The Hornets depend on a strong offensive line that struggled some trying to move the North Little Rock front seven. On the ground, Latavion Scott has rushed for 1,076 yards and, in the air, Ren Hefley has thrown for 1,294 yards and 13 touchdowns. His top targets have been Jake Meaders (29 catches) and River Gregory (19 catches).
Defensively, the Hornets are led in tackling by end Nate Wallace with 59 and linebacker Catrell Wallace with 51. Nate Wallace and Robinson lead the team with 11 tackles for losses apiece. Wallace has seven sacks and Robinson four. In two games since he came back from a knee injury, linebacker Jakob Neel has been in on 23 stops.
2018 CLASS 7A STATE PLAYOFFS
Friday, Nov. 9
Game 2 — Fort Smith Southside or Fort Smith Northside (Central 5) at Fayetteville or Springdale Har-Ber or Springdale (West 4)
Game 4 — Van Buren or Springdale (West 6) at Conway or Bryant (Central 3)
Game 6 — Springdale or Springdale Har-Ber (West 5) at Fort Smith Southside or Fort Smith Northside (Central 4)
Game 8 — Cabot or LR Catholic (Central 6) at Fayetteville or Springdale Har-Ber (West 3)
Friday, Nov. 16
Game 9 — Game 2 winner at North Little Rock (Central 1)
Game 10 — Game 4 winner at Bentonville or Bentonville West (West 2)
Game 11 — Game 6 winner vs. Bentonville or Bentonville West (West 1)
Game 12 — Game 8 winner vs. Conway or Bryant (Central 2)
Friday, Nov. 23
Game 13 — Game 9 winner vs. game 10 winner
Game 14 — game 11 winner vs. game 12 winner
Saturday, Dec. 1
At War Memorial Stadium, Little Rock
Championship
Game 15 — Game 13 winner vs. game 14 winner, 6:30 p.m.