Editor's note: This is a regular feature profiling senior athletes at Bryant High School.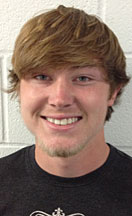 NAME: Chase Stuart
PARENTS: Shelley Tipton and Justin Stuart
SIBLINGS: I have one brother, Ty, who's 13. I have two other step-sisters on my mom's side and one on my dad's. Hannah is 17 and Kristen is 19. Kaitlin is on my dad's side. I think she's 9.
FAVORITE SUBJECT IN SCHOOL: Art
WHAT DO YOU LIKE TO DO IN YOUR SPARE TIME? I draw and I enjoy being outside, mountain biking, that kind of stuff.
FAVORITE FOOD: Italian
FAVORITE MUSIC ARTIST OR GROUP: I don't have one. I listen to too[more] much, way too much. I like a variety of stuff.
FAVORITE MOVIE: The Italian Job
FAVORITE TV SHOW: Top Gear
WHAT WAS YOUR FAVORITE TOY AS A KID? Lego's
WHAT ARE YOUR PLANS AFTER HIGH SCHOOL? I'm going to Central Baptist College in Conway to play college soccer and study Business.
OTHER THAN YOUR PARENTS, WHO HAS HAD THE BIGGEST INFLUENCE ON YOUR LIFE? Probably my coaches; Coach (Jason) Hay and Ryan Speers, they've really taught me a lot about hard work and determination.
FAVORITE THING ABOUT SOCCER: Just getting to play. I've missed a lot of the season (due to a hamstring injury) so I haven't had to do much. I miss it.
POSITION: Forward and wing
WHAT DO YOU FEEL LIKE IS YOUR PRIMARY RESPONSIBILITY ON THE FIELD? Scoring and supporting the other forward.
WHAT DO YOU THINK OF THE SEASON SO FAR? I think it's been going really good. We've beat a lot of tough opponents like Rogers and Catholic. That's a big plus.
WHAT'S BEEN THE HIGHLIGHT TO THE SEASON SO FAR? Beating Catholic.
WHAT'S IT GOING TO TAKE FOR THE TEAM TO BE SUCCESSFUL THE REST OF THE SEASON? We've got to step it up against tougher teams after we've been playing a lot of easier teams this season.

INDIVIDUALLY, WHAT ABOUT YOUR GAME ARE YOU MOST CONFIDENT ABOUT? Definitely my pace. I'm able to keep up with everything and I'm able to hold my pace for quite a while.
WHAT DO YOU WORK HARDEST TO IMPROVE? Focus on my first touch and my skills.
AFTER YOU'RE THROUGH PLAYING SOCCER AT BHS, WHAT DO YOU THINK YOU'LL REMEMBER MOST FONDLY ABOUT IT? Definitely being able to make a lot of new friends and having a lot of guys that I can trust, almost like family; really close with different people.