Photos courtesy of Jason Majors
ARKADELPHIA — The Bryant Junior Hornets picked up where they left off last season, earning a dominating victory in Ouachita Baptist University's Bob Gravett Invitational cross country meet Saturday.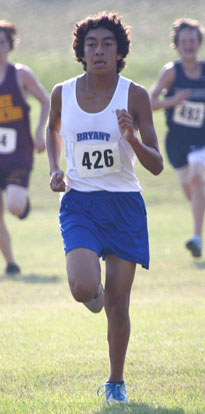 The Junior Hornets scored a winning total of 44 points. Rounding out the top five were Lake Hamilton (68), Conway (98), Little Rock Christian (113), and Cabot (123). A total of 13 teams and 220 runners completed the two-mile race.
Eighth grader Shannon Zamora led Bryant with a second place finish in a time of 11:53. The rest of the Junior Hornets' top seven were Colby Harvey (ninth in 12:38), Ricky Barrientos (10th in 12:39), Henry Terry (11th in 12:40), Carson Cato (12th in 12:42), Joe Sartini (13th in 12:42), and John Carder (14th in 12:43).
"That was a great way to start the season," said Hornets coach Steve Oury. "Shannon Zamora did a tremendous job of pacing himself and working through some traffic to finish second. Although I would like to see a closer gap between Shannon and our next runner, once Colby Harvey came in ninth, we took the next six places and only had a 5-second gap between our second and seventh runners, which is awesome.
"We are going to try to extend our winning streak against local competition this Thursday at our home meet," said Oury, referring to the annual Bryant Invitational at Bishop Park on Sept. 12. "It is very important for us to defend our title at our home meet, so we are really looking forward to it.
"As usual, Coach Deanna Porter at Bryant Middle School and Coach Kayla White at Bethel Middle School are doing a great job," he added. "Four out of our top seven runners were in either seventh or eighth grade."