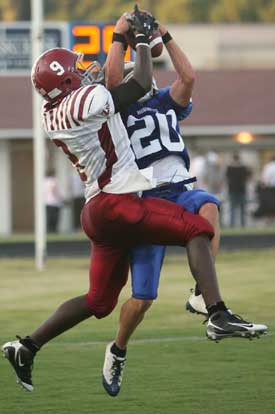 By Rob Patrick
Photos by Rick Nation
"I think, by the first game, you really want to have an identity established," John Wells was saying as he discussed the secondary for the 2010 Bryant Hornets. "When I talk about identity, I mean: Are we headhunters? Are we man (coverage) guys? Are we good at finesse?"
But such is not the case at this point, Wells said.
"I think we've got an eclectic group of guys," he explained. "I think they all have something different to offer. We have a lot of choices and that's good. It's not that they're all so close together and they're not doing well. They're all improving and they all have something to offer."
In fact, Wells said, the opponent of the week and that team's offensive style or emphasis may determine which guys play. It may even come down to in-game situations.
"There's a couple of guys that are really good man-to-man cover guys but I might not want them out there one-on-one tackling an open-field guy," the coach continued. "There's some guys that can track the ball and I think that's an ability. I mean, we can throw all the deep balls we want but I really believe that's an ability that some guys have and some guys just don't. You can line up the same guys in the outfield and hit them flyballs and some of them can read it off the bat and go get it and I think the same guys can read the ball off the quarterback's hands, read that front shoulder and go get it.[more]
"We want to put these guys in the right position to succeed, to take advantage of their strengths," Wells said. "That's why a lot of times we may have a field corner and a field safety because we do match coverages to the field with a different coverage to the boundary sometimes. So, depending on their strengths and the situation — like I said, it's a good problem to have.
"And usually, like I said, by the first game I like to have an identity for the whole secondary or a personality of the whole secondary but I can't put a finger on it yet," he reiterated. "They all have their own positives and that's going to help us out."
Wells tabbed senior Dylan Blasi (5-9, 160) as a field corner. "The good thing about him is he's going to keep everything in front of him," the coach said. "If it's third and long, I feel good about him being in there and not letting anything behind him."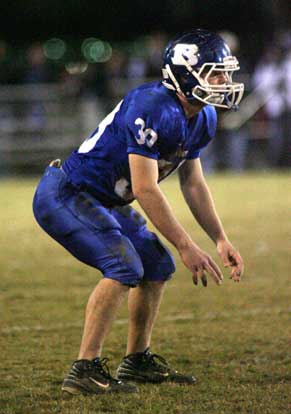 He also mentioned sophomore Aaron Bell (5-9, 144). "He's a little light," Wells said, "but he's fast and he's picking up on what we're wanting quickly. I think he'll continue to do that. He's definitely going to help us. His forte is probably tight man coverage. He's a guy we feel good about locking down. He's football savvy and that shows up when I pull him aside and say, 'Hey, we don't want to take that step forward in this coverage.' And he'll correct it the next time."
Turning to the other side at boundary corner, Wells said, "We want them to be able to do a lot but the fact that that's such a short field, we feel like, a lot of times, our corners can support the run to that side. So they need to be able to run and still play man and press coverage because a lot of times on the back side you're going to get your one-on-one situations. But we also want to be able to get them in there on the run."
Wells listed junior Dillon Winfrey (5-9, 150) and senior Stephen Clark (5-10, 200) at the position.
"I know that they're both offensive guys," the coach said, noting that Winfrey plays wide receiver and Clark running back. "But if they're both winded at the same time, I still feel good because we've got Blasi, Bell and Caleb Thomas (a 5-8, 150-pound junior), who made the move from offense to defense. He's picking up.
"So, we've got a group and Stephen and Dillon both pick it up quick, especially Dillon. I think being a receiver, he knows why a wide receiver stems the defensive back inside before he makes the out cut. So he was a little bit ahead of the game being a receiver.
"Steve is very aggressive but he's got as good a burst as anybody we have back there. His early mistakes, I've seen him make up. Hopefully, you cut out the mistakes. I always tell people, if a guy runs a 4.3 and he's going the wrong way, he's just getting away from the ball faster. It's not helping."
At field safety, Holden Chavis (5-10, 165) has begun to develop into the quarterback of the secondary.
"Holden understands the defense," Wells said. "He's been a linebacker, he's been a safety. He's the guy that will get the signal, get us lined up and tell us where we're going to. He's the guy that I can count on coming to the sideline to tell me, 'Hey, this guy splits different when they're doing that and they're running this.' He's really, really football smart."
Senior Tanner Tolbert, a starter at corner last year who also contributed there as a sophomore, has been moved to boundary safety. He's the fastest player on the team. Last spring, he and Winfrey formed half of the 4×100 relay team at Bryant that set a new school record.
"He'll be covering that half field a lot," Wells explained. "Rolling from the boundary to the field on a lot of coverages, we know he has the speed to make up ground and chase down even runs to the field.
"It's a tough move after being a corner so long," the coach noted. "He's picking it up but it's going to take a lot of reps."
Wells also mentioned junior Travis Royal (5-10, 170) as a help at safety.
"We had him at corner early, moved him in to safety and he's playing a lot better at safety," he commented. "He's definitely a true safety and not a corner. He's an aggressive guy who's coming along on the boundary side.
In addition, senior Tyler Freshour (5-9, 160) will help out at both safety and 'will' linebacker.
"He's kind of that nickel guy where we can get those four defensive backs and put him in at linebacker," Wells explained. "Since we moved him and started working him at linebacker, he's improved at safety.
"I think, when you do that, you worry about getting them confused but, with him, it's helped him understand the whole defensive philosophy," the coach concluded. "And if these guys can understand what our whole philosophy is, it helps them as an individual player."