By Rob Patrick
Photos by Rick Nation
One of the low profile ingredients in the success of the Bryant Hornets football program over the last 10 years or so is, once again, one of the team's biggest assets entering the 2010 season.
Hornets head coach Paul Calley requires his teams to be, as he says, "sound" in the kicking game. If, by that term, the coach means fundamental and efficient, a facet of the game that is executed well enough not to get you beat, however, it's really not saying enough about what the special teams could provide this season.[more]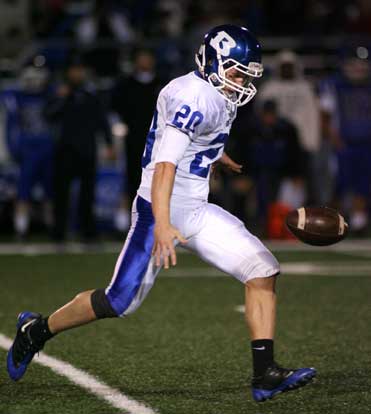 Calley feels like it's one of the team's strongest aspects and it can be a weapon. In the return game, that means senior speedsters Tanner Tolbert and Dillon Winfrey along with junior Karon Dismuke and sophomore Jalen Bell.
Tolbert and Winfrey provided half of the Bryant track team's school-record-setting 4×100 meter relay team last spring.
"All those guys are capable," Calley stated. "We'll just play it by ear. Tolbert proved last year that he's a threat (returning one kickoff back for a touchdown)."
Tolbert also returns as the team's punter. He launched a 55-yarder in the pre-season scrimmage against Pine Bluff. He's also a threat on the fake or on a bad snap as the team's fastest runner. He picked up a few crucial first downs running from punt position last season.
Place-kicker Jace Denker returns after a solid sophomore season, in which he connected on 8 of 10 field goal attempts including his longest from 42 yards, twice. He was also good on 34 of 37 extra point attempts. He's also adept at a variety of kickoffs. His onside kick to start Bryant's game against Cabot last season provided a spark that led to the stunning 35-7 romp over the previously unbeaten Panthers.
"We feel like having both Tolbert and Denker back that we're going to be strong in the special teams areas," Calley stated. "We need to get more live work but we hate to do it in practice and beat each other to death."
Tyler Jamison will be the holder for Denker's placements.
"He's got good hands and he's handled the ball real well," Calley said. "The snapper is probably going to be Cameron Price. He's been gone to baseball and Austin Johnson's filled in for him during his absence but we think Cameron's going to be the snapper on extra points."
Senior Jerren Terry returns as the deep snapper on punts.
"He's very consistent," Calley said.
Traditionally, Bryant finds a way every year to block a few punts and field goals.
"Our punt team, coverage-wise, should be better than last year," Calley commented. "We also think we've got people that go after the punt. We've blocked punts like we always have and I think we've got people that can do that, but only time will tell."
When the punts get away, Winfrey will be deep to return with Bell up to collect the short kicks.