Editor's note: This is the third in a series about the 2011 Bryant Hornets football team in advance of the season opener against Benton on Friday, Sept. 2.
By Rob Patrick
For many coaches, football or otherwise, a lot of the fun in the job is[more] matching wits with opposing coaches.
Take, for instance, a secondary coach like the Bryant Hornets' John Wells who has worked at the highest levels of the sport. With the ever-expanding sophistication of the passing game, it's a challenge to devise, disguise, revise and deploy coverages to counteract it and maybe create a little mayhem. In the process, a coach can like Wells make it as complex and nuanced as one can imagine.
This year, however, starting in the spring, Wells decided to get back to basics.
"I think every coach wants a group that you've got through all the alignment, all the responsibilities," he explained. "They start to really get the main part of coverage, where they're supposed to fit on runs, where they're supposed to get on certain coverages, pass responsibilities. I so excited about this group because I think they have the potential to get to that point to where you can start giving them little tips on how to be even more successful.
"I think a big part of that is it's been a continuation," he continued. "When we ended spring, we had limited the number of coverages. I mean, we ran two coverages. Now, we mixed and matched. We can run one coverage on one side of the field and another on the other side. So we really, literally, went through the whole spring with two coverages. (It was) learn your alignment, your reads, your responsibility and let's fly to the football. And let's all make sure we're on the same page.
"That's a little against what I'm used to — I really like to mix it up. I think it's fun for them and it's exciting for me as a coach. But we talked about it and I made myself just kind of hold back. And I think it's really paid off because once we did that, even through 7-on-7 in the summer, once we got to fall camp we threw a lot at them and started doing some different things. And they really picked up on them.
"I really think this group has the potential to where, hey, I can trust that I can give them a split rule. You know, if that wide receiver gets a certain split, adjust to this alignment or even give them freedom to check the coverage. It's exciting when those fundamentals become rote and ingrained where they don't have to think about, am I in the right stance, am I in the right alignment, are my hips down — just the fundamentals. Stuff like outside foot up in zone, where your eyes are supposed to be every single time.
"I'm not saying we're there yet," he concluded, "but I'm starting to see most of the time their eyes are where they're supposed to be, their alignment is where it's supposed to be and their reads are getting there. They're really communicating well. Hopefully we get to that point where I can say, when you see this, check us out of it and into something more successful, like a quarterback making changes (at the line of scrimmage)."
Wells designates boundary cornerbacks and field cornerbacks. Junior Aaron Bell (5-9, 144) and senior Caleb Thomas (5-8, 150) are both working at field corner.
"That's the guy that sometimes will be out there on an island all by himself and may not be able to rely on any help," Wells explained. "So there's a lot of pressure on those guys but I feel like they've come a long way. They're playing both sides of the ball. I think that's helped Aaron tremendously to play receiver and tracking the deep ball. He does that well. I try to tell them, when the ball's in the air, it's just as much ours as it is theirs when we're in zone coverage.
"Caleb has very good speed and he's doing a lot better job of keeping things in front of him," added the coach.
The boundary corners are the top two receivers on offense, seniors Dillon Winfrey (5-8, 146) and Sawyer Nichols (5-9, 150).
"Those guys have to do more, in my mind," Wells said. "They have to be able to do a few more things and know more than the field corner; play run support when we go to our cover-two into that boundary, even blitz every now and then, which we saw Dillon have some success with last year.
"We can't do it a lot but that threat needs to be there," he added. "That quarterback needs to know that when that corner is to his back especially, he may be coming.
"It's also the guy that 'mans' up more than the other corner because we would like to, as much as we see three receivers into the field and one to the boundary, to get as many over those three as we can. If we do that, it means occasionally we have to 'man' up on the backside.
"That corner has to be able to do it all," the coach summarized. "That's why we have Dillon there. And I think Sawyer is very similar. They compete a lot against each other so I try to keep them together. They're both offense and defense, so it's very interesting when we go one-on-one and Dillon's going against Sawyer or Sawyer's going against Dillon. Same thing with Aaron. And I think that's really helped them out a lot. They're competing and that's fun."
Senior Jesse Johnson (5-9, 152) is primarily the field safety.
"Big run supporter," Wells said of Johnson. "He's tough, very aggressive. He's come a long way in the off-season in transitioning from forward to back. My concern last year with him was playing a deep responsibility because he was so aggressive on the run. We did roll him up and play a lot of run support with him.
"But I think the success we've had in the secondary is to be able to mix up run support with the safety and then come back and play cover-two and run support with the corner," explained the coach. "He's made great strides, getting that mindset, 'I can't be aggressive this time. I've got to get back.'"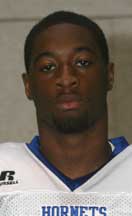 Senior Travis Royal (5-9, 150) has been working at the boundary safety spot, though Wells noted that all of the safeties can play either side.
"He plays a little bit more of the deep middle third or we're able to drop him down and play 'man' whenever we want to play that a little bit," Wells said. "He's made a lot of improvements too since last fall and through the spring, with his tackling especially, and just learning it. When he came over from basketball, he had a lot to learn. He's really taken that on and studied film and asked a lot of questions. He's becoming very confident now in what he's doing."
Wells called senior move-in Chris Stephens (6-0, 160) "a very good addition.
"I watched him on tape when we played (Little Rock ) Central," the coach said. "He's a good, sound tackler. He's a long strider, can cover a lot of ground. So I've worked him at both safeties. He had a lot to learn and he's come a long way.
"And these guys have helped each other," he noted. "Jesse and Travis have really helped Chris out a lot. They're our quarterbacks (on defense). They're checking that side coverage and, with motion, letting everybody know what we're going to. We put a lot on them so it helps that those three guys aren't having to learn offense too like the corners."