Editor's note: This is part of a series previewing the 2012 Bryant Hornets football team heading into their season-opening game at home against the rival Conway Wampus Cats on Friday, Aug. 31.

By Rob Patrick
Photos by Rick Nation and Kevin Nagle
Over the years, the Bryant Hornets football program has produced some tremendous middle[more] linebackers; guys like Jason Rose (2001), Josh Newlin (2002), Zach Sanders (2005), Josh Vocque (2006) and Austin Humbard (2008), just to name a few. It seems that when Bryant has had its best teams, it had a standout in the middle of the defense.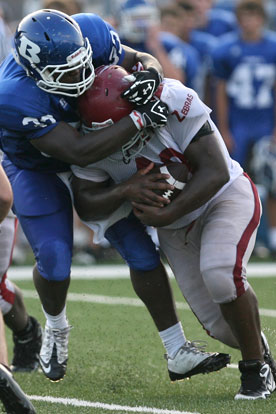 In 2012, Tyree Reese (5-11, 235, senior) has a chance to be that kind of guy.
Though he hadn't played much linebacker before last season, Reese was slotted for the middle and struggled early in the season. At one point, he was moved to tackle to help shore up the team's run defense. But as the season continued and he got to know the system he started to get the hang of it. In the end, he was the team's leading tackler with 98 stops, 51 unassisted.
"He gained a lot of valuable experience," acknowledged Bryant defensive coordinator and linebacker coach Steve Griffith. "We're looking for big things from him. He's really improved his ability to read the offensive line through to the running backs. He's playing downhill much better, with a lot more authority, and he has a much great understanding of his pass drops and where he's supposed to be.
"He's just very much more comfortable," Griffith added. "Last year was his first year on defense so we're seeing that comfort come in there."
Working behind Reese will be Tanner Rich (5-11, 175, junior).
"He moved back from the defensive line," Griffith mentioned. "He's gaining in experience out here in practice. He'll be a player than can come in and give us a play or two here and there. He's always going to play downhill and he's gaining in his knowledge of what to do."
On the outside, senior Stoney Stevens (6-1, 175) will be the starter at Sam (strong-side) and junior Bryce Denker (5-9, 180) is set to start at Will (weak-side).
"Sam, in our scheme, is a lot like a third safety," Griffith noted. "Stoney was a safety in the past and we like his athletic ability out there. He had a really good spring and has had a good fall camp. We're excited about what he can do in the passing game. He's shown us the ability to move laterally and contain the running game too.
"Bryce is a smart football player with great instincts," continued the coach. "That's what we've banking on (at Will). The other night (in the preseason scrimmage with Little Rock Hall) just watching him, he's going to be in position. When the ballcarrier is held up, he's got the instincts to try to strip the football — those kinds of things. We feel like each day he'll get better and better as he gets more experience."
Behind Stevens will be sophomores Ben Bruick (6-0, 170) and Kyle Lovelace (5-9, 165).
"Denker can move over and play Sam some too," Griffith said.
Backing up Denker will be junior Colton Burton (5-8, 205).
"Burton's a big, physical-looking kid," Griffith noted. "He had some good snaps in the scrimmage. As his knowledge gains, we really hope to get him comfortable so he can use that physical ability to become aggressive out there and give us some help on the weakside."
Overall, Griffith summarized, "We feel it's a group that both athletically and instinct-wise can come on and give us some outstanding play."