Editor's note: This is part of a series previewing the 2012 Bryant Hornets football team heading into their season-opening game at home against the rival Conway Wampus Cats on Friday, Aug. 31.

By Rob Patrick
Photos by Rick Nation
Though the new offensive system that Bryant's first-year offensive coordinator Lance Parker is instituting isn't a radical change from[more] what the Hornets have done in the past, it's different enough that everybody's had to adjust.
It's been a smooth transition, Parker said, mainly because of two of the team's leaders Hayden Lessenberry, a three-year starter at quarterback, and running back Jalen Bell.
"They've been able to pick up the new stuff well," Parker asserted. "Sometimes seniors can be a little resistant to change when they get comfortable but they haven't been. They're taking all the coaching that they're getting, trying to do everything exactly right. That's made the whole process a lot easier. Those guys have been really good leaders.
"And they're good players," the coach noted. "Hayden, I've seen him grow since the time I've had him in spring up to now. He's being smarter with the football. He's protecting the ball. He's managing the offense better.
"I think Jalen's going to have a great year," he continued. "He's really bought into the new running style, trying to keep him vertical, not as much side-to-side."
That's been Parker's emphasis in the running game.
"We're trying to be more of a six-yards-a-pop team than a two-yard, two-year, 15-yard team," he explained. We want to be consistent and stay ahead of the chains. I think those guys are going to help us do that."
Bell, the twin brother of Hornets' cornerback Aaron Bell, has also had to adjust to different pass protections.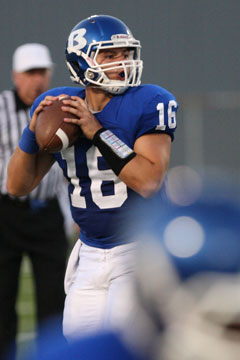 "Jalen's picked up protections well," Parker said. "Right now, I'd say we're further along just knowing protections and everything than I thought we would be. I thought it would be mid-season before we're at this point.
"Now that doesn't mean we're going to hold everybody out all the time but, at least knowing what to do, they've picked it up and they've put in the extra time to make sure they know exactly what to do."
Bell has been a big part of the Bryant offense for two years as well. He's rushed 133 times for 723 yards (5.4 yards per carry) and eight touchdowns and he's also proved to be excellent on screen passes with 15 catches for 131 yards and a score.
In two seasons, Lessenberry has completed 261 of 397 passes (66 percent) with 15 interceptions and 22 touchdowns.
"He's not a real speedy guy but he's fast enough that he can get away from pressure," Parker mentioned. "He does well once he scrambles, keeping his eyes downfield and trying to extend a play.
"We work a lot on, when a play breaks down, where receivers are going to be so they can turn a play where they've got it covered or someone lets a (defensive) lineman go or whatever, that it's not necessarily a dead play for us. We practice the improv stuff where everybody's got assignments."
That worked out a few times in the Hornets' preseason scrimmage against Little Rock Hall last week, Parker noted. "(Hayden) just flushed out and everybody went to their spots and it turned into a 10-yard game and a completion instead of a sack and a punt.
"That's part of what makes this offense go is a signal-caller that will take control of it," Parker continued. "We try to take a little off the quarterback but, at the same time, you've got to have a leader out there and he's that guy for us."
Junior Jacob Irby is the back-up tailback.
"He's done some good things," Parker mentioned. "Sometimes back-ups, when you get limited reps, you make mental mistakes but I think Irby has come along. I like the way he runs the ball.
"We're not big back there," the coach noted (both Irby and Bell are 5-7). "But we don't have to be. We're going to screen people and do stuff like that. We're going to do what our personnel allows us to do."
Behind Lessenberry is junior Wesley Akers and sophomore Brandan Warner.
"Akers is our starting H back right now," Parker noted. "He can still come in and throw the ball and play quarterback but I think, right now, Warner has done a good enough job grasping things, as well as a sophomore could. He goes out there and does a good job. When it's time in practice for him to go out there and get reps, he does a pretty good job.
"So right now, we're trying to go with Warner as the back-up and I think he's going to be a very good player," the coach mentioned. "A lot of other years, he might be starting but he's got a three-year guy in front of him who's a really, really good player, a good one for him to learn from. He's going to be ready when his time comes."
Warner led the Hornets' freshman team to a 10-0 season completing 94 of 148 passes for 1,732 yards and 26 touchdowns last season.
"We feel good about those positions," Parker stated. "We can do some other things too. We have, technically, two running backs but our receivers carry the ball too. We have ways for other guys to run the football. It's not necessarily going to be in the I, turn around and hand it to somebody."
He mentioned, in particularly, sophomores Brushawn Hunter and K.J. Hill in that regard.