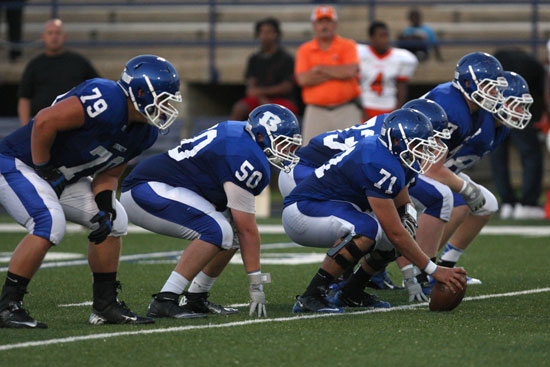 Editor's note: This is part of a series previewing the 2012 Bryant Hornets football team heading into their season-opening game at home against the rival Conway Wampus Cats on Friday, Aug. 31.

By Rob Patrick
Photo by Rick Nation
Bryant Hornets head football coach Paul Calley made an executive decision at the end of the[more] 2011 season.
"The way the season ended last year against Northside, giving up 42 points — we don't give up 42 points, seven of that was my fault but still we don't give up 35 points," he asserted.
It was the last barrage of a season in which the Hornets surrendered 284 points and 3,954 yards of offense (unofficially) in 11 games. That's more points allowed than any Hornets team since the 1994 squad gave up 304. And only one team since '94 has given up more yardage and that team, in 2003, gave up 3,964 yards in 12 games.
Though Bryant wound up earning a share of the 7A-Central Conference championship anyway, Calley, who coaches the offensive line, made his determination.
"I felt like I had to make a change on the defensive side," he explained. "I had to put the best defensive linemen over there that I could."
That meant moving two starting offensive linemen Kordell Boykins and Cortez Williams to defense.
"Kordell is probably more of a natural defensive lineman," the coach stated. "He's played two years at guard but that's going to help him when he goes over to the defensive side of the ball. He's gotten so much quicker.
"Cortez is definitely a natural defensive lineman," he continued. "I think both those guys have proven to me that they're football players and I wanted somebody to go along with Tim Kelly and Jared Koon to solidify that side of the ball. Those guys are going to be the answer.
"The best coverage you can have in the secondary is a good defensive line, good pass rushers, guys that are relentless and will get after you," Calley noted. "I think we've got that if we can keep them healthy."
That also puts the onus on the existing offensive line, including returning starters Ian Shuttleworth (6-2, 280, senior), Blain Jackson (6-0, 235, senior) and Jordan Jones (6-4, 285, junior). Those guys received a baptism of fire last year, thrust into starting jobs with Williams and Boykins. Especially pass blocking, they took some lumps at times (and so did quarterback Hayden Lessenberry), and the Hornets depended more and more on the running game late in the season.
A year later, however, they figure to be all the better for it; enough so that Calley felt comfortable moving Boykins and Williams.
And, after all, the Bryant offense helped make up for the defensive struggles by scoring 337 points and piling up 3,890 yards of its own. That's the most yardage in a season for a Bryant team since the 2002 and 2001 teams both topped 4,000 yards (led, incidentally, by quarterback Lance Parker, who is now the team's offensive coordinator).
It's the third year in a row the team has eclipsed the 300-point mark. If they can make that four in a row, it would be the first time for that since 2001 through 2004, that it's been done.
Shuttleworth provides the anchor at left tackle. "He had a real solid year last year," Calley said of the senior who has overcome Hodgkin's Lymphoma. "We expect him to be dominant this year."
Jackson will start at center. "He started at guard last year and played center when Cortez was injured several games," Calley mentioned. "Blain stepped up and did a great job. He's really consistent."
Jones will be at right tackle. "He played there some last year, played a little guard last year," the coach said. "But tackle's his natural spot. He's big and strong and has extremely long arms."
The left guard opening has been filled by senior Blake Hobby (6-2, 290). "It's his first year to start but he's made tremendous progress through the spring and summer," Calley commented. "He's going to be able to help us. He's another big kid. He gives us some added size that we need."
The right guard slot is still up for grabs.
"Brandon Caple won the job at right guard but he's been injured," said the coach. "Jacob Ward filled in well in his absence. We have to see when Caple can come back."
Calley included tight end Nate Rutherford (6-3, 220, senior) and H back Wes Akers (6-0, 220, junior) in his discussion of the o-line. Both saw considerable playing time last year. Rutherford, who was counted on more for protection than for receiving passes, caught three balls in the pre-season scrimmage against Little Rock Hall on Aug. 21.
"Nate had a solid year last year and he has really surprised me so far this fall with how much his blocking ability has improved," Calley said. "And his aggressiveness has improved. So I feel good about that spot.
His backup is junior Dalton Griesmer (6-0, 225).
"Dalton's a big kid that has a lot of potential," Calley said. "I think he's improved a lot this summer. He went to a lot of camps and worked on his footwork and his aggressiveness. I've been pleased with both of those guys."
Akers was the team's back-up quarterback last season but, in order to get him on the field in some capacity to take advantage of his athletic ability, Calley employed him as an H back.
"He came on and played a lot at the end of the year last year when we needed him," the coach recalled. "He's picked up right where he left off. It's good having him back there. It's like having two quarterbacks in the same backfield. We ask him to do a lot. He lines up in a lot of different positions, has a lot of different blocks we ask him to execute and he's done really well.
"I moved Sawyer Ivy (6-0, 225, senior) from guard to H back to help out with depth at that position," Calley continued. "Sawyer's really picked it up well. He needs to make some strides on the receiving end but, as far as blocking goes, he's done really well."
Backing up at right tackle will be junior Seth Hoffmans (6-0, 215) with sophomore Caleb McElyea (6-0, 265) backing up on the left side. Junior Josh Earls (5-11, 240) provides depth at left guard. Kurt Calley (5-9, 205, junior) backs up Jackson at center.
"I need Seth to come on, to step up and be more consistent, to give us some depth at tackle," Calley commented. "I thought Caleb had a pretty good spring. He's struggled a little during the fall campaign. He's just got to get a little stronger and be more flexible. One of those two guys has got to step up and help at tackle. If we had an injury right now I don't know what my next move would be.
"(Earls) has got to make some improvements," he continued. "Kurt's been very consistent with his snaps. He probably would've graded out higher in the scrimmage than any of the second-group linemen. The downside with him is, he's 205 and, if you play the big nose tackles, it's hard to hold your own when you only weigh 205."
The coach also mentioned a move-in, sophomore Cameron Davis (6-3, 270) as someone that might be able to help down the line.
"We moved him from defensive line to offensive line. He's been the second team right guard with Caple out. But I see him as the probable back-up tackle and guard. He's behind as far as terminology and fundamentals, and I'm trying to get him caught up but I think, naturally, his position is tackle. I would like to find him a place to play."