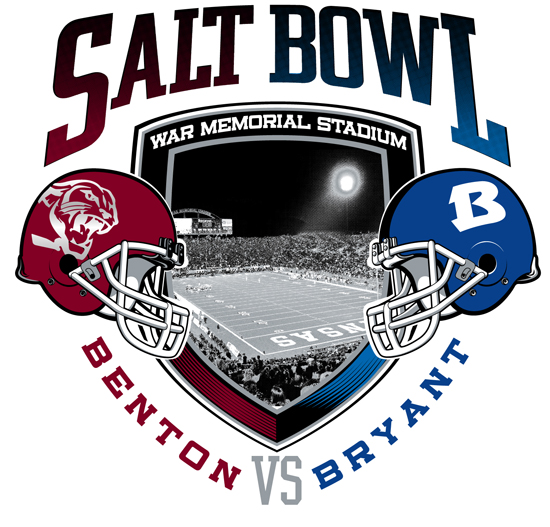 The Salt Bowl Committee is pleased to announce the plans and theme for the 2016 Salt Bowl game between the Benton Panthers and Bryant Hornets.
The 2016 Salt Bowl will be played on Friday night, Sept. 2, at 7:30 p.m. at War Memorial Stadium,   the theme for Salt Bowl 2016 is "More Than Just a Game". The committee is excited about this year's game and the festivities surrounding it. Once again, we are attempting to top last year's new record of over 34,000 fans. Bryant will be the home team this year and will sit on the west side of War Memorial Stadium.
Salt Bowl 2016 More Than Just A Game would not be possible without the support of our community and our great sponsors. The sponsors this year include Big Red Stores, Everett Buick GMC, Jones Heating and Air, Westrock Orthodontics, Impact Oral Surgery, Leap Kids Pediatric Dental, Skippy Foods, Chick-Fil-A, Chuy's Restaurant, Academy Sports and Outdoors, Arkansas Copier, Recycle Saline, Bin There Dump That, Ortho Arkansas, Republic Services, Saline Memorial Hospital, Chris Kinzler Family, Eye Care Center of Saline County, Ink Custom Tees, Saline County Banks and Credit Unions, Bryant Chamber of Commerce, and the Benton Chamber of Commerce.
The Salt Bowl Committee website is, www.saltbowlar.com. The game and activities can also be followed Facebook, Twitter and Instagram @SaltBowlAR, we will be utilizing a new hashtag to commemorate the fact that this is the first Salt Bowl in which both teams will be led by new head coaches, so use #NewBeginnings.
Tickets and t-shirts go on sale Monday, Aug. 1, at all Big Red Stores in Saline County. Tickets are $10 each and include a Salt Bowl t-shirt. The committee urges everyone to buy their tickets and t-shirts early. Tickets are available at the gate on the day of the game for $8, but that price does not include the t-shirt. Only AAA passes will be accepted.
Also, beginning Monday, anyone can go to Everett Buick GMC and sign up to be in the drawing for a chance to Throw for a Truck. Sign up between August 1st and game day at Everett Buick GMC or at the Everett tent at the tailgate party. Names will be drawn after the tailgate party and the participants will Throw for a Truck at halftime.
Starting today go to Chick-Fil-A Reynolds Road in Bryant and sign up for the chance to be Kickin' for Chicken. Sign up between August  1 and game day, names will be drawn and they will be given the opportunity to kick a field goal at halftime to win a year's supply of chicken from Chick-Fil-A.
Also, beginning today up to the day before Salt Bowl game day, make a purchase at any of the three Little Rock Academy Sports + Outdoors and ask the team member how your name can be entered to win a $100 Academy Sports + Outdoors gift card. Five winners will be announced during the Salt Bowl.
The Salt Bowl Committee theme is also pleased to be working again with three great organizations to give back to our community: the American Cancer Society, the Arkansas Foodbank, and the American Red Cross.
The American Cancer Society will have its annual "Celebrity Waiter" event on Monday night, Sept. 12th at 5 p.m. at Larry's Pizza in Bryant. Come out and enjoy a great night of pizza, meet local celebrity waiters and waitresses, and give generous tips to help bring the fight to cancer.
The Arkansas Foodbank will be partnering with Skippy Foods for the annual Peanut Butter Drive from Aug. 22 through Sept. 1 to provide food for those in need in our community. Schools from Bryant and Benton will be competing to see who can donate the most peanut butter, with a goal of 25,000 pounds, and then Skippy Foods will again provide a matching gift.
Saline County Banks and Credit Unions have already started their own competition to assist the Foodbank. The Beenie Weenie Battle of the Banks is a competition to collect the most cans of Beenie Weenies at their locations. Go by your local bank or credit union and give the gift of Beenie Weenies and help out your favorite institution win the title.
The American Red Cross will be holding Blood Drives at both high schools. The Benton High School blood drive will be held on Sept. 27th, and the Bryant High School Blood Drive will take place on Sept. 28th. Both schools will be competing to see which school can donate the most pints of blood.
A coaches' and players' press conference will be held at War Memorial Stadium at 5 p.m. on Monday, Aug. 29th. Coach Brad Harris, Coach Buck James and two players from each team will be available to speak about this year's game.
There will be two community pep rallies at Everett Buick GMC the week of the game. The Bryant Community Pep Rally will take place on Tuesday, Aug. 30th, at 6 p.m., and the Benton Community Pep Rally will be held on Wednesday, Aug. 31st, at 6 p.m. as well. There will be free hot dogs and drinks at each rally.
On game day, join in the Academy Sports and Outdoors' Tailgate Party on the east side of War Memorial Stadium. Beginning at 4 p.m., Saline County banks and credit unions will be passing out free hot dogs and drinks, and over 50 vendors will be set up to visit with and enjoy. Those interested in a booth space, contact the Benton Chamber of Commerce at 501-860-7004.
Pre-game festivities will begin at 7 p.m. with recognition of the Future Benton Panthers and Future Bryant Hornets and cheerleaders, as well as our Community Service Awards, the Rob Patrick Award and the Donnie Burks Award, all sponsored by Westrock Orthodontics.
The Honorary Captain conducting the coin toss will be Governor Asa Hutchinson.
At halftime, the cheer and dance squads will perform, the Benton and Bryant bands will again perform together, and we will have the Kickin' for Chicken and Throw for a Truck contests.