Photos by Rick Nation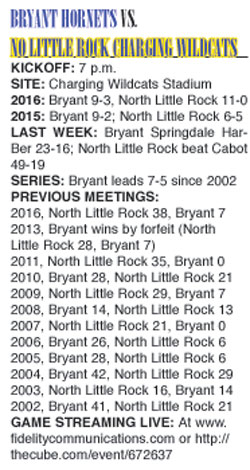 For all the things that the Bryant Hornets football team accomplished last Friday night at Springdale Har-Ber, historic as they may be for the program, the thing that might've been the most important in the long run — if the program is going to become a State championship contender every year — is that they found a way to beat a team that was just as good or better.
Har-Ber was a heavy favorite in the game but the Hornets knocked them off even though they didn't play their best game (180 yards in penalties, three turnovers, 29 yards net on the ground). They did it by forcing six turnovers and taking advantage of several of them to put points on the scoreboard. They also held the Wildcats to just 95 yards passing on nine completions in 25 attempts.
Going into the game, head coach Buck James had observed that the Hornets had struggled in every previous game on their schedule against teams that were as good as or better than Bryant.
"We didn't play against Fayetteville like we did against Benton; we didn't play against Northside like we played against Southside; and we didn't play against North Little Rock like we played against Cabot."
The breakthrough was that the Hornets played Har-Ber just like they did against Springdale the week before.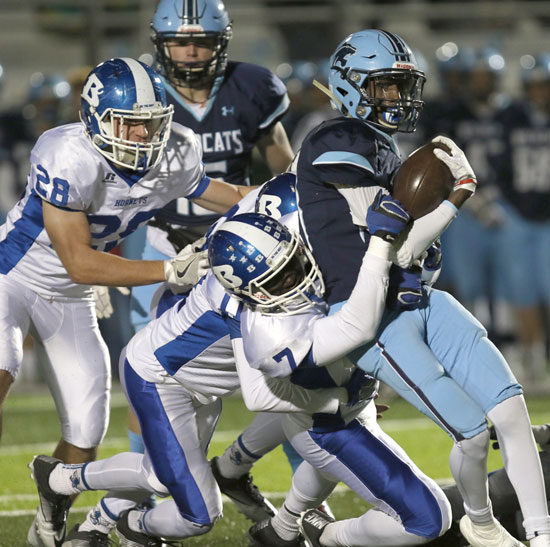 And the question is, can they do that again tonight when they take on top-ranked and unbeaten North Little Rock in a rematch of their Oct. 28 7A-Central Conference contest? The Hornets are once again underdogs. Hooten's Arkansas Football, for example, made the Charging Wildcats a 15-point favorite.
The previous meeting was dominated by North Little Rock. Bryant had hoped to concentrate on stopping the Wildcats' running game and force them to win through the air. But they threw for 233 yards and rushed for 194 more.
Meanwhile, the Hornets offensive line, better than it was at the start of the season but not as good as it's going to be, couldn't keep North Little Rock defenders out of the face of quarterback Ren Hefley, who was sacked five times. When he was able to stay upright, Hefley completed 13 passes for 201 yards.
Admittedly, Bryant might play North Little Rock 10 times and win only once or twice based on the sheer volume of players the Wildcats have. But they don't have to beat them repeatedly, they only have to beat them once. They don't have to be better than North Little Rock every night, just this night.
It'll help that the Bryant defense will be intact. Linebacker Marvin Moody missed the previous contest with an ankle injury. As a team, the Hornets should have much more confidence too. They looked a little intimidated in the October game.
So why not more history-making stuff? The Hornets stand a win away from playing for a Class 7A State championship. Why not play in War Memorial Stadium in Little Rock for the third time this year?