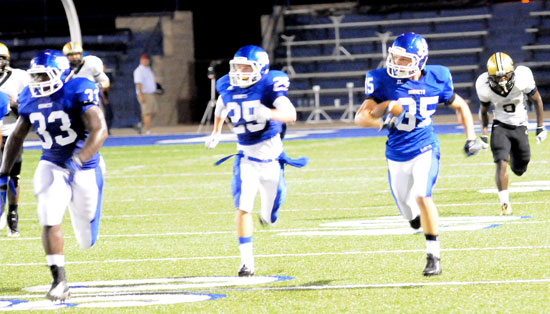 By Rob Patrick
Photos by Kevin Nagle and Rick Nation
Sometimes it only takes a half for the tenor of a football game to be established. Such was the case on[more] Friday night when the Bryant Hornets piled up over 200 yards of offense, forced three turnovers and piled up a 28-7 lead on the Little Rock Central Tigers.
So it was a good thing for the Hornets that it only took a half because that's all they got.
For the second week in a row, lightning — this time followed by high winds and heavy rain — interrupted play at Bryant Stadium and forced the game to be cut short. Where they got through three quarters the previous week in a 21-3 loss to Conway, this time the teams only got through the first half. And Bryant was awarded its first victory of the season.
There was still disappointment for the Hornets — just a different kind.
For one thing, senior quarterback Hayden Lessenberry may have been on his way to his biggest game in three years as a starter. He had completed 12 of 16 passes for 201 yards and three touchdowns.
For another, the Hornets appeared to have taken such control of the game, it looked like head coach Paul Calley and his staff might get to work in some younger players for some valuable experience in the second half.
But getting the win was the main thing. The Hornets looked like a different team than the one that opened the season. Granted Central may not be Conway but the Hornets just looked sharper, more competitive.
"I'm pleased and I know the kids were extremely pleased," Calley acknowledged. "We all had a bad taste in our mouth after last week. To come out and hit a big play on the first drive, I think it kind of kick-started everything."
The big play came on the fourth snap. On a third-and-14 from the Central 42, Lessenberry found DeVonte Howard on a deep out, hit him in stride and the junior turned it into a 58-yard touchdown.
"You know, it's all about getting in a rhythm and getting a little confidence then the momentum carried us," Calley mentioned, adding that having offensive coordinator Lance Parker on the sideline instead of in the pressbox was a key factor, improving communication from the sidelines to the players.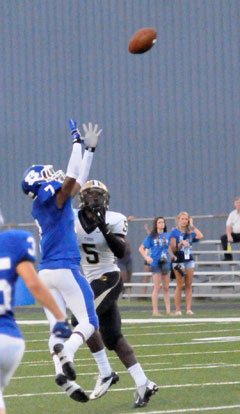 "Lessenberry looked as good as I've ever seen him look," he added. "When he really got comfortable, he was airing it out. Our receivers made some really good adjustments too."
Central answered with a drive to the Bryant 24, keyed by a 21-yard completion from sophomore quarterback Cooper Westbrook to Reggie Harris. On a second-and-6 from the Bryant 30, Westbrook found Terrien Griham on a short completion. Griham, working for extra yardage by spinning off tacklers, was separated from the ball and Bryant's senior linebacker Stoney Stevens recovered.
The Hornets, behind four completions by Lessenberry, drove to the Central 49. But a third-down pass to Austin Powell came up short and, after they couldn't get the Tigers to jump offside, the Hornets called timeout and Ian Shuttleworth came on to punt.
And he hit a beauty that the Hornets downed at the 1. A play later, Westbrook's pass on a deep post by Harris, was intercepted by senior cornerback Aaron Bell.
Though the Hornets were penalized for excessive celebration, they drove for another score.
The touchdown nearly came on the first play when K.J. Hill got open deep. Central prevented the big play by interfering so, instead of a touchdown, the Hornets moved 15 yards closer to paydirt.
They still got there. Lessenberry hit Howard for 11 yards then Jalen Bell, back in action after missing most of the Conway game with a sore neck, slashed for 12 yards to the 12-yard line. On a route to the corner, Lessenberry placed his pass perfectly to Hill's "back shoulder" for the touchdown.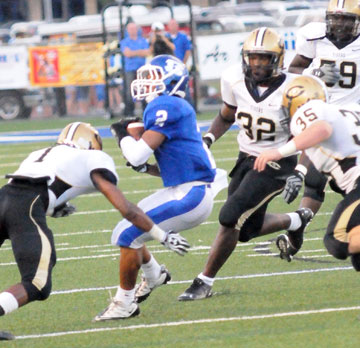 Josh Lowery's extra point made it 14-0 with :48 left in the first quarter.
The teams traded punts resulting ultimately with Central taking possession at its own 20. On a speed sweep, Reggie Harris picked up a first down with a 15-yard run. Two plays later, Westbrook and Griham combined for 15 yards. On a second-and-4 from the 42, fullback Kaelon Scott got his first carry on a quick hitter up the middle, broke free and sprinted to the end zone to get the Tigers on the board.
Wesley Wahls added the extra point and it was 14-7.
"I got a little worried at that point," Calley allowed. "That shouldn't happen."
It looked too like the momentum had shifted significantly at that point. Central's defense dropped the Hornets for losses on three consecutive plays. On a fourth-and-21 from the 27, Shuttleworth came in to punt once again.
With little rush, he held the ball, letting his teammates get downfield. When he did punt it away, a Central player got to him and decked him resulted in a roughing the kicker penalty that Tigers head coach Ellis "Scooter" Register protested vehemently, trying to make the case that his player thought Shuttleworth was going to run a fake and he was making a tackle.
In fact, Calley said, "Ian wanted to run it. We had a couple of times against Conway where I thought he could've run it. So I told him just to hang onto the ball and if he saw it open up, take off with it.
"The rusher made no attempt to block the ball," he explained. "He just ran through the punter who's still protected. If he touches a part of the ball, it's not a penalty but he didn't. That was huge, a huge momentum swing and we took advantage of it. That's what you have to do."
Indeed, instead of the Tigers getting the ball back with momentum, Bryant had a new set of downs to work with. And, after an offsides penalty against Central, Lessenberry found Hill again deep down the left sideline. Despite double coverage, Hill adjusted to the ball, moving toward the center of the field at the last moment to haul in the pass on his way into the end zone.
Lowery booted it to 21-7 with 3:00 left in the half (which turned out to be three minutes left in the game).
Central responded with another nice drive. Westbrook completed three passed along the way including an 11-yard strike to Griham to convert a third-and-10 from the Bryant 40.
With time running out, the Tigers had a first down at the Bryant 29. Westbrook went to the air again, trying to run a screen but he overshot his intended receiver and Jake Johnson made an interception. With an escort of teammates running interference, the junior safety sprinted up the left sideline 77 yards for the touchdown that really broke the game open.
Lowery's PAT made it 28-7 with :14 left.
"I told them early in the year, that's the key to having a really good football team," Calley stated. "When you can create turnovers and score with your defense. That's when you know you have a chance to win every week. No question."
At that point, there was no sign of the impending storm. A few distant flashes among the clouds but a sever thunderstorm warning was issued for Saline County and the halftime show was cancelled. More, closer lightning forced Bryant administrators to clear the stands and soon came the torrent.
The game officials met with the coaches, Bryant superintendent Randy Rutherford and athletic director Mike Lee and the decision to end the game was agreed upon.
So Bryant has been scheduled to play eight quarters but has only played five over two games. The Hornets, now 1-1, have defeated Central six years in a row.
They will try to get a full game in next Friday in their final non-conference game against another former conference rival, Little Rock Catholic. The game will be played at War Memorial Stadium.

BRYANT 28, LITTLE ROCK CENTRAL 7
Score by quarters
Central 0 7 0 0 — 7
BRYANT 14 14 0 0 — 28
Scoring summary
First quarter
BRYANT — Howard 58 pass from Lessenberry (Lowery kick), 10:18
BRYANT — Hill 12 pass from Lessenberry (Lowery kick), 0:48
Second quarter
LR CENTRAL — Scott 42 run (Wahl kick), 5:23
BRYANT — Hill 54 pass from Lessenberry (Lowery kick), 3:00
BRYANT — Johnson 77 interception return (Lowery kick), 0:14
Game called at halftime due to lightning
Team stats
Central Bryant
First downs 7 12
Rushes-yds 14-90 14-24
Passing 6-11-2 12-16-0
Passing yds 68 201
Punts-avg 1-42.0 2-42.0
Fumbles-lost 1-1 0-0
Penalties-yds 5-45 2-20
INDIVIDUAL STATS
Rushing: BRYANT, J.Bell 5-16, Irby 4-8, Hill 1-5, Akers 1-0, Lessenberry 3-(-8); LR CENTRAL, M.Harris 8-25, Scott 3-43, R.Harris 1-15, Moragne 2-7.
Passing (C-A-I-Y): BRYANT, Lessenberry 12-16-0-201; LR CENTRAL, Westbrook 6-11-2-68.
Receiving:
BRYANT, Hill 3-88, Howard 3-72, Powell 3-8, Hunter 2-28, Akers 1-9; LR CENTRAL, Griham 4-38, R.Harris 2-30.