File photo by Kevin Nagle
Over the last four years, the two teams that have consistently been among the best in the state are the Bryant Hornets and the North Little Rock Charging Wildcats. They've accounted for the last three State champions with North Little Rock winning over Bentonville in 2017 then losing to Bryant in 2018 and 2019.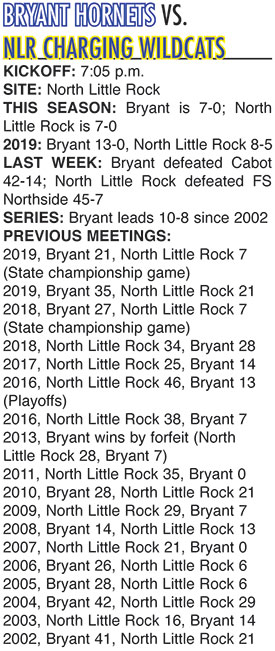 They meet again tonight in North Little Rock and, once more, they're among the best in the state. Both are 7-0.
Bryant has won 24 games in a row. The Hornets' last loss was at North Little Rock in October 2018. Since then, they've defeated the Cats three times in a row. Bryant is the last team to defeat North Little Rock too.
It's a heavyweight bout.
"I've told people all week it's sort of like Rocky versus Apollo Creed 4," acknowledged Hornets head coach Buck James. "I mean it's a great contest. It's great competition. It's a great rivalry.
"You know the thing we haven't done is we haven't beaten them there," he noted. "That's the next hurdle. Going there, it is a tough place to win.
"Our kids have got a big challenge," the coach continued. "But that's why we practice. That's why we prepare, lift weights, condition, do everything we do, for big ball games like this."
A good football game is always something to look forward to, as a fan, a coach or a player.
"It's supposed to be a lot of fun," James asserted. "This is what you want. This is two 7-0 teams, an opportunity to be the number one seed going into the playoffs, a chance to win a conference championship. It gives you an opportunity to reach some of your early goals, to be able to achieve them. I don't think you can ask for any more as a coach, a football team or a football program to have an opportunity to do that, especially three years in a row."
Ultimately, of course, that's what the Hornets are looking for a third consecutive State title.
It's a slightly different North Little Rock team this season. A new coaching staff is in place, led by J.R. Eldridge, who had tremendous success at Arkadelphia in recent years.
"They're really the same, which is good," James said. "The only thing is they're in a spread offense versus in a run-oriented offense. They still want to run the football. They run it to throw it, and then when they throw it, they throw it deep and that's sort of what they did before.
"They're going to run the ball downhill," he continued. "They're going to force you to tackle them and they're going to get your secondary to walk up and play the run then they're going to throw it over your head."
It's a challenge to the Bryant defense, of which some have said, hasn't yet lived up to the Hornet defenses of the last two seasons. Yet.
North Little Rock's success on offense all starts with a big, physical offensive line.
"Very well coached," James related. "They play with their pads over the toes and they come off the ball hard. They're going to get after you.
"And their running backs run extremely hard. You're going to get the same thing we've been getting the last three or four years with their running backs. They've got big running backs. They've got fast running backs. But the thing they all have in common is they don't want to get single tackled. They're always going forward.
"They're a very good offensive football team," he added.
Fredrick O'Donald leads the Cats in rushing with 616 yards and eight touchdowns on 60 carries. Aaron Sims is the workhorse with 486 yards on 98 tries with seven TDs.
Senior Kareame Cotton who has started against Bryant four times before is a dual threat. He's rushed for 560 yards and passed for 888.
The Hornets' defense has allowed only 656 yards rushing this season, about 90 per game. But they haven't faced an attack as determined to run as North Little Rock. Opponents have passed for 1,092 yards.
Linebacker Hart Penfield leads the team with 46.5 tackles. End Rodricho Martin has 40 and linebacker Koby Melton 33.
As for the Charging Wildcats defense, James said, "They changed a little bit. They're more in a four front than they were. In the past, they were more of a three-front base, but they would knuckle down with a linebacker some.
"They're physical and aggressive," he added. "They don't stunt as much on the defensive line as they have in the past, but they play downhill. They play hard. Their defense is more of a zone coverage. They had been a man in the past.
"They're go-getters. They're fire-eaters. So, we've got to be able to challenge that. But they're not doing anything we haven't seen. We've seen what they do really all year long. It's just they're going to do it faster.
"Defensively, that's where their biggest loss to graduation was," the coach mentioned. "I think there were 10 guys that they lost. But they've got a couple of guys who played a lot last year that are starting for them and they're good players.
"It's a big challenge. What Coach Eldridge and those guys have done to be able to be in this spot, taking over a new team — him and his staff have done a phenomenal job, because the hardest thing in the world is to bring in a new coach and a new staff and get the same results. I think that's outstanding."
The Cats have allowed 935 yards rushing and 1,331 yards passing.
Bryant's offense, though they haven't played a full four quarters except against Trinity Christian of Texas, has produced 3,035 yards and 340 points. The Hornets have been balanced, 1,502 rushing and 1,533 passing.
They have three backs with more than 350 yards rushing. Tanner Anderson, who has missed the last two games with 508 yards, Xavier Foote with 390 and Jamarien Bracey with 351.
Quarterback Austin Ledbetter has hit 89 of 146 passes for 1,476 yards and 22 touchdowns. His top receivers have been Hayden Schrader (28 catches), Cory Nichols (14), Anderson (9) and Jordan Knox (9). Ten different receivers have caught Ledbetter throws.
"I think we're in a good place," James said of his team. "I like where our team is.
"I think we've got to knuckle down on some fundamentals," he mentioned. "I think we've got to do a really good job of tackling. We haven't done that a lot this year, as well as I'd like for us to. But we've got to be able to stop run fits. We've got to be able to make one-on-one tackles against them. Our secondary has got to tackle in space, and they've got to keep them from throwing the deep ball.
"The thing that we cannot allow to happen is them break an arm tackle or not get to where we're supposed to be and then they score from wherever they snap the football from," the coach related. "Or us to be sucked up and not cover deep. That's the things that our defense has got to do.
"Offensively, we've got to score when we get the ball," he concluded. "That's the same objective we have every week, but we've got to put some points on the board. And our defense has got to get stops. If we do that, we're fine. If we can't do that, then we're in for a tussle."