Photos by Kevin Nagle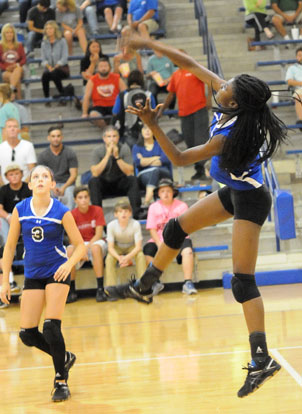 The Bryant Lady Hornets freshman volleyball team struggled early and though they challenged the Benton Lady Panthers freshmen in the second game, wound up with an 11-25, 19-25 loss on Monday night at the Bryant Middle School gym.
Meagan Chism came through with six kills, a block and two service aces to lead Bryant. Kristin Boyle had one kill and three blocks. Faith Stone, Imonii Jones and Karlee Kindy each had kills as well.
Stone and Cassie Ray each served for aces. Stone was good on all five of her serves and Madi Draper got in all four of her serves. Chism was six for seven.
Defensively, Becca Wertenberger and Ray each had six digs. Boyle, Chism, Lindsey Maxwell and Madi Draper had three digs each.
The Lady Hornets are scheduled to play at Cabot White on Thursday.