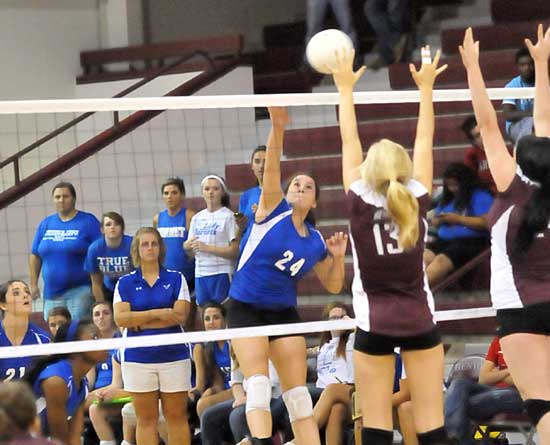 By Rob Patrick
Photos by Kevin Nagle
BENTON — One of the most frustrating things for a high school coach in any sport is when,[more] in a rivalry game or an important conference contest, their team just doesn't show up "ready to play." That means something was lacking whether it was intensity, focus, energy — something that isn't characteristic of the team.
Of course, the opponent usually is factor in that.
Coaches most often put the blame on themselves for not having the team ready but, you can tell, they're befuddled by it, particularly when the game has ramifications (though no game is unimportant). And they'll try all number of things to light a spark, from boisterously bickering with an official over a call to changing previously worked-out strategy.
Sometimes it works and sometimes it doesn't.
On Tuesday, the Bryant Lady Hornets and Benton Lady Panthers renewed their Saline County rivalry on the volleyball court at Benton Arena. Most of the time, any Benton team brings out the best in a Bryant team and vice versa. But, early on, such was not the case on Tuesday.
Now, in a preseason jamboree that Benton hosted a week or so ago, Bryant had led much of the way only to have Benton rally to win a game between them. It figured to be a hotly-contested, tight match. But Benton rolled up wins in the first two games, never trailing the Lady Hornets. Finally, midway through game three, Bryant found it and rallied from a 4-7 deficit to a 10-8 lead. They went on to win 25-17 and led much of the way in game four. But their designs to force a fifth and deciding game came to an end when, with the game tied 24-24, Benton produced the final two points to take the match 3-1.
"We tried something a little different," said Lady Hornets coach Beth Solomon of the turnaround. "Something wasn't getting done so we switched to a 5-1 (alignment), running with one setter instead of two. Not that (second setter) Taylor (West) was doing anything wrong setting, but just to try something a little bit different. It seemed to make a difference.
"I think they also just got ready to play," the coach said of her team. "That's one thing we told them after the game. We can't wait until the third game to start playing. Thursday night we start conference against (Little Rock) Central and we're not going to wait until the third game to start playing."
The Lady Hornets host Central in their 7A/6A-Central Conference debut Thursday.
There was also a sophomore match and a junior varsity match on Tuesday. In the former, each team won a game. Benton won 25-18 and Bryant won 15-9. In the latter, Bryant prevailed, 25-20, 21-25, 15-13, surging to win the final game after trailing 6-12.
Brooke Howell led the Bryant varsity with 16 kills. Alyssa Anderson had five. Brianna White, Courtney Davidson and Hannah Rice three each.
Rice also had 18 assists. West added nine. West contributed five digs and Rice 15 including one that saved the final match for the time being with Benton up 24-22.
In service, West had three aces, Lauren Reed and Hannah Rice two each.
In the opening game, Bryant led 1-0 on a kill by Howell then never could get the lead back though the game was tied thrice.
In game two, Benton took the lead right away and, after Bryant managed to tie it at 4 on a kill by McKenzie Rice, Benton pushed out to a 20-10 lead.
The Lady Panthers led in the third game until Bryant put together a 7-2 run that was highlighted by the serving of Reed and West plus a block score by Davidson and Anderson, who both contributed kills to the run as well.
From that point to the end of the game, things turned around. It was Benton who could only just tie it but couldn't gain the lead. Howell had three kills, Anderson had another and Davidson a pair on the way to the win, which forced game four. West and Rice each had aces during the closing blitz.
The fourth game was nip-and-tuck. It was tied at 12 when Bryant put together a run to build as much as a 17-13 edge. Reed and West served up aces while Hannah Rice knocked down a kill and Anderson scored off another block.
Benton answered with its own surge and actually led 24-19. A hitting error cost them control of the serve and Rice answered with an ace. Her ground-level dig kept a volley alive that ended with another Benton hitting error that had Bryant within 23-24. Howell's final kill had it knotted at 24.
After a Benton timeout, a Lady Panther hit went long right at the back line. Though Bryant protested, the ball was called in as Benton gained the edge. The Lady Panthers closed it out with an ace.
In the JV match, seven different players contributed kills led by Aubree Allen with five and Davidson with four. Carley Choate had 11 assists and five aces in serve. Caylin Choate came up with nine digs.
Allen also led the sophomore team with four kills. Ashlee Caton, Caylin Choate and Erica Smith had two each. Kaley Coppock contributed a pair of aces while serving. Caylin Choate led with six assists.