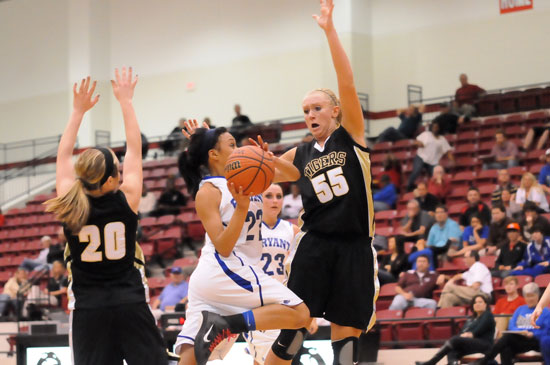 By Rob Patrick
Photos by Kevin Nagle
CABOT — What might've been, we'll never[more] know.
The Bryant Lady Hornets — really in many ways the surprise team in the 7A/6A-Central Conference this season — came into State Tournament week already hobbled by the loss of sophomore post Taneasha Rhode to injury two weeks prior. To add to that, however, sickness hit the team, costing them another starter, Dezerea Duckworth, and leaving them taking on the Bentonville Lady Tigers with three or four others gamely playing despite ailing.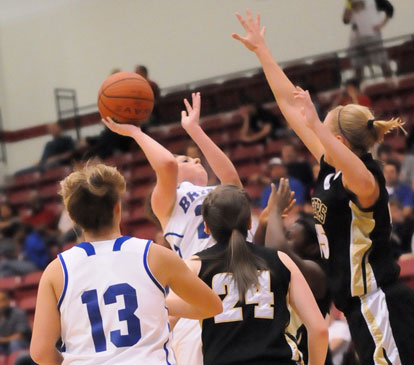 "We just picked a bad week to get sick," acknowledged Bryant head coach Brad Matthews after his team's 51-35 loss at Cabot's Panther Arena on Wednesday. "That's not to take anything away from Bentonville. Give them credit. They played well and had a good game plan."
The Lady Hornets' season suddenly concluded with the loss. They were 14-15 overall in the end. It marked the end of the basketball career of the team's lone senior, Callie Hogancamp, who played down the stretch with back problems.
Yes, they overcame more than their share of adversity and still wound up at the Class 7A State tourney, an experience that will undoubtedly serve them well next year.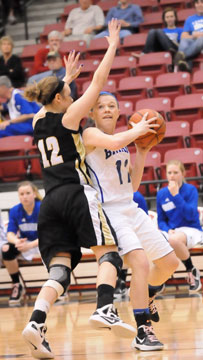 "We'll miss Callie," Matthews acknowledged. "We'll miss her a lot. We've got everyone else back but this is a tough way to end. Like I told the girls, there's only one team in our class that will end (the season) with a win. There's girls crying in there (the Bryant lockerroom) and there'll be girls crying tomorrow at 1, tomorrow at 4 and tomorrow at 7. That's the State Tournament."
Bentonville, 20-9, advances to play conference rival and top-ranked Fort Smith Northside on Friday at 4 p.m.
The Lady Tigers' 6-1 post player Julia Garrard only scored 6 points in the game. She had 10 rebounds but most of those came on the defensive end. It was, actually, her length and her defense that proved crucial to her team's success against Bryant.
The Lady Hornets actually out-rebounded the Lady Tigers, 34-29, including 13 boards on the offensive end. But, time after time, Garrard forced Bryant to alter the resulting follow shots inside so they were unable to take full advantage of all those extra opportunities.
For the game, Bryant shot just 23 percent from the field (10-of-44). The Lady Hornets got to the line 24 times but converted just 15 with junior point guard Kiara Moore converting 10-of-12, mostly in the fourth quarter, on her way to a game-high 20 points.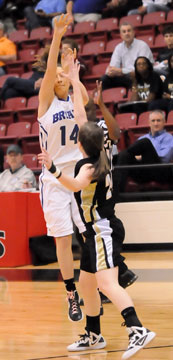 "I thought our kids fought really hard," Matthews stated. "Offensively, we just didn't put the ball in the basket enough. (Bentonville) made just enough to get that 6, 8, 10-point lead and we had to start pressing (late in the game). It was really the only way we were going to make that up and they made enough plays down the stretch.
"I thought our initial defense and rebounding were pretty good," he noted. "I thought our kids, for the most part, played to the scouting report really well and executed well on offense and defense. We just didn't make enough shots. But I was proud of our kids' overall effort."
Actually, Bryant had the only basket of the first 3:25 of the game. It came off the offensive glass by sophomore Aubree Allen, making her first varsity start of the season.
Allen would lead the Lady Hornets with nine rebounds including six on the offensive end. She wound up with 6 points, matching junior forward Courtney Davidson who also had eight boards, two on the offensive end.
That, however, proved to be Bryant's lone field goal of the first quarter. Moore and Logan Davis would add free throws but Bentonville was countering with a rain of 3's, one each by Brooke Mabeus, Niki Wilson and Taylor Lee as they built a 12-5 lead going into the second quarter.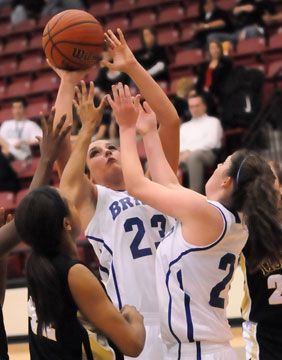 Rashaun Casey and Moore traded baskets then free throws by Casey made it 16-7. Davidson hit a free throw to start Bryant back. Defensively, Whitney Meyer took a charge and Davidson wound up with a stickback and a chance for a three-point play with 4:28 left in the half. Though she was unable to hit the free throw, the Lady Hornets were within 16-10.
Lee, who finished with 19 points for Bentonville, drove for a bucket. Allen answered with an offensive-rebound bucket but the Lady Tigers held a 20-12 lead at the half after a basket by Asia Patterson.
Bryant had chances to cut into the margin on consecutive trips but couldn't take advantage.
Casey contributed the first two baskets of the second half to extend the lead to double digits for the first time. Allen scored off a nice pick-and-roll with Davis, who followed up with a drive to rack that trimmed the lead to 24-16 with 5:23 left in the period.
They could get no closer, however. Bentonville led 29-18 going into the final minute. Allen made a steal but the Lady Hornets turned the ball over. They played solid defense to prevent Bentonville from getting a good look at the last basket of the quarter but, as time was running out, Wilson beat the buzzer with a bomb from beyond NBA 3-point distance.
The Lady Tigers led 32-18 and Bryant never quite recovered.
Forced to press, the Lady Hornets ended up sending Bentonville to the line for 18 free throws in the final quarter. Moore, who continually drove to the hoop, wound up scoring 16 of her points in the final period including 8 of 10 from the free-throw line. Altogether, the Lady Hornets were 9 of 15 at the charity stripe in the final quarter, 15 of 24 for the game.
The lead grew to 21 at one point in the fourth period. Bryant whittled it down but couldn't get ancy closer than 14.

LADY TIGERS 51, LADY HORNETS 35
Score by quarters
Bentonville 12 8 12 19 — 51
BRYANT 5 7 6 17 — 35
LADY TIGERS (20-9) 51
Player fg-fga ft-fta reb fls pts
o-d-t
Lee 5-11 8-9 0-6 6 3 19
Mabeus 1-5 4-6 0-5 5 2 7
Wilson 3-5 0-1 0-2 2 3 9
Patterson 1-1 0-0 0-0 0 1 2
Garrard 2-5 2-6 3-7 10 4 6
Casey 3-6 2-2 1-4 5 3 8
Potts 0-2 0-0 0-0 0 3 0
Team 0-1 1
Total 15-35 16-24 4-25 29 19 51
LADY HORNETS (14-15) 35
Player fg-fga ft-fta reb fls pts
o-d-t
Moore 5-16 10-12 1-7 8 3 20
Davis 1-8 1-2 0-1 1 3 3
Hogancamp 0-1 0-0 0-1 1 2 0
Davidson 1-7 4-9 2-6 8 4 6
Allen 3-10 0-1 6-3 9 4 6
Meyer 0-1 0-0 0-0 0 2 0
Weaver 0-1 0-0 0-0 0 1 0
Team 4-3 7
Total 10-44 15-24 13-21 34 19 35
Three-point field goals: Bryant 0-8 (Moore 0-4, Davis 0-1, Hogancamp 0-1, Weaver 0-1), Bentonville 5-16 (Wilson 3-5, Lee 1-4, Mabeus 1-3, Casey 0-2, Potts 0-2). Turnvoers: Bryant 11, Bentonville 11.