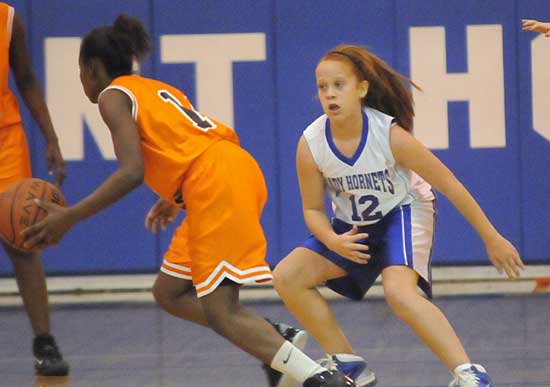 Photos by Kevin Nagle
The Bryant Blue Lady Hornets of Bethel Middle School jumped out to an 8-0 lead in the first[more] quarter and came away with a 24-15 victory over the Ridge Road Lady Chiefs in an eighth grade game at the Bryant High School gym Thursday night.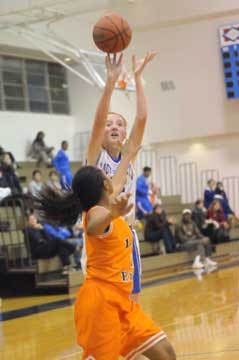 The Lady Hornets had seven players contribute to the scoring, led by Brittney Sahlmann's 7 points. Peyton Ramsey and Anna Lowery added 4 points each. Annie Patton finished with 3 while Kara Moser, Ashlyn Taylor and Anna Turpin scored 2 apiece.
Bryant Blue led 12-3 at the half and 16-8 going into the fourth quarter.
Bethel hosts Bryant Middle School in seventh and eighth grade games on Monday, Dec. 12. The seventh grade girls game will get the evening started at 4:30 p.m.
Earlier in the week, the Lady Hornets eighth grade team lost to Cabot North 48-12.
In a seventh grade game, Bryant Blue was edged out by Cabot North 21-18.In the seventh grade game, Kendall Rogers finished with 7 points. Riley Hill and Alex Dillard 4 each with Bethany Hutchinson scoring 2 points and Chloe Cline 1.