For more photos of this event by Kevin Nagle, go here
Five different players scored touchdowns as the Bryant Blue Hornets eighth grade team of Bethel Middle School overwhelmed the Little Rock Fuller Panthers, 42-0, to open the 2017 season for both teams on Thursday night at Bryant Stadium.
And while the Hornets were piling up 277 yards of offense and scoring on all six of their possessions despite the mercy rule going into effect in the third quarter, the defense was stifling the Panthers, who managed a net of just 8 yards of total offense in the game. Of its 14 offensive snaps in the contest, eight of them resulted in losses. Fuller's lone first down of the game came on the last play of the first half, a 16-yard pass from quarterback Peyton Williams to Masi Bruning.
The Hornets took a 7-0 lead in the first quarter behind some fine blocking and relentless running of tailback Fabian Torres. His 22-yard run on the heels of quarterback Carson Burnett's 20-yard scamper set up the first score. Fabian cashed in from 6 yards out then tacked on an extra point.
Torres played just two series for the Hornets but finished with 62 yards on seven carries with two TDs. His second score came early in the second quarter with a 1-yard plunge. The touchdown was set up by a 15-yard punt return by Lawson Speer and a subsequent drive in which Torres ripped off runs of 14, 7 and 11 yards.
Burnett ran in a two-point conversion to make it 15-0 with 5:11 left in the half.
Fuller still couldn't manage a first down and punted for the third time. The kick was partially blocked by either Bethel's rush or the blockers for the Fuller punter. Either way, the Hornets took over 39 yards from another score.
On first down, Shane Morris got behind the Fuller defense but dropped the long pass from Burnett. Hornets head coach Josh Akers decided to give Morris another shot at it and, again, he got free. This time, he hauled in Burnett's pass for a 39-yard touchdown.
Torres ran in a two-point conversion and it was 23-0 with 2:45 left in the half.
On the subsequent kickoff, Torres squibbed the ball and with Fuller's first line of blockers playing 5 yards off the allowable line of scrimmage (the 50), Isaac Devine got to the ball first and covered it for Bethel.
Andrew Stueve, who wound up matching Torres' run total in his relief, ran on three consecutive plays including a 15-yard jaunt. From the Fuller 28, Speer took a handoff on the speed sweep and dashed down the left sideline for a touchdown with :18.2 left on the clock.
So Bryant Blue had a 30-0 halftime advantage.
And the Hornets got the ball to start the second half. They used half of the quarter to score again as more and more reserves worked into the game. A 24-yard bolt by Stueve set up the touchdown. On a third-and-9 at the Panthers' 15, Braxton Prather found Michael Rivera on a swing pass that Rivera turned into a touchdown, making it 36-0.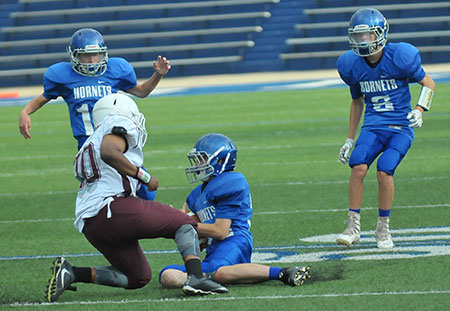 Fuller's quarterback completed a pair of passes on the next series but both were short games. In between them running back Dale Lewis was dropped for a loss. On fourth down, Williams' pass fell incomplete and the Hornets took over on downs.
With Austin Williams and Kenjata Daniels alternating at running back, the Hornets dashed to a final touchdown. Daniels slashed 16 yards for the score with 1:15 left and the clock running. That proved to be the final play of the night.
The Hornets' next outing will be Thursday, Sept. 7, at home against Little Rock Henderson.
BRYANT BLUE 42, LITTLE ROCK FULLER 0
Score by quarters
LR Fuller          0          0          0          0 — 0
BETHEL            7          23        6          6 — 42
Scoring summary
First quarter
BRYANT BLUE — Torres 6 run (Torres kick), 3:16
Second quarter
BRYANT BLUE — Torres 1 run (Burnett run), 5:11
BRYANT BLUE — Morris 39 pass from Burnett (Torres run), 2:45
BRYANT BLUE — Speer 28 run (Torres kick), 0:18.2
Third quarter
BRYANT BLUE — Rivera 15 pass from Prather (kick failed), 3:21
Fourth quarter
BRYANT BLUE — Daniels 16 run (kick failed), 1:15
TEAM STATS
                        Fuller               Bethel
First downs     1                      14
Rushes-yds      8-(-17)             25-223
Passing            3-6-0               2-4-0
Passing yds     25                    54
Punts-avg        3-9.7                0-00.0
Fumbles-lost   2-1                   1-0
Penalties-yds  3-15                 2-15
INDIVIDUAL STATS
Rushing: BRYANT BLUE, Torres 7-62, Stueve 6-62, Speer 1-28, Daniels 5-27, A.Williams 4-21, Burnett 1-20, Prather 1-3; LR FULLER, McDowell 3-(-1), Covington 2-(-2), Lewis 3-(-14).
Passing (C-A-I-Y): BRYANT BLUE, Burnett 1-3-0-39, Prather 1-1-0-15; LR FULLER, P.Williams 3-6-0-25.
Receiving: BRYANT BLUE, Morris 1-39, Rivera 1-15; LR FULLER, Bruning 2-20, Allisen 1-5.