With one group of offensive and defensive players running plays from the 35 towards the North end of Bryant Stadium and another group running plays from the other 35 towards the South end, the Bryant High School football coaching staff is able to get reps for 44 players at a time. The groups alternate plays and head coach Paul Calley stands in the middle around the 50 and turns from one side to the other to watch, stepping in to instruct, praise or correct along with his assistants.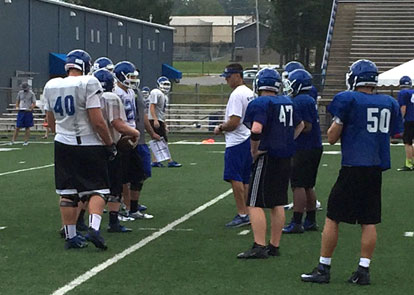 It's a concentrated effort as the Hornets prepare for the 2015 season, which begins with the annual Salt Bowl against the rival Benton Panthers on Friday, Sept. 4.
The team wrapped up the first week of fall practice in helmets and shoulder pads on Friday.
"Monday through Thursday, I thought, was really good," Calley assessed. "Today, the length of the week, the humidity level, the physical and mental fatigue took a little bit out of us. They were trying. They just didn't have it to give so I can't fault them. Overall, I'm very pleased with them.
"I think the effort's there, the attitude is there," he added. "They want to be good. Right now, I don't have any complaints."
The Hornets will don full pads for more contact work starting Monday.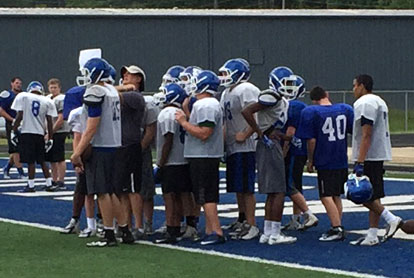 "There's another heat wave expected," Calley acknowledged. "Next week, might be a different story. We practice in the afternoon. It heats up. It'll be a lot more difficult to keep them focused for two-and-a-half hours. We may have to cut practice time. We may end up going shorts and shoulder pads instead of dressing out in full pads.
"We're going to try to go at 4," he said. "We have in-service. We don't know what time we'll get out. So we're going to try to have the kids down here at 3:30, get our specialties done; we'll go special teams early. Then, we'll do a lot of our team stuff the second half of practice."
As for the emphasis of practice on Friday, the coach related, "We put some more new stuff in today. It's kind of situational, specialty stuff that, honestly, when we used it last year it was more in the middle to the end of the season. We were a little more advanced.
"We went ahead and touched on it," he continued. "We won't use it all but they're going to be familiar with it and, hopefully, be comfortable with it."
Calley said attendance has been good with a caveat.
"We've had a few that had to give it up because of the new schedule that's coming, because of work," he mentioned, referring to the return to the seven-period school day at the high school starting this year. "They've got to work. They can't not work. So they've had to give up football."