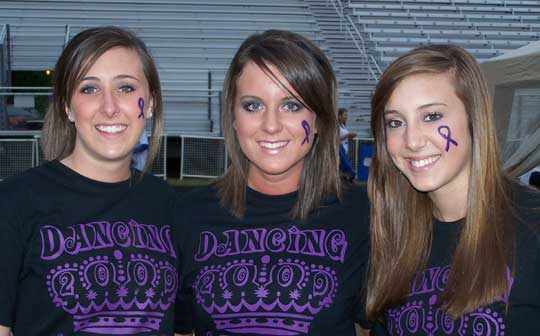 By Diane Winiecki
Brittany Jones is, in many ways, like most girls her age. As a junior at Bryant High School, she is involved with Student Senate, she plans and attends school functions, and participates in her church youth group.
On the other hand, she is different from other teenagers in a big way. She has spent the last two years volunteering for the American Cancer Society's Relay for Life of Saline County.[more]
Last year, Jones served as co-captain for her school's Student Senate team. This year, she is upping the stakes. She is still team captain, but she also helped plan and host the Relay for Life Youth Retreat in February. The retreat brought together leaders from area high schools. The students learned about creating relay teams at their school and raising money for the American Cancer Society.
Relay for Life is the American Cancer Society's annual, overnight event that celebrates survivorship and raises money for ACS research and programs. During the event, teams of people gather at schools, fairgrounds, or parks and take turns walking or running laps. Each team tries to keep at least one team member on the track at all times. The teams also set up campsites and sell refreshments or let participants play games to raise money for the cause.
"Relay is a fun-filled, family event," Jones said. "All the money from games and refreshments goes to the Society."
In addition to volunteering with Relay for Life, she is also an American Cancer Society Junior Ambassador, one of eight central Arkansas high school students selected to serve on the committee. The Ambassadors were chosen for their leadership and communication skills. The students meet every three weeks to discuss what is going on at the different Relay events and other activities. They also volunteer their time at events the Society puts on like last week's Living Billboard fundraiser in Little Rock. Recently, they were honored by Governor Mike Beebe for their volunteer efforts.
"I like Relay for Life and Junior Ambassadors because I see the work the American Cancer Society does," Jones said. "You meet people who have survived cancer, and you know you helped keep them alive."
Relay for Life of Saline County will be held from 6 p.m., on Friday, April 16, to 6 a.m., on Saturday, April 17, at the Mills Park in Bryant.
To learn more about Relay for Life of Saline County go to www.relayforlife.org/bryantar. Also, visit the American Cancer Society at cancer.org or call 1-800-227-2345.