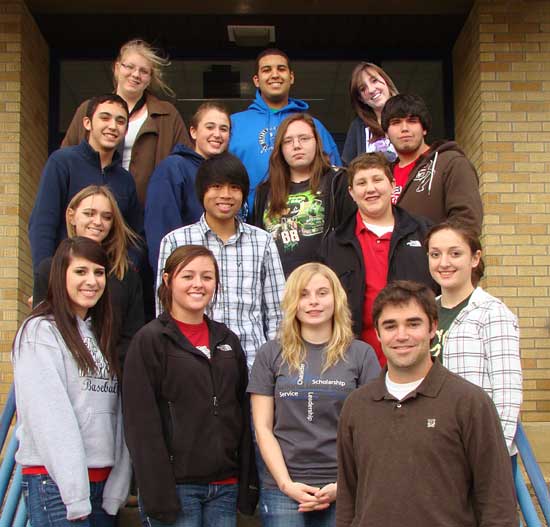 Twenty-seven Bryant High School students and two teachers attained their Microsoft Office Specialist certification in Word 2007 during the fall semester.
Pictured are some of those who earned their certificates this fall. Front row,[more] teacher Marc Nixon; second row, from left, Samantha Gargus, Kelsey Reed, Bailey Perlinger, Elizabeth Bacon; third row, Madison Verser, Michael Ma, Colfax Walker; fourth row, Adon Motes, Michelle Luehring, Mikayla Harris, Austin Shurtleff; top row, Katherine Palludan, CamRyn Stillman, Megan Goodson.
Others who earned certifications are Ngoc Phoung To, Brandon Wilkins, Becca Stallman, Francisco Zamora, Tiffany Masterson, Caitlin Linebarger, Ashlen Baughtman, Nicholas Hoffpauir, Brenda Lee, Jesse Wells, Richard Gregg, Heather Ignatiuk, Megan Gray, and teacher Christine Bennett.
The students were enrolled in Marc Nixon's Word Processing II classes and Vicki Westbrook's Computerized Business Applications classes.
This nationally-recognized industry certification is evidence of a high level of skill in using Microsoft Office applications.