Big Easy bound: Sox confiscate Senior Legion State crown
EDITOR'S NOTE: Because the look back at each day in Bryant athletic history has been so favorably received during the time when there was no sports during the COVID-19 shutdown, BryantDaily.com will continueposting past stories of Bryant athletics either posted on BryantDaily.com (from 2009 to the present) or published in the Bryant Times (from 1998 to 2008).
Photos courtesy of Paul Dotson, Madison McEntire, Robin Tucker, Lynda Schmidt
CONWAY — You can go right down the line and note one player after another that did something for the Bryant Black Sox during the Senior American Legion State Tournament. Whether they were 19-year-old veterans of the Legion battles, 16-year-olds just getting a taste, or somewhere in between — all products of Bryant baseball, champions.
And, on Sunday, they pooled their talents and tapped into the chemistry from years of playing together to capture the 2017 State title with a tense 8-6 victory over the defending Legion World Series champion Texarkana Razorbacks, the Black Sox' long-standing rival whom they've shared each of the last eighth State crowns and 10 of the last 12. It's the third State championship for Bryant in the last four summers.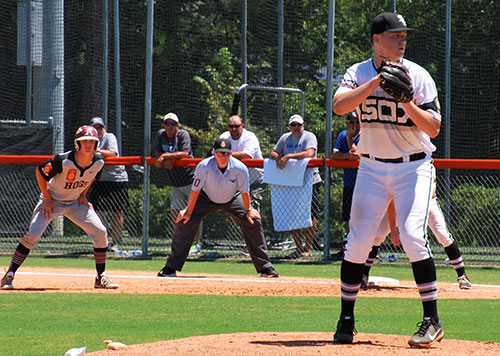 The Sox will represent Arkansas at the Mid-South Regional Tournament at Kirsch Rooney Stadium in New Orleans starting Wednesday. They'll actually play the first game of the tourney at 9:30 a.m., against the Tennessee champion, apparently, Columbia, a program with which the Bryant program has a sore history. In 2014, the Sox were a win away from advancing to the World Series only to lose twice to Columbia in a crushing championship round.
This will be Bryant's unprecedented fourth consecutive trip to Regionals, and the fifth in six years.
"Our motto since day one of this State Tournament has been that we are going to play together — they've been playing together their whole lives — as long as we can go," noted Sox manager Darren Hurt, who's assisted by his son Ozzie Hurt and Jerry East. "We're going to push this thing into New Orleans and, hopefully, to Shelby (North Carolina, home of the Legion World Series). We're going to ride this thing as long as we can.
"These dudes, they truly are best friends," he added. "They love each other. They play for each other. I mean they'll lay it on the line for each other. I've had groups that aren't like that and, I'm going to tell you something, that's why this one is so special."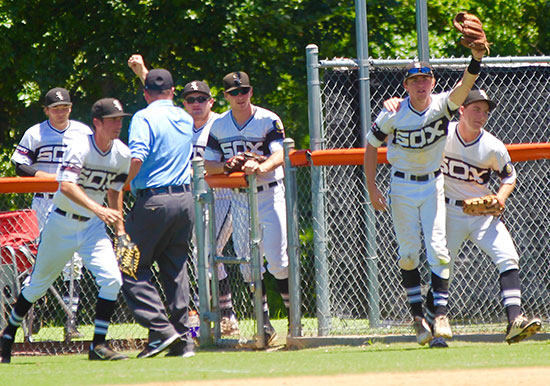 Sunday's game was highlighted by the "loud" MVP, the "quiet" MVP, "Mr. Clutch", "Mac the Kid", "The Fireman" and "The Closer."
If you will.
"Loud" can be misleading regarding the former. Most of the noise that Logan Allen makes is with his bat. Chosen the Most Valuable Player of the tournament, Allen hit .516 (16 of 31) over the seven games with 10 runs scored and 10 knocked in. Half of his hits were for extra bases.
Aaron Orender, who pitched so well in Saturday's 13-4 win over Texarkana, which forced Sunday's finale was named the top pitcher of the tourney while the Razorback's Matt Goodnight was named the top hitter.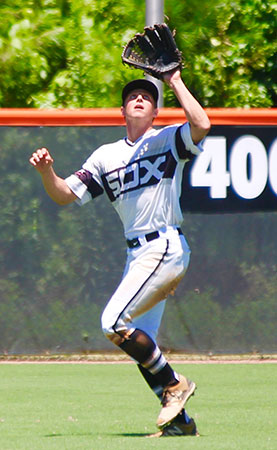 On Sunday, Allen went 3 for 4 with two ribbies and his sixth double. He walked once and, for the first time in the entire event, he struck out.
"He was unbelievable," Darren Hurt said. "I told the (Arkansas Democrat-Gazette), I would put L.A. up there with anybody I've had, that includes (Hunter) Mayall and (Trevor) Ezell. That's high company. But I'm going to tell you, he's right there. And what he brings defensively on top of that. He's as good as I've had in a long time."
Allen provides the top of the Sox' up-the-middle core.
The "quiet" MVP is only that way in that he's sometimes goes overlooked. But Dylan Hurt caught every inning of every State game and guided the strong pitching staff. The Sox' clean-up hitter, Hurt was the kind of four-hole hitter that would get a squeeze bunt down if that's what was needed or hit to any field. He knocked in nine runs on eight hits for the week.
Enough to make a Dad proud.
"Not only did he catch every inning, you know the pitching staff has been so good, we have not called a pitch in this tournament," Darren Hurt related. "We have not called one pitch (from the dugout). We called some picks and stuff but, as far as calling the pitches, he gets back there, he knows the team; he knows how to pitch these guys and that doesn't even include the fact that he caught 18 innings (on Saturday) and nine more today. We were hoping to get him out, save his legs yesterday. We just never could find a spot.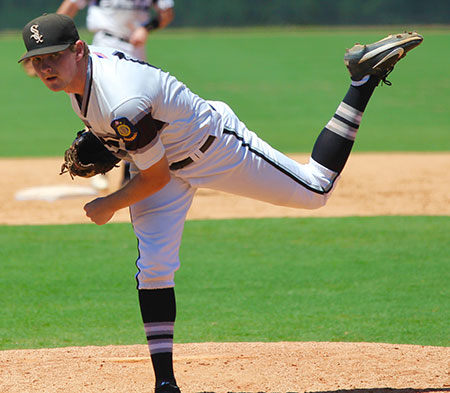 "And he suffers offensively a little bit for it and we have to keep him mentally in check because he's got to understand, when you catch 27 innings in two days, you're going to lose some legs and you just have to grind out those AB's the best you can," he added. "But when you watch us play Texarkana and Fort Smith, nobody tries to do anything on the bases. He just shuts them down."
Hurt is the base of Bryant's up-the-middle core.
Jake East was "Mr. Clutch". On Sunday, he drove in three runs including a big insurance tally in the bottom of the eighth after Texarkana had taken a big bite out of Bryant's 7-2 lead, scoring four in the top of the eighth to make it a one-run game. East hit .379 in the tourney. He was 7 of 13 over the final three games, responding spectacularly after a defensive letdown in a 6-1 loss to Texarkana on Friday.
East and Seth Tucker are Bryant's keystone combo at the heart of the up-the-middle core. Tucker hit .355 in the tourney and drove in seven. Along with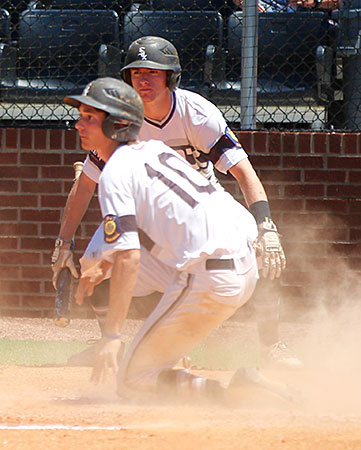 Darren Hurt said on Saturday that pitching has been a big key to the team's success this summer and it proved to be again on Sunday. To some, his decision to tap "Mac the Kid", Will McEntire to start the winner-take-all contest may have been surprising. But the big 16-year-old stepped up. Over six innings, he allowed two runs, scattered nine hits — all singles — walked one and fanned five. He was backed by strong defense with eye-popping plays from Allen (twice) in center, Alex Shurtleff in right and Tucker on a foul pop down the right-field line that required a sliding, sprawling circus grab.
Regarding McEntire's start, Darren Hurt said, "At 2 in the morning, I wasn't so sure. When I woke up and said to myself, 'What are you thinking? Why are you starting a kid that young?' I changed my mind three or four times.
"But, you know, I've seen him just go out there and compete so many times this summer — not only for us," he continued. "He's only pitched for us a couple of times (before State). But he got us out of a couple of jams in this tournament and, watching him in the bullpen, we just liked what we saw.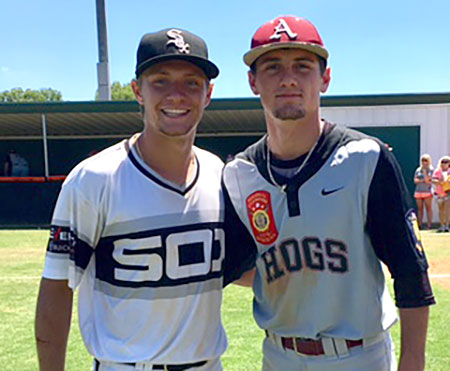 "We kind of took a chance but we thought, defensively, we were best if he could pitch and it would allow us to DH, which kept it so our bullpen wouldn't have to hit late in the game," the manager explained. "And the fact that we just had a lot of confidence in him. He's been pitching with so much confidence in the Junior district and state. He came to Memphis to pitch for us and just had a great game.
"It just all added up," he concluded.
McEntire contributed to the Junior State championship run under coach Tyler Brown, which ended with a victory over Texarkana's Junior entry. (The rivalry will continue.)
"I said it yesterday and I'll say it again," Darren Hurt said of "The Fireman", "if Boston Heil doesn't get us out of the eighth inning against Fort Smith, we're not here today. It's that simple. We were in a jam, bottom of the eighth, second and third, no outs, and they don't score."
Heil eased through a 1-2-3 seventh on Sunday before running into some trouble in the eighth when Texarkana stroked three consecutive hits. They were the first hits anyone had picked up against Heil.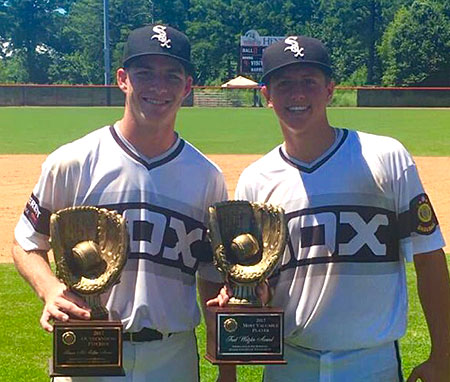 That led to the entrance of "The Closer" Beaux Bonvillain. The ace and an all-State pitcher as a starter for the Class 7A State semifinalist Bryant Hornets, the lefty had to fulfill duties for his future college coach Alan Gum at the University of Central Arkansas before getting cleared to pitch for the Sox. He picked up the save on Sunday after recording one in a 5-4 win over Fort Smith on Saturday. Though he gave up a two-run single to Kade Garmany and an RBI single to Parker Ribble in that four-run eighth, with the potential tying run on base and go-ahead run at the plate, Bonvillain induced a grounder to sure-handed third baseman Scott Schmidt for a force to keep the Sox ahead, 7-6.
In the ninth, Goodheart singled but the unfazed southpaw induced a doubleplay ball to East then got the final out on a fly to Allen in center.
"That's another guy," Darren Hurt asserted. "Myers Buck, with the starts he's given us this summer then in the State tournament; Orender, with the way he's thrown. Jake East today with all the hits. I've never had such a team effort. It's unbelievable."
Texarkana grabbed a 1-0 lead in the top of the first and it looked like they might be on the way to turning the tables on the Sox, who opened Saturday's game with a four-run uprising. Riley Orr beat out an infield hit, Goodheart slice a single to left and John Michael Russ cracked a base hit to right to drive in the run.
But, with two on and one out, McEntire got Cole Boyd to ground to Tucker at second who started a 4-6-3 twin-killing that squelched the uprising.
McEntire pitched around a one-out walk and a single in the second, striking out the side. In the third, Allen and Shurtleff ran down drives that could've both been extra-base hits. In the home third, an innocent-looking two-out walk to Wright brought Allen to the plate.
On a 1-0 pitch, he drilled one off the base of the fence in left for double. Wright sprinted around to score from first to tie the game.
Texarkana untied it in the top of the fourth. With one out, Beau Burson was robbed of an extra-base hit by Schmidt, who made a diving stop behind third. Burson beat out a single then Garmany singled. Burson tagged and went to third on Moreland's fly to Shurtleff in right then scored when Logan Vidrine beat out an infield hit.
With the top of the order up with Ribble, McEntire ended it there with a comebacker.
The Hornets responded with a six-run outburst in the bottom of the inning. It started with just the second error of the game as Hurt reached. Shurtleff bounced into a force at second but hustled across the bag at first to avoid a doubleplay. He took second when Orender rolled to short. Matthew Sandidge gave the inning new life with a walk on a 3-2 pitch from Texarkana starter, Patrick Flanagan (a Black Sox nemesis in the past).
Schmidt, who had some clutch hits during the tournament run, delivered a two-out single to left to extend the inning, loading the bases for Wright. Again down to the last strike of the inning, the Sox got a shot from Wright. It short-hopped off the knee of Vidrine at third and ricocheted nearly all the way to second. Shurtleff and Sandidge scored to give Bryant a 3-2 lead.
Allen, who peppered the left-field line in his previous at-bat, drilled one down the right-field line this time for an RBI single. With Wright at third, Allen stole second and East laced a sinking liner to right center to plate two more.
Tucker kept the line moving with a single to set the table for the clean-up hitter. Dylan Hurt smacked one just inside the line in left to chase in East, making it 7-2.
Texarkana stuck with Flanagan until that point. Austin Swecker relieved and got the final out. And he quieted the Sox without another hit until the eighth and East's RBI knock. It came after Wright walked and Coby Greiner came on to pinch-run. Allen walked and Greiner dashed home.
Meanwhile, McEntire finished up with 104 pitches through six innings. Heil took care of the seventh before running into trouble in the eighth and Bonvillain's entrance.
Bryant takes a 34-6 record into the Regional and, though old wounds are hardly healed, Saturday and Sunday certainly provided a healthy dollop of soothin' salve.