Black Sox make it 3-0 in pool play at The Hagan
EDITOR'S NOTE: Because the look back at each day in Bryant athletic history has been so favorably received during the time when there was no sports during the COVID-19 shutdown, BryantDaily.com will continueposting past stories of Bryant athletics either posted on BryantDaily.com (from 2009 to the present) or published in the Bryant Times (from 1998 to 2008).
Photos courtesy of Paul Dotson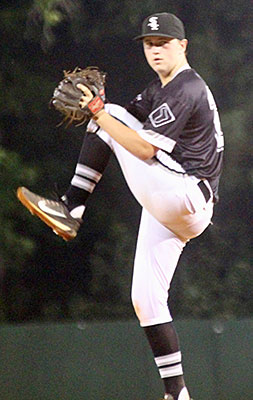 MEMPHIS, Tenn. — Alex Shurtleff and Matthew Sandidge each drove in three runs and right-hander Will McEntire allowed only one run on six hits in six innings as the Bryant Black Sox Senior American Legion team clubbed the East Coast Select Sox of Pulaski, Miss., 12-1, in 18-and-under pool play at the annual Keith Hagan Memorial All-American Classic on Friday.
The win made the Sox 3-0 going into Saturday's 1 p.m. contest at Arlington High School against the Memphis Tigers (Duncan).
Now 17-3 overall, the Sox extended their winning streak to 14 straight.
Shurtleff had three hits in the game. Logan Allen and Jake East added two each. Both of East's safeties were doubles. Sandidge drove in all three of his runs on a bases-loaded triple that completed a six-run outburst in the top of the sixth that gave Bryant a run-rule lead.
McEntire walked three and struck out eight. In the bottom of the sixth, he pitched around a two-out walk to finish the game.
The Black Sox scored in every inning but the fifth. They built a 6-0 lead before East Coast managed its run in the home fourth.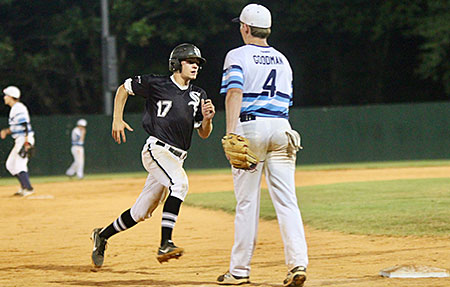 A three-run first got Bryant off to a good start. With one out, East belted his first double on a liner to left. Allen singled him to third then Dylan Hurt got a squeeze bunt down. Not only did East score but Hurt beat out a hit.
Aaron Orender walked to load the bases then Allen scored on a passed ball. With two strikes on Brandon Hoover, Hurt stole home to make it 3-0.
McEntire surrendered a single in the bottom of the first but struck out the next two and retired the side as the next batter grounded to second baseman Scott Schmidt, who got the force at second.
In the second, Schmidt drew a walk, took second on a wild pitch and third on a groundout by Sandidge. With two away, a wild pitch allowed Schmidt to score as East was drawing a walk.
A single and a walk started the East Coast second but McEntire retired the next three and runners were stranded at second and third.
Bryant's third-inning run was set up by Orender, who singled with one out, stole second and third then scored on Shurtleff's infield hit.
Two strikeouts helped McEntire work around a two-out single in the bottom of the third and, in the fourth, Seth Tucker singled then scored all the way from first on East's second double, making it 6-0.
McEntire struck out the side in the bottom of the fourth but, in between each K, East Coast came up with a double and a triple. After a walk, McEntire's third strikeout forced East Coast to strand runners at the corners.
In the fifth, the Bryant hurler worked around a two-out double.
Bryant's game-breaking uprising in the top of the sixth began with Tucker and East waiting out walks. Allen lined a single to center to chase in Tucker then Hurt walked to load the bases. With one out, Shurtleff singled in two runs.
A walk to Hurt set the stage for Sandidge's three-run triple to left.