Black Sox walk it off again, 6-run rally produces sweep of pool at Georgia tourney
EDITOR'S NOTE: In this time of COVID-19, with no sports action, BryantDaily.com will be posting past stories of Bryant athletics either posted on BryantDaily.com (from 2009 to the present) or published in the Bryant Times (from 1998 to 2008).
Photos courtesy of J'Ann Boyd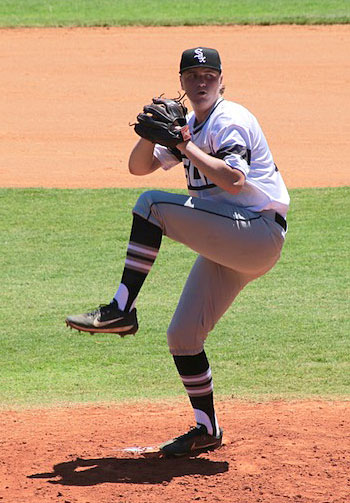 CARTERSVILLE, Ga. — No one should ever count the Bryant Black Sox Senior American Legion out of any ballgame until the last out after what happened on Wednesday at the Perfect Game/East Cobb Invitational Tournament.
Trailing 6-1 going into the bottom of the seventh against a team (Team GA/MBA Gold of Marietta, Ga.) with 15 players already committed to college teams including 11 set for Southeastern Conference schools, the Sox rallied for six runs to earn a 7-6 victory with Konnor Clontz coming through with the ultimate shot, a two-strike, two-out three-run double. It was the second walk-off win in as many days for Bryant, which improved to 6-0 on the season.
It was a play-on or go-home contest as the victory captured the pool. The Sox advanced to play the 643 DP Jaguars of Mariette, Ga., on Thursday in bracket play. The 643 team won the tournament two years ago.
Team GA/MBA Gold was eliminated from contention with Wednesday's loss.
It was the first time in four years that a Black Sox team advanced past pool play in the tourney.
"We were playing, probably, the team that was supposed to win the whole tournament," declared Sox manager Darren Hurt. "And we just kept them from advancing.
"I don't think I've ever seen anything like that," he said of his team's six-run comeback. "I don't think we've ever beaten a team quite like that. Supposedly, they had three guys on that team that are projected to be picked in the first round (of the Major League Baseball draft) in 2019 and nine that were projected in the top 10 rounds.
"You could tell, when they stepped into the box they were," the manager related. "I just can't say enough about how (Sox starter Will) McEntire threw. He kept us in that game and he gave us a chance. It may look like he gave up a bunch of hits, but we misplayed a couple of balls that could've saved us. McEntire pitched the game of his life, as far as I'm concerned. They were batting 10 and nine of them were D-1 commits. And the other one is about to get a D-1 offer, I guess. That's what they were saying."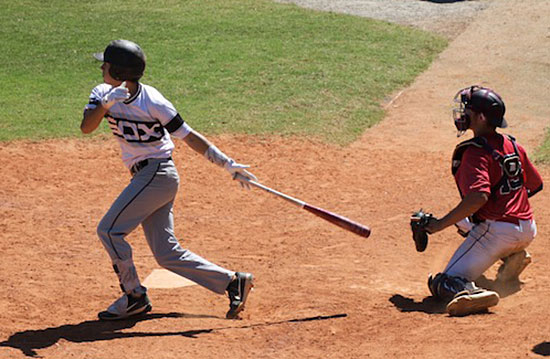 Team GA/MBA Gold grabbed a 2-0 lead in the first. Jerrion Ealy (Ole Miss) led off with a double down the line in left and, with one out, Kamron James' fly to right was misplayed, though it probably would've been good for a sacrifice fly. As it was, it went for a three-base error. So when Lane Watkins (Georgia) grounded out to short, James (Mississippi State) scored to make it 2-0.
In the bottom of the first, Logan Chambers belted a lead-off triple but was stranded as Griffin Holcombe (Coastal Carolina) set down the next three batters.
A two-out error allowed Gold's Logan Tanner (Mississippi State) to reach base, but he was picked off by McEntire to end the inning.
After the Sox were retired in order, McEntire forced Team GA/MBA to strand two after a two-out single by Ealy and a walk to Jack Kraus.
Walks to Chambers and Coby Greiner came to naught in the Bryant third. McEntire, In turn, struck out the side.
In the home fourth, the Sox got on the board. With one out, Cade Drennan blooped a single to center. Gage Stark drew a full-count walk then so did Logan Grant. With two away, Logan Catton's grounder to short was booted and Drennan scored.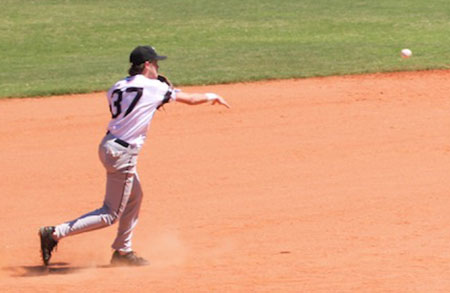 In response, in the top of the fifth, Cal Smith (Mississippi State) led off with a misplayed triple. Tanner made it 3-0 with a sacrifice fly but McEntire kept it to that, despite a two-out double by Cade Pigg.
"Early in the game, we didn't really do ourselves any favors," Hurt noted. "We had a couple of balls in the outfield misplayed or else Mac — even the fourth run he gave up was because he picked a guy at third and he threw it into leftfield.
"And he had him dead," he emphasized. "It wasn't even going to be close."
James' one-out single set that up. He stole second and third before the wild pickoff throw allowed the run to score, making it 4-1.
Watkins pitched around a two-out walk to Grant in the bottom of the sixth so it didn't look like there was much life in the Black Sox.
And it got worse when Gold scored twice in the top of seventh as Greiner relieved for Bryant, making it 6-1. An error allowing Smith to reach opened the inning. Tanner's grounder to Chambers at short produced the first out on a force at second.
Mitchell Fleming drew a free pass then Pigg belted a two-run triple. Greiner fanned Ealy and Kraus to end the uprising.
With one out, Chambers ignited the dramatic comeback with his double. Greiner singled to right to put runners at the corners but there were two outs and Peyton Dillon was down to his last strike when he was plunked by a pitch to load the bases for Drennan, who yanked a bases-clearing double into the left-field corner to make it 6-4.
Stark and Grant worked walks to load the bases for Clontz, who worked the count to 3-2 before mashing his three-run double over the head of the centerfielder to make the Sox a winner.
"We were way outclassed but we just kind of hung around and that last inning was just crazy," Hurt said. "It didn't look like we had much of a shot, but the guys just kept grinding it out and, the next thing you know, we had the tying run at the plate, then the winning run at the plate and we were like, 'Dang, this is getting serious here.' It was just great at-bat after great at-bat."