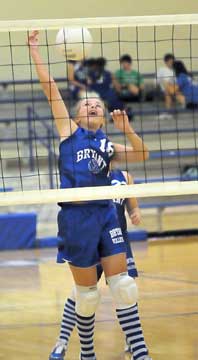 The Bryant Blue Lady Hornets eighth grade volleyball team improved to 4-1 on the season with a 2-0 win over Conway Blue on Monday night.
The Lady Hornets are Anna Blair, Julie Brazil, Nikki Clay, Brianna Davis, Haley Dellis, Mercedes Dillard, Katelyn Giffin, Sydney Gogus, Emily Henson, Devin Hester, Jamie Jamison, Madison Jones, Camille Langley, Mackenzie McEntire, Rachel Phillips , Rylee Phillips and Allysa Sturgeon.
"The girls hustled after everything, nothing hit the floor," praised coach Melissa Bragg. "They really played well together."
Sturgeon served for 11 consecutive points to spark the team in the first game which Bryant won 25-16. Those serves included two aces.
In the second game, a 25-19 win, Clay served for eight consecutive points.
"We were able to keep the serve tonight," Bragg noted.
Bryant Blue is set to return to action on Tuesday, Sept. 21, against Rose City of North Little Rock.
Photos by Kevin Nagle [more]