Photos courtesy of Debra Catton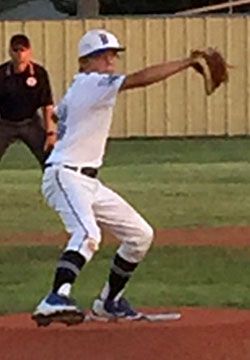 PAMPA, Texas — The Bryant 10U Little League All-Stars are headed to the Cal Ripken World Series in Palm Beach Gardens, Fla., after they captured the championship of the Southwest Regional Tournament Tuesday night. In a rematch with the Mountain Home team which Bryant edged 2-1 in the winners bracket final of the tournament, Bryant jumped out to a 5-0 lead in the top of the first and never looked back, breezing to a 14-1 victory to capture the Regional crown.
The team, coached by Jeremy Stovall, includes Garrison Blacklaw, Brady Brower, Reid Catton, Clay Crawford, Gage Horn, Grant Johnson, Gideon Motes, Justen Myles, Hank Penfield, Karter Ratliff, Caden Stovall and Cason Trickey.
Blacklaw was named the Regional tourney Most Valuable Player.
The World Series is set for Aug. 4 through 12. Bryant, representing the Southwest will debut on Thursday, Aug. 4, at 4:30 p.m., against the Middle Atlantic Regional champion,
Bryant, which went unbeaten through post-season play, was the South Arkansas Cal Ripken State champion and Mountain Home was the North Arkansas State champion.
The win was the team's 16th in a row since a June 5 setback against Germantown, Tenn.
Bryant got a stellar pitching performance from Johnson, who pitched five innings, allowed just two hits, an unearned run with four walks and three strikeouts. Motes finished off the victory with a scoreless sixth, working out of a bases-loaded jam and ending the game in style with a strikeout.
Trickey led Bryant offense with two hits and two runs batted in. Motes knocked in five and Horn three as the team took advantage of five walks and six errors.
The initial salvo started when Caden Stovall reached on an error and Penfield cracked a double to center. An error on a grounder by Johnson put the first run on the board. Trickey reached on another miscue as Penfield score then, with one out, a third Mountain Home error allowed Horn to reach safely and Johnson to score.
After a pitching change, Motes drilled a two-run double to left to make it 5-0.
Mountain Home scored its lone run in the bottom of the first on a double, a passed ball and a groundout. A hit batsman and a walk followed but when the lead runner tried to steal third he was thrown out by Brower.
Bryant extended the lead to 8-1 in the top of the third. With one out, Trickey beat out an infield hit. Blacklaw sacrificed him to second and, when his bunt was misplayed, he reached first safely. A walk to Horn filled the sacks for Catton, whose bouncer to third was booted as Trickey scored. An error on a grounder to first by Motes allowed two runs to score.
After retired the last two batters in the second, Johnson retired the side in order in the third and fourth — eight batters in a row.
In the fifth, Blacklaw singled and stole second then third as well. He scored on Horn's sacrifice fly to left to make it 9-1.
A walk and an infield hit provided some hope for Mountain Home to start the home fifth but the next three were retired.
Bryant put the finishing touches on the lopsided win in the top of the sixth. Myles drew a lead-off walk and Ratliff singled. Stovall's grounder to second was botched, allowing Myers to score.
With two down and runners at the corners, Trickey singled to right to plate a run. Blacklaw was popped by a pitch to load the bases then walks to Horn, Crawford and Motes made it 14-1.
Motes relieved in the bottom of the sixth and surrendered a lead-off single. He retired the next two and came within a strike of ending it there. But a walk and a single to right kept Mountain Home's faint hopes alive before the game-ending strikeout.