Photos courtesy of Jennifer Daves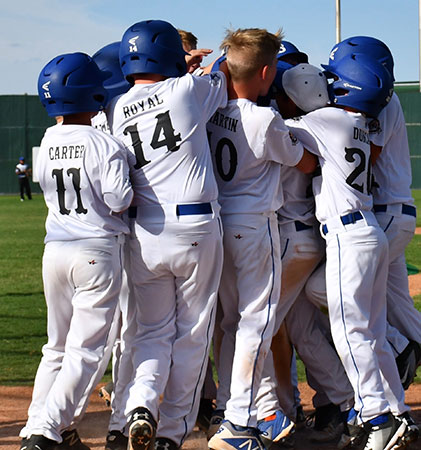 LEVELLAND, Texas — The Bryant All-Stars got unceremoniously knocked into the losers bracket of the 2018 Cal Ripken 10-and-under Regional Tournament on Sunday, but bounced back in an elimination game, staying alive for more action on Monday.
The Westside All-Stars from Mobile, Ala., pinned a 12-0 loss on Bryant Sunday afternoon. That evening, Bryant outslugged Southeastern from Oklahoma, 16-8.
The Bryant team, coached by Ryan Martin with assistance from Chris Chalmers and Jeremy Ray, includes Luke Andrews, Jonathan Carter, Cohen Chalmers, Grant Daves, Kolby Duncan, Dante Hernandez, Colt Martin, Dawson Martin, Mekhi Ray, Barrett Royal, Blake Scoggins and Jake Taylor.
Bryant will continue on Monday at 5 p.m.
Bryant 16, Southeastern, Okla. 8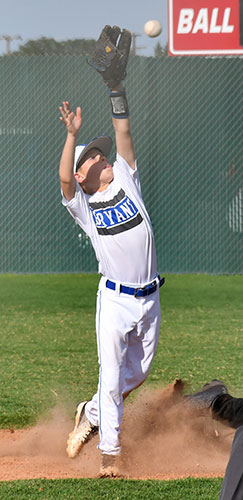 Bryant scored in every innings and held a 13-3 advantage going into the bottom of the fifth, only to have the Oklahoma team rally for five runs to stay alive. Bryant added three in the top of the sixth and shut down Southeastern in the home half to stay alive.
Taylor had three hits and scored four runs to spur the offense. Scoggins and Chalmers had two hits apiece with Scoggins driving in three.
Bryant used four pitchers with the third, Duncan, and the fourth, Andrews finally quieting the Southeastern bats over the last inning-plus.
In the first, Bryant scored three times. Dawson Martin reached base on a one-out error. Taylor singled then Scoggins clubbed an RBI double. Taylor scored on a wild pitch to make it 2-0 then Scoggins came in on a passed ball.
Southeastern used an error, a walk and a two-out single to get on the board in the bottom of the inning.
Bryant's second-inning run was scored by Andrews after he drew a one-out walk, took second on a wild pitch and scored on a single by Hernandez.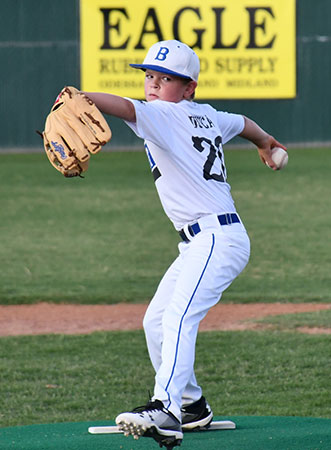 In the third, Dawson Martin led off with a triple to left. Taylor singled him home to make it 5-1. With one out, Chalmers drove a ball to left for a single and when the ball was misplayed in the outfield, Taylor scored.
Royal made it 7-1 with an RBI groundout.
A pair of singles, a passed ball and a two-base error allowed Southeastern to trim two off the Bryant advantage, which then increased to 9-3 in the top of the fourth.
That's when, with two out, Hernandez drew a walk and Daves' grounder to short produced a wild throw to first. Both runners scored as a result and it was 9-3.
The rout was on as Bryant scored four in the top of the fifth. Taylor led off with a single then Scoggins belted a two-run homer to make it 11-3.
Chalmers and Royal slapped singles then Carter drove in a run with a base hit to center.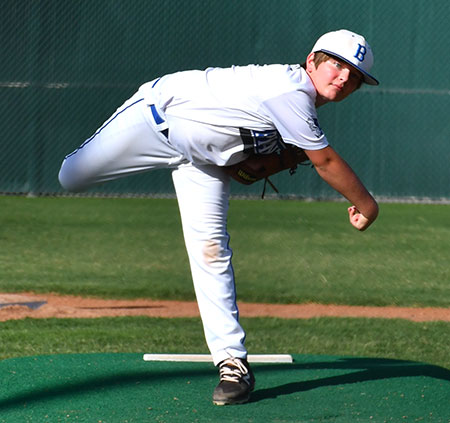 After a pitching change, Duncan drew a free pass to load the bases. A force at the plate on Ray's grounder to first was followed by a strikeout. But Duncan waited out a walk to force in a run.
Southeastern's five-run fifth was highlighted by a bases-loaded triple. A groundout added a run and it was 13-8.
In the sixth, Taylor and Scoggins drew walks. Another pitching change resulted in two outs to follow. But Carter walked to load the bases. Talor scored on a passed ball then Duncan sliced a single to right, plating two.
Despite a lead-off double and a two-out walk, Southeastern was unable to whittle into the margin in the final frame.
Westside, Ala. 12, Bryant 0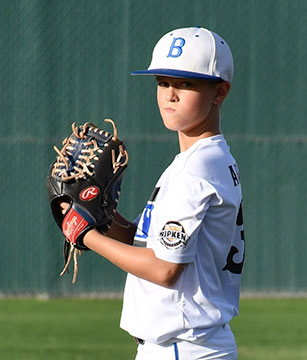 Singles by Taylor and Chalmers wound up being all the offense Bryant could muster. Westside's pitcher worked around those hits and the lone error by his teammates.
Bryant was hampered by five errors in the game. Westside used 10 hits including a double and a homer to score its 12 runs.
Westside scored four runs in each of the first two innings to put Bryant under the gun early. A four-run home fourth made it a run-rule win.