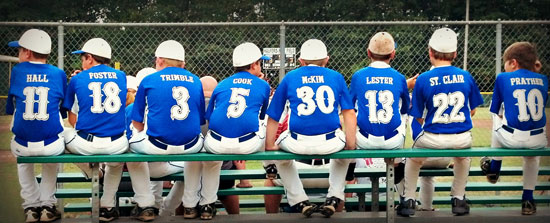 LONOKE — Brayden Lester tossed three shutout innings of relief making a[more] two-run third-inning rally to overcome a 2-1 deficit hold up as the Bryant All-Stars edged the Carlisle All-Stars 3-2 at the Cal Ripken State Tournament Saturday.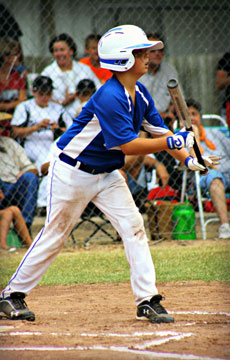 The Bryant Blue League 10's, managed by Brian Hall with assistance from Jason Lester and Chuck Foster, are Chantz Clendening, Austin Cook, Matthew Curtis, Jayden Foster, Jonathan Hall, Dawson Harris, Tyler Jordan, Braydan Lester, Trey McKim, Joshua Prather, Braxton St. Clair, Austin Trimble.
Bryant advances to play Crossett at 3:30 p.m., on Sunday, July 8.
Bryant took a 1-0 lead in bottom of the first after Trimble, the starter on the mound, retired the side on two strikeouts and an infield pop in the top of the frame. Carlisle turned a doubleplay to erase an inning-opening single by Lester in the home first. But Hall singled and stole second. McKim and Prather followed with hits that brought Hall around to score. McKim tried to follow but was thrown out at the plate to end the inning.
Carlisle tied it in the top of the second on a double and a pair of singles before Trimble struck out a pair of batters to end the inning.
In the bottom of the inning, Curtis singled but was forced at second on a grounder by Trimble. After Trimble stole second, however, Harris singled. They were stranded though, leaving it tied at 1-1.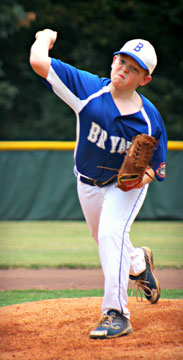 Carlisle took the lead in the top of the third with a double, a groundout and a single. Again, Trimble got out of the inning with consecutive strikeouts.
And in the bottom of the third, Bryant regained the advantage. Foster singled and stole his way to third. He scored when Hall grounded to short. McKim singled and stole his way to third before scoring the go-ahead run on Prather's bouncer to first.
Trailing 3-2, Carlisle threatened in the top of the fourth but twice had runners thrown out at the plate. A single and a pair of stolen bases had the tying run at third initially.
The next batter grounded out to first and when the runner tried to score after the putout, a throw home nailed him with Lester coming in from the mound to cover the plate.
The next batter singled and, after a hit batsman, stole third. He then tried to score on a grounder to second but he was too was tagged out, keeping it 3-2.
Carlisle didn't manage another base-runner in the game as Lester retired the last six batters in order.
Bryant made a bid to add to the margin in the fifth but, despite hits by Hall and McKim, Carlisle escaped.