Photos courtesy of Jennifer Daves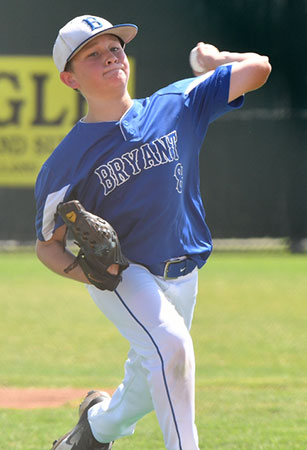 LEVELLAND, Texas — Trailing 5-2 going into their final at-bat, the Bryant 10-year-old All-Stars rallied for three runs in the bottom of the sixth to send the game into extra innings then scored to win the game in the bottom of the seventh for a rousing come-from-behind win over Kentwood, La., in their opening game at the Cal Ripken 10-year-old Southwest Regional Tournament this afternoon.
Bryant will advance to play the winner of a game between Plainview, Texas and Mobile, Ala., Westside on Saturday at 12:30 p.m.
The Bryant team, coached by Ryan Martin with assistance from Chris Chalmers and Jeremy Ray, includes Luke Andrews, Jonathan Carter, Cohen Chalmers, Grant Daves, Kolby Duncan, Dante Hernandez, Colt Martin, Dawson Martin, Mekhi Ray, Barrett Royal, Blake Scoggins and Jake Taylor.
The game-saving uprising in the bottom of the sixth started with a single by Scoggins. When the ball was misplayed in center, he went to second. Moments later, he scored on a base hit to right by Chalmers to make it 5-3.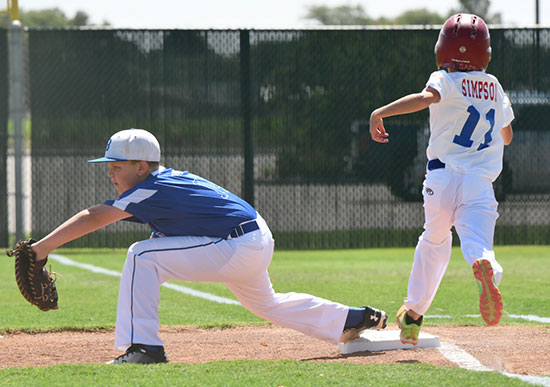 Royal's base hit sent Chalmers to third and, when Royal stole second, Chalmers raced for the plate and scored to make it a one-run game.
Kentwood made a bid to end the game there as the next two batters struck out. On an 0-1 pitch, however, Dawson Martin cracked a triple to bring Royal home with the tying run.
In the seventh, Bryant held despite a lead-off single and a two-out error that had runners on the corners. Royal, the Bryant pitcher, induced a grounder to Daves at second for the final out.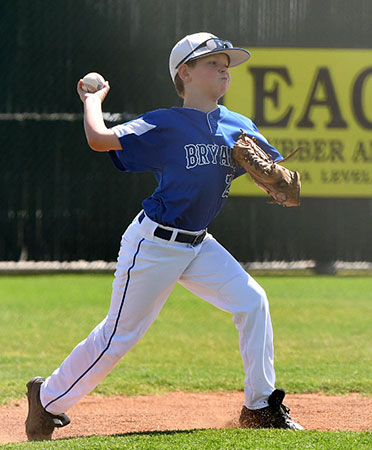 The game-winner was scored by Taylor after he beat out a one-out single to the right side. With two down, Scoggins belted a double that allowed Taylor to score on a headlong dash from first, winning the game.
It wasn't Bryant's only lead of the game. In the first, Daves and Taylor walked. A pair of passed balls allowed Daves to come around to score as Colt Martin drew a free pass.
A Kentwood pitching change quieted Bryant forcing a pair of runners to be stranded.
Kentwood loaded the bases on a pair of walks and a hit batsman in the top of the second but Taylor, the Bryant starter, escaped by striking out the side along the way.
But the Louisiana team got on the board in the top of the third, taking advantage of a walk and a trio of Bryant errors to score four times.
Bryant cut a run off that 4-1 lead in the bottom of the third. Taylor singled and, shades of things to come, scored on a Scoggins double.
But, after Kentwood added a run to the lead in the top of the fourth, Bryant was unable to muster much in the fourth or the fifth, setting up the dramatic finish.