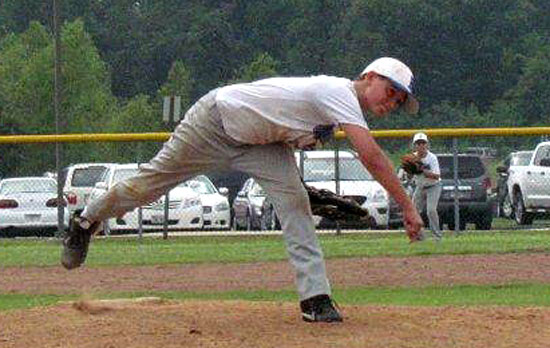 EDITOR'S NOTE: All youth teams are welcome to submit scorebooks with rosters to rob@bryantdaily.com for game reports.

Photos courtesy of Lara and Lee James
MAUMELLE — The Bryant 11-year-old tournament team split four close games in pool play at a[more] tournament in Maumelle over the weekend. After opening with a 5-3 loss to the Maumelle Bulldogs on Friday, the Bryant team bounced back Saturday to edge the Little Rock Black Hawks, 5-4. On Sunday, a 3-2 win over Field House Orange set up a final contest against the Rawlings Prospects who extracted a 4-1 win.
The team, coached by Bryan Hall, includes Austin Cook, Jayden Foster, Jonathan Hall, Rhett James, Tyler Jordan, Braydan Lester, Josh Prather, Hunter Stallman, Braxton St. Claire and Austin Trimble.
Rawlings Prospects 4, Bryant 1

The Prospects broke a scoreless tie with a run in the third and another in the fourth. Bryant got on the board in the top of the fifth but a two-run home fifth put Rawlings in position to win. Bryant was retired in order in the sixth as the game concluded.
Bryant was held without a hit until Hall's single to center with two out in the fourth. It would prove to be the team's lone hit of the game.
The fifth-inning uprising began with Prather reaching on an error with one out. He stole second and took third on a wild pitch then scored on a sacrifice fly by Trimble.
Bryant 3, Field House Orange 2

In dramatic fashion, Bryant put together a three-run rally in the bottom of the fifth inning to overtake the Orange, which had built a 2-0 lead.
The game-winning outburst began with Trimble getting plunked by a pitch. He stole second then Cook drew a walk and, after a pitching change, they pulled off a double steal.
The reliever struck out the next two batters before Foster delivered a drive to center for a two-run double that tied the game. He stole third and, when Jordan reached on an errant throw to first on his tap in front of the plate, scored the winning run.
Cook had produced Bryant's first hit, a lead-off single in the third. In the fourth, two-out hits by Hall and Lester created a threat but both were stranded.
Foster and Lester, meanwhile, blanked Field House on two hits over the first three innings. The Orange got on the board with an unearned run in the fourth. Another scored in the fifth on an error, a two-out hit and a passed ball.
Bryant 5, LR Black Hawks 4

In another comeback win, Bryant erased a 4-2 deficit with a run in the bottom of the third and two in the bottom of the fifth. Foster, the third Bryant pitcher, closed it out by working a 1-2-3 fifth after he'd pitched out of a fourth-inning jam.
A throwing error, allowing Hall to reach second, started Bryant's tale-tell fourth. He moved up on a groundout by Trimble and, after Cook walked, Stallman delivered a run with a sacrifice fly, tying the game.
Cook, who had stolen second, raced home when St. Claire came through with an RBI double to center.
The Black Hawks scored first in the game. A walk, a triple and a single gave them a 2-0 edge in the top of the first. In the home half, however, Bryant tied it. Jordan and James were both hit by pitches, advancing on a wild pitch. A second wild pitch allowed Jordan to score and, with one out, Lester swatted a single to right to plate James with the tying tally.
James pitched a 1-2-3 second but Bryant was unable to score despite a lead-off walk to Trimble.
In the top of the third, Lester gave up a lead-off single but retired the next two. Bryant appeared to be out of the inning when the subsequent batter hit an infield grounder. But an error extended the inning allowing the tie-breaking run to score. A triple followed making it 4-2.
Bryant got one of those runs back in the bottom of the inning when St. Claire walked, took second on a passed ball, third on Jordan's groundout and scored on an infield hit by James. After taking second on the throw home, James tagged and went to third on Foster's fly to center but he was stranded there.
Little Rock threatened in the top of the fourth with a one-out single, a stolen base and a walk. But, trying to steal third, the lead runner was thrown out by Trimble before Foster got the third out on strikes, setting up Bryant's comeback.
Maumelle Bulldogs 5, Bryant 3

Bryant took a 2-0 lead in the second but a four-run fourth-inning rally put Maumelle in position to win. Bryant countered with a run in the bottom of the fourth to make it a one-run game. But the Bulldogs clinched it with a run in the top of the fifth before setting down Bryant in order in the bottom of the inning to close it out.
Bryant's opening salvo was ignited by Lester's single to right. He stole second and scored when Prather pounded a single to center. And when the throw from the outfield was wild, Prather raced to third. Trimble brought him home with a groundout.
James and Lester each worked a scoreless inning on the mound for Bryant but the third didn't go as well. Foster struck out the first batter then surrendered a double. After a stolen base, a squeeze play went awry for Bryant with a wild throw. An errant throw on a steal, a walk, and a single loaded the bases. A run scored on a fielder's choice and, after a walk, two scored on a drive to right to make it 4-2.
Foster opened Bryant's fourth with a shot to right for a triple. He scored when, after Hall was retired on a grounder to first, a pick-off throw to third went astray.
Lester walked and stole his way to third but was stranded. Maumelle's pitcher retired the last five batters he faced, four on strikes, to close out the game.